Alright, first of all I'll apologize if I posted this in the wrong forum. I was debating on putting this either in case mod or this air cooling forum but it seems to do more with air cooling than modding my case. So I threw it here... Haha.
I was thinkin of goin with water cooling but I decided against it since I can already hit 5Ghz and I can't really afford to watercool my GPUs. So this is a weird little blueprint I drew up.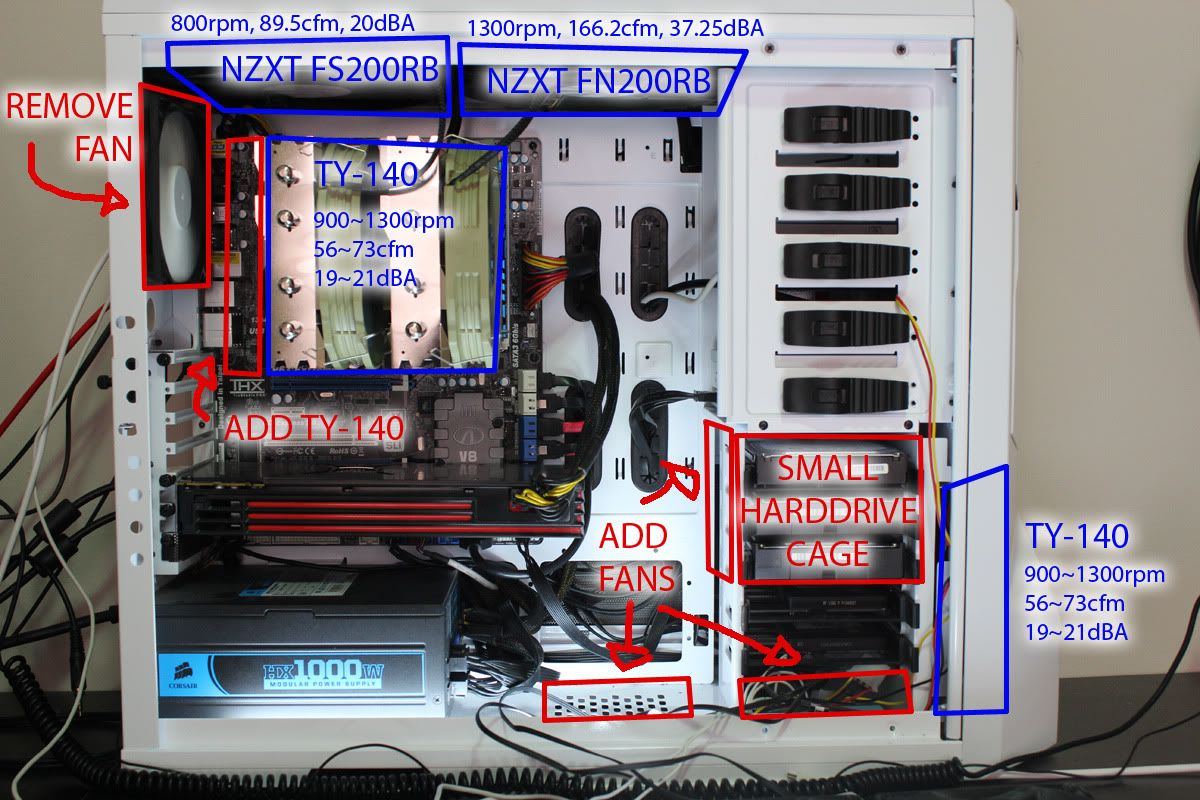 As you can see from my awesome diagram, the red are things I want to modify and blue are things that are already in place.
I'm thinking about removing my back fan. I hear and have seen that it runs better without the back exhaust fan and that would also free up a fan controller plug for me.
I also want to remove that large HDD cage and replace it with the smaller one, which will take a bit of drilling and crap but I think it could be worth it. Sadly the small cage only holds 2 HDDs, so I'll have to throw one into one of the 5.25 drive bays I have open and find somewhere fancy to put my SSDs. But doing that will allow more air to come in from my front fan. I've been debating on replacing that front fan with something that actually fits, cuz the TY-140 is a little too big to fit in there so I can just take that fan and add it onto my Heatsink and run 3 fans on there.
Once I replace the cage I can then put 2 extra fans to draw air from the bottom of the case where you see those little hole thingies and also put an extra one on the small cage to blow at my GPUs since that's the thing that's been running a little hot.
Now I also want to cut this hole to be a bit bigger and keep the grill there. I really wanted a window there but I'd rather keep the grill there for better airflow. Unless the window would somehow get better airflow, not sure how but then again I'm not a scientist.
Yes, I know this will be a little loud, but that's what fan controllers and headphones are for right? Like I have it right now, it's super quiet just until I turn my fans up when I do video rendering that runs the CPU hard or if I'm gaming, but then I'll have headphones on. Of course I still want to keep it quiet, but I'd rather have good performance instead, yaya?
TL : DR... What do you think of my plan to modify my case and what fans do you suggest for me?
Thanks!