I have a code for Dead space 2, Medal of Honor, or Mass Effect 2. I already have all of these games and I have no use for this code so I want to give it away to a lucky OCN'er... (the coded tested and works)
You must have at least 10 posts of time of post start.
I will give this away on Friday @ evening some time using random.org
Good Luck guys
congrats Enfluenza check your messages, this code can be used for any of the one games listed.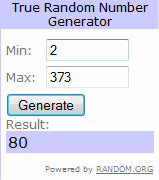 Edited by downlinx - 8/20/11 at 3:44pm