Hey guys.
I have this system running since December and for the most part everything has been running fine. I tested out another graphics card yesterday and then re installed my 6850. Everything was working fine (I played a game or two of bad company 2)
When I started it up this morning, after about 20 minutes of browsing the web on firefox the screen just instantly split in two.
I thought nothing of it and restarted. I was browsing the web for a good hour and the same problem happened
BTW I just put the computer into sleep mode and woke it up and the problem was gone.
Does anybody have any ideas whats causing this? Could it be something to do with the drivers or the actual graphics card hardware.
BTW I am connected to my monitor through DVI.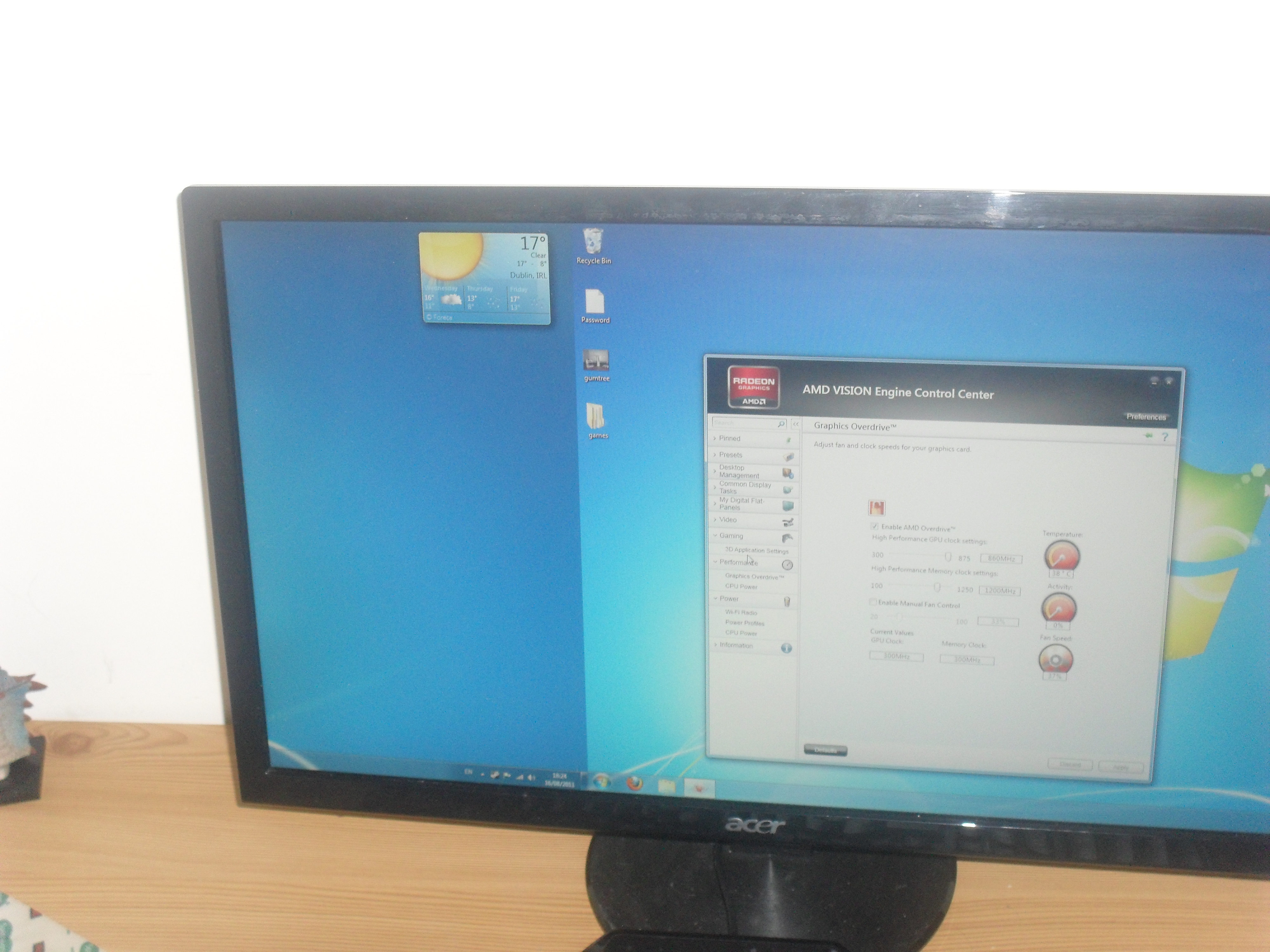 CPU
Motherboard
Graphics
RAM
AMD Phenom II X6 1090T
Gigabyte GA-870A-UD3
2GB MSi 6950 Twin Frozr 3
4GB ram
Hard Drive
Optical Drive
OS
Monitor
Samsung spinpoint F3
LG super multi DVDRW
Windows 7 pro 64 bit
Acer p236H 23" 1080p monitor
Keyboard
Power
Case
Logitech g510
Super flower amazon 550w 80+ bronze
NZXT hades
View all
hide details
CPU
Motherboard
Graphics
RAM
AMD Phenom II X6 1090T
Gigabyte GA-870A-UD3
2GB MSi 6950 Twin Frozr 3
4GB ram
Hard Drive
Optical Drive
OS
Monitor
Samsung spinpoint F3
LG super multi DVDRW
Windows 7 pro 64 bit
Acer p236H 23" 1080p monitor
Keyboard
Power
Case
Logitech g510
Super flower amazon 550w 80+ bronze
NZXT hades
View all
hide details