For a long time now I have named my most current computer Defiant, a name which I have lifted from the USS Defiant from Star Trek: DS9. Generally due to the fact that I always try to keep myself in the Mid-Tower category, while packing in a good healthy punch.
For a long time I never thought I would take the plunge into water cooling due to its initial start up cost, but earlier this year things just sort of fell in place. I had scored a set of Danger Den full cover blocks for my GTX480's for an unbeatable deal. From then I began to research just what would it take put them underwater, how large of a radiator would I need, what kind of pump. With a little bit of research and some time I found out what I needed.
At the same rate My CM-690 case, although a great mid-tower, lacked the free space to mount a large triple radiator. There was not a lot of room in-front of the PSU with a fan installed and the HDD bay's sitting there. One could hardly fit a small radiator on the inside of the case, and mounting one on the top meant losing the top cover. No there must be a way!
Well, I thought to myself. What could I do with out? I only one run optical, and one HDD, perhaps I can use my spare 5in-3.5in adapter and remove the HDD bay, that's good while I'm at it I can un-shroud the top fans, and give the whole inside of the case a good dull-coat black, enlargen the rear access port and add cable management routes!
Yes that will do nicely, now all I need to do is build a holder for my radiator. It's a good thing angle iron is cheep right?
Well, with out wasting to much more time here it is, 95% complete (waiting on Bulldozer!)
Specs:
AMD Phenom II X6 1100T @ 4140mhz
Gigabyte 990FXA-UD5
Kingston HyperX T1 @ 1840mhz
PNY GTX480's @ 850core/2000memory
Thermaltake TR-2 850W
Coolmaster CM690 (early version)
Zalman 9900Max 135mm Blue Led
Danger Den Full Copper Waterblocks
Phobya G-Changer 420
Switech MCP-655
150ml Cylinder Res
(Click Pictures for full size)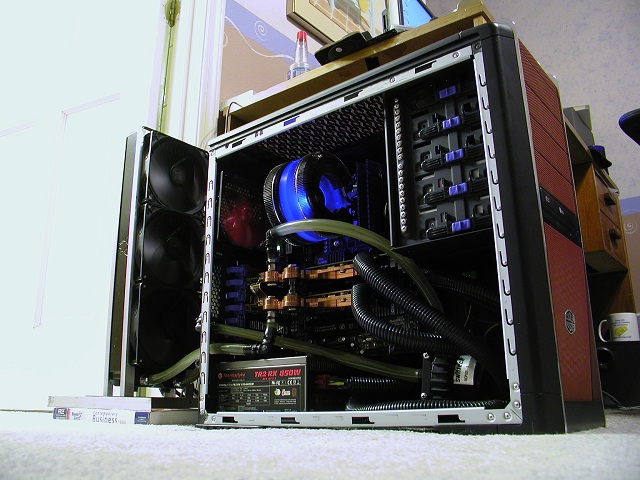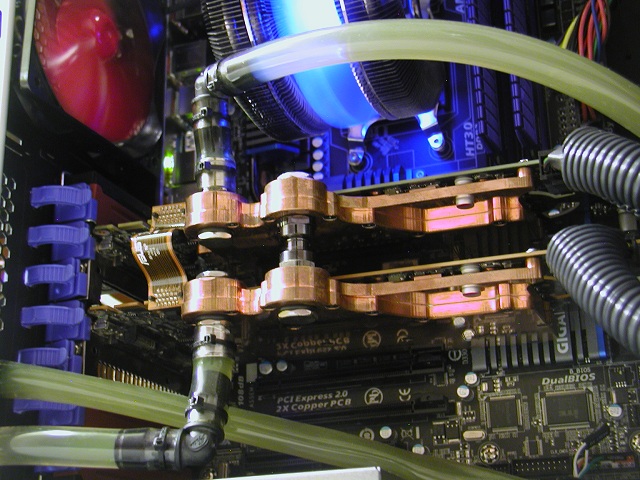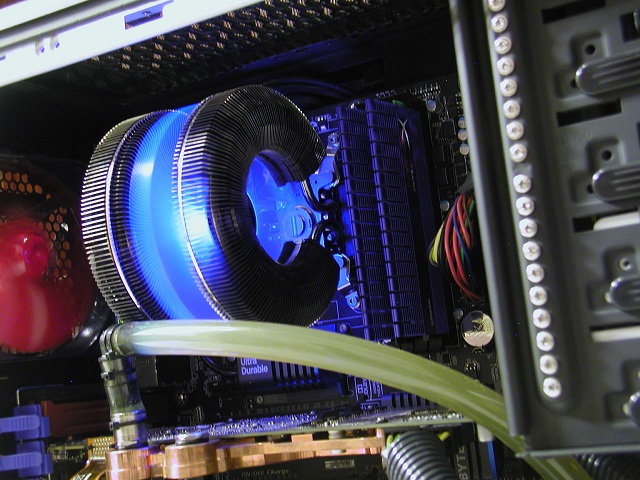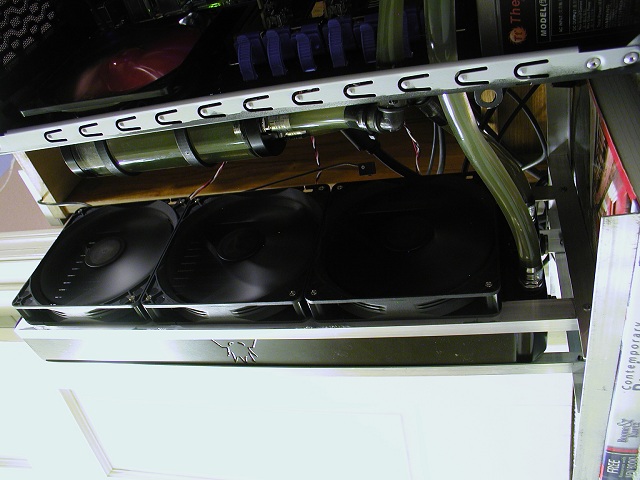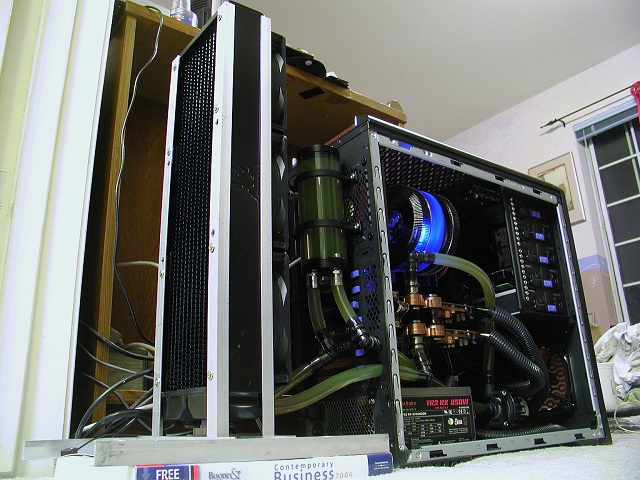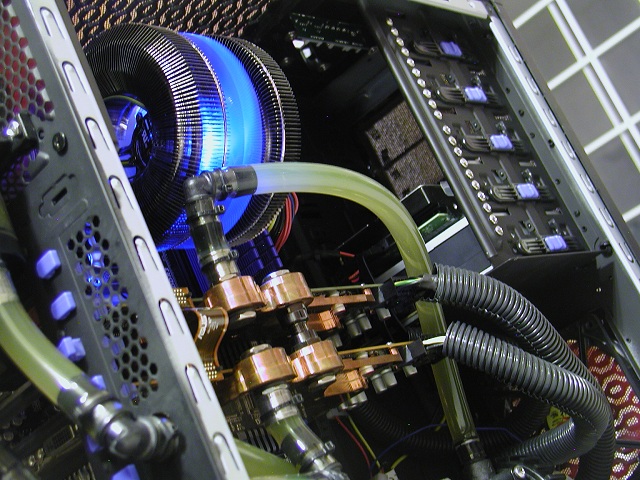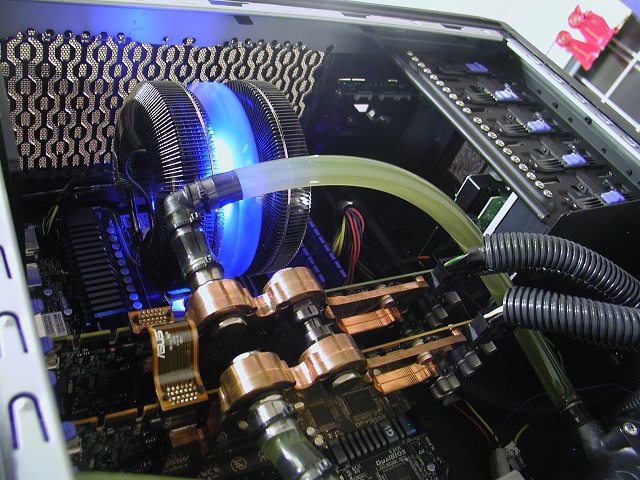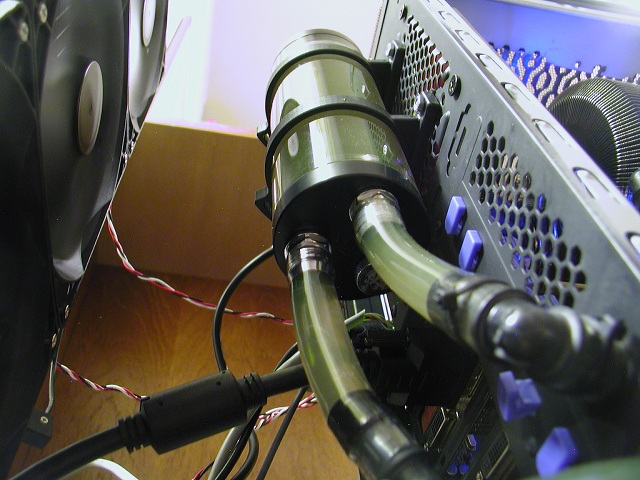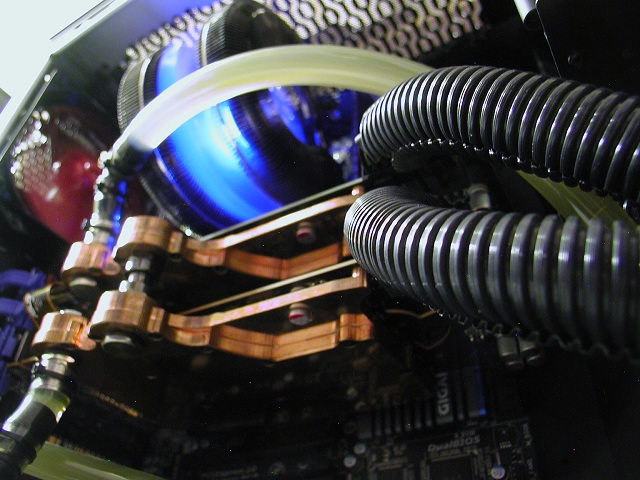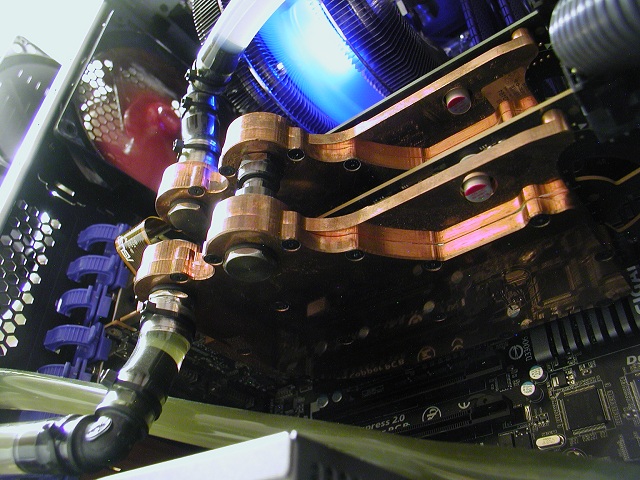 Thanks for looking
~Red