Title pretty much says it. What is the oldest component you have in service on your computer(s)? For example, most people won't replace the keyboard/mouse/monitor when moving to a new computer. And some people just like 10 year old cases. So what's yours? What's the oldest thing you still have on your computer? Post pictures if you want!
For me it's my beloved keyboard... an Acer Peripherals Windows 98 certified that I've owned since '99. I love this thing! PS/2 owns.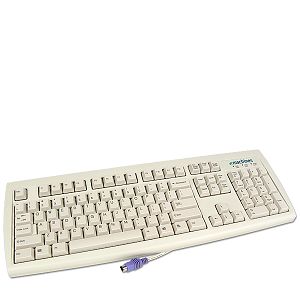 This is actually an eMachines, but mine looks identical.
CPU
Graphics
RAM
Hard Drive
Intel Core 2 Extreme @ 2.8GHz (upgrade)
Intel GMA 950
2 x 2 DDR2 667MHz (upgrade)
120GB Mushkin ECO2
Optical Drive
OS
Monitor
Power
Replaced with 42 W/hr aux battery
Mint 17.3
1280x800 Dell
65w Dell Adapter
Case
Other
Latitude D630 Chassis
Intel 7260-802.11ac 2x2
View all
CPU
Motherboard
Graphics
RAM
Intel Core i5-4200U
Microsoft BGA1168
Intel HD 4400
8 GB LPDDR3 Dual Channel @ 1600mhz
Hard Drive
OS
Monitor
Keyboard
SK Hynix 256GB SSD
Windows 8.1 Professional
1920 x 1080p IPS Display
Microsoft Touch Cover 2
Power
48w PSU
View all
hide details
CPU
Graphics
RAM
Hard Drive
Intel Core 2 Extreme @ 2.8GHz (upgrade)
Intel GMA 950
2 x 2 DDR2 667MHz (upgrade)
120GB Mushkin ECO2
Optical Drive
OS
Monitor
Power
Replaced with 42 W/hr aux battery
Mint 17.3
1280x800 Dell
65w Dell Adapter
Case
Other
Latitude D630 Chassis
Intel 7260-802.11ac 2x2
View all
CPU
Motherboard
Graphics
RAM
Intel Core i5-4200U
Microsoft BGA1168
Intel HD 4400
8 GB LPDDR3 Dual Channel @ 1600mhz
Hard Drive
OS
Monitor
Keyboard
SK Hynix 256GB SSD
Windows 8.1 Professional
1920 x 1080p IPS Display
Microsoft Touch Cover 2
Power
48w PSU
View all
hide details