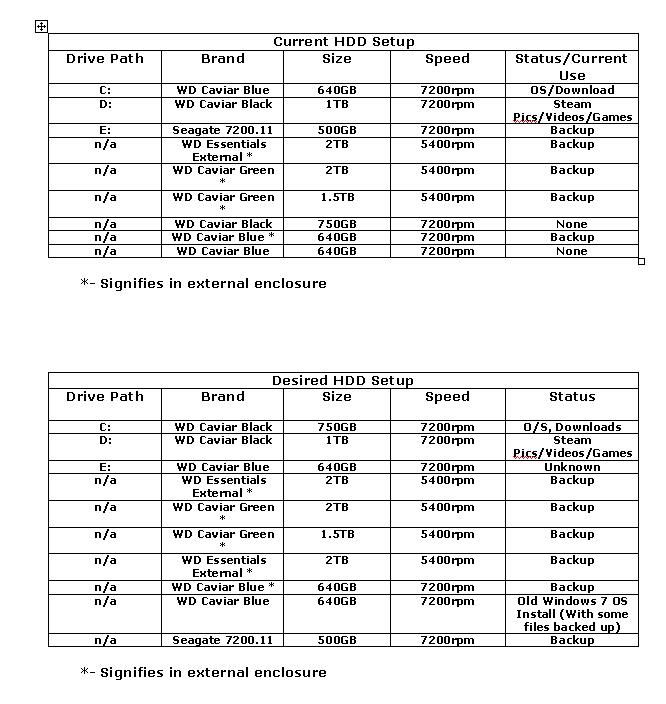 I also have two older 80GB and 40GB IDE externals that don't really count.
Opinions? Should I put the OS on the 1TB black or the 750GB?
(Note: I don't really want to RAID the 640GB blues)
The Greens are currently set up in a dual-bay enclosure in JBOD (I'd lose 500GB if I merged them into one big drive).
I plan on taking the current OS drive out and storing it away incase of a rainy day and it qualifies as an OS backup drive (incase one of the black drives crap the bed). The Seagate, I just don't like using it and I don't trust it to be running 24x7 anymore.
Edited by Calipso - 8/19/11 at 4:27pm
CPU
Motherboard
Graphics
RAM
i5 2500k @ 4.0ghz
Gigabyte Z68A-D3-B3
EVGA GTX 570 Superclocked
G.SKILL Ripjaws X 16GB 4 x 4GB DDR3 1600
Hard Drive
Optical Drive
OS
Monitor
WD Caviar Black 2TB in Raid 1
HP dvd1040i
Windows 7 Professional 64-Bit
Acer 21.5 Widescreen 1080p
Power
Case
Mouse
Corsair AX Professional Series 850w 80 Plus Gold
Antec 902
Logitech MX518
View all
hide details
CPU
Motherboard
Graphics
RAM
i5 2500k @ 4.0ghz
Gigabyte Z68A-D3-B3
EVGA GTX 570 Superclocked
G.SKILL Ripjaws X 16GB 4 x 4GB DDR3 1600
Hard Drive
Optical Drive
OS
Monitor
WD Caviar Black 2TB in Raid 1
HP dvd1040i
Windows 7 Professional 64-Bit
Acer 21.5 Widescreen 1080p
Power
Case
Mouse
Corsair AX Professional Series 850w 80 Plus Gold
Antec 902
Logitech MX518
View all
hide details