Thermaltake Tt eSPORTS Isurus In-Ear Gaming Headset Review
Introduction
Tt eSports is Thermaltake's extensive range of gaming peripherals aimed at casual and professional gamers with their range of headsets, keyboards, mice and other various gaming peripherals. This extensive range of gear in each category caters for the gamers on a low budget and also the higher budget gamers that have a large amount of money to spend.
Today I'm going to be taking a look at the Tt eSPORTS Isurus in-ear gaming headset (or earphones). When I was asked to review these headphones I was a little sceptical at first as I noticed that Thermaltake's build quality wasn't up to par in their earlier years but I've been told by a lot of fellow gamers that they have improved a lot so I was happy to give them a try. Will Tt change my view on their name this time around with the Tt eSPORTS line of products?
Specifications
Headphones
• Driver Unit: 13.5mm driver
• Frequency response: 20Hz – 20KHz
• Impedance: 16ohm
• Sensitivity: 106dB +/- 3dB at 1KHz
Microphone
• Characteristic: Omni-directional
• Frequency Response: 100Hz~10kHz
• Impedance: < 2.2kohm
• Sensitivity: -42±3dB(0 dB=1V/ubar
• Cable length:1.2m
• Connector: 3.5mm adapter plug
Packaging & Accessories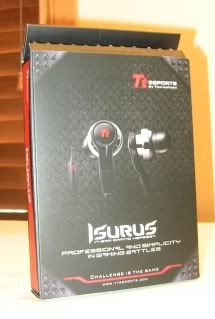 First of all let's start with the packaging; the box that these headphones came packaged in was excellent and would certainly be capable of protecting the headphones as they are shipped to you due to the high quality cardboard that is used. The box also has a lot of information on the headphones which I love to see as it gives the buyer a chance to read about the headphones, what they are designed for, the features, what's included in the box and any other information that the buyer needs to make an informed decision about whether the product is right for their needs. The black and red colours on the box match the product and Tt eSPORTS' other range of products with the same black and red theme, this is a really great looking box and would definitely stand out from the other products in store.
The little flip up window on the front is an added advantage for the buyer to see the product in store so they don't have to wait until they get home to rip open the packaging to see what the headphones look like. We forgot to take a photo of it but it's just a basic window underneath a front flap. This is great to see and something I'd love a lot more companies to do with their product packaging.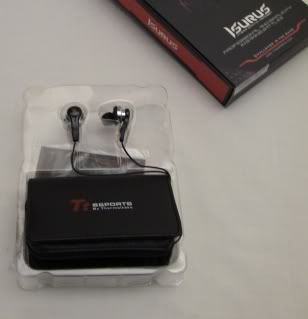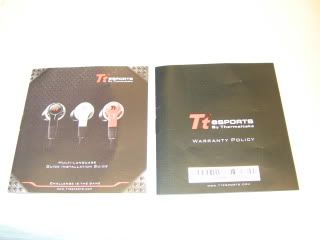 Moving on to the accessories that are included in the box there are three sets of ear sleeves (Small, Medium & Large), a multi language install guide, warranty information and travel pouch. The travel pouch is a nice little addition which is handy for carrying the headphones in when going to LAN's, friend's houses, travelling etc. It is made from leather like material with the Tt eSPORTS logo on the front.
Opening the zip will reveal the two net pouches on the inside, which are useful for carrying the headphones, ear sleeves and y-splitter. The y-splitter is included to split the earphones single 3.5mm jack which sends both the audio and microphone channels together into two separate jacks so the audio and microphone channels are split. Very useful if you are connecting to a computer or similar device which uses two separate 3.5mm inputs.
Looks & Build Quality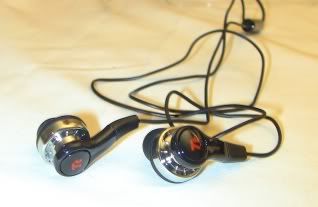 Tt eSPORTS have done a really good job designing this in ear headset. The colour scheme and detailing is very minimalistic which is good to see, the headphones are mainly black except for silver electro-plated accents on the drivers themselves and the red Tt logo on each. There is also a left and right indicator on the plastic at the bottom of each driver.
The prominent material on each driver is a hardened plastic with a high gloss finish, which is great for overall strength and durability as well as being lightweight, perfect for carrying around and hardly noticeable when they are in your pocket.
The cable is made from a soft rubber which if you own a pair of iPod headphones you will know that the cable is very easy to get tangled and also snags on your pocket when you pull it out. I guess Thermaltake have tried to overcome this by including the carrying pouch to store the headphones in however the cable certainly isn't the worst I've seen and should get the job done fine for most users. Where the cables enter each driver seems to be solid and won't snap like some cheaper headsets.
The microphone is made up of the same materials as the drivers and has the same logo on it, which makes for an excellent uniform design. The single button on the microphone enclosure is solid and has a firm click to it. The button is raised only a little bit higher than the main microphone enclosure which makes it hard to accidentally press but easy to press if you actually want to.
The gold plated 3.5mm plug on the end is straight and is a good quality connector, I prefer the bent plugs myself but the straight cable on this looks like it won't break easily which is good to see.
Features & Impressions
The headphones feature an asymmetrical cable which basically means that there is one short cable and one longer cable going to each individual driver, with this design the user can loop the cable from the first driver around the back of their head and then down to the device / player in one cable, this avoids the clutter and getting cables tangled in your shirt if wearing the headset when your out on the go. When I tested these headphones there was no cable noise which was excellent, some cheaper sets of headphones make an audible rubbing noise when the cable rubs up against your shirt / jumper so I was pleasantly surprised to see the this was not the case with the Tt eSPORTS Isurus.
These headphones felt extremely comfortable in my ears and could easily stay in without hurting for several hours, the medium ear sleeves that come pre-installed fit my ears perfectly but Thermaltake have included small and large ear sleeves as well which should suit the majority of different ear sizes out there.
Sound Quality
When I tested the sound of these headphones, I wasn't expecting to get audiophile quality, especially at the price point that these retail for, however I honestly think the sound quality is unbeatable on these headphones! They were tested in a variety of ways including gaming, music and movies and they didn't skip a beat.
In-Game
With any pair of headphones it is essential for the player especially when playing FPS games to get clear and precise sound to allow them to pinpoint where their enemies are. The Isurus produce this level of sound extremely well, there was no distortion and the sound remained crisp in my testing of Counter-Strike: Source, Battlefield Bad Company 2 and Call of Duty Black Ops. While you won't get the same quality sounds as a pair of decent headphones these are really good considering they are only very cheap earphones.
Music
When testing these headphones with a range of different music tracks they produced an excellent sound, the bass certainly wasn't lacking and was more noticeable and responsive than cheaper ear bud style headphones. This is the reason I love these headphones, the in-ear style means that all the sound around you is blocked out and you are immersed in the whole track, they make listening to music a pleasurable experience.
Value & Conclusion
As I've said many times in this review these headphones aren't intended to be the best out there and they certainly aren't, but at the $20-$30 price tag that these can be had for in Australia the quality and value is absolutely brilliant. They don't feel as though they are going to break anytime soon which will put most users minds at ease and the sound quality is above average for headphones of the $20-$30 price point.
The carrying pouch, 3.5mm to 2 x 3.5mm adapter and different sized ear sleeves make this headset suitable for almost anyone, whether they be a PC gamer, iPod/iPhone user or even a mixture of both.
Overall I'd say this a great product and I certainly wouldn't hesitate recommending it to friends! I hope Tt continues on and maybe make some higher end earphones in the future. If I had one suggestion it would be to make the plastic of the cable a little more rigid as it tangles up a bit too easy for my liking.
Please stay tuned for our video unboxing and review coming soon to our YouTube channel (not sure about rules for linking YT channels here but search for AptivaGaming and you will find us
)
Velo
Edited by AptivaGaming - 8/22/11 at 10:58pm