Thermaltake Tt eSPORTS Challenger Gaming Keyboard Review
Firstly I would like to say that although the first and now the second review we have posted are both on Tt products, we are in no way trying to blatantly advertise Thermaltake! Both myself (Zenny) and Pete (who wrote the Tt Isurus review) did our very first review on Tt products however we aim to move on to another brand for our next batch of reviews
Introduction
I'm going to be blunt straight up. I have never really liked or recommended Thermaltake's products a great deal, not because I'm a fanboy or anything like that, but from a researched knowledge of the products they sell which have usually resulted in me not choosing to buy them for reasons such as below average build quality, value and over-the-top looks which don't suit me.
So when I was offered the chance to review and give an honest opinion on one of the products that go under the newish division of Thermaltake called 'Tt eSPORTS', I at first though it might not be such a great idea. However since it would mark my first written review ever and I was very keen to review products, I figured why not? Thermaltake do seem to be stepping up their build quality more recently and I actually don't mind the look of the Tt eSPORTS product range if looking at them from a gaming perspective.
The Tt eSPORTS range is aimed purely at gamers and includes a large array of keyboards, mice, headphones and other gaming peripherals. Their products cater to both gamers on a budget and competitive gamers looking to improve their performance in all important tournaments and leagues.
So without further ado, I present to you my review on the budget Thermaltake Challenger gaming keyboard!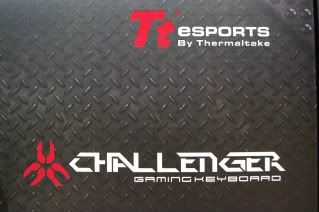 Specifications
• Interface: USB
• OS support: Windows 7/Vista/XP
• Number of macro keys: 6 (with 32kb of onboard memory to store these across three separate profiles)
• Number of multimedia keys: 7
• Switch lifecycle: 10 million actuations
• Cable length: 2m
• Body dimensions (LxWxH): 480 x 205.5 x 25mm
• Other: Gold plated USB connector, braided cable, single non-powered USB port, hand cooling fan (30mm/6,000rpm/2.7CFM/21.7dB), windows key dummy caps, key removal tool
Packaging & Accessories
Thermaltake have gone to great lengths on the packaging of the entire eSPORTS range. Every Tt eSPORTS product is packed in a black and red cardboard box which matches the actual products perfectly. The black and red theme looks very clean, professional and does not clutter the box up in any way. The white text is easy to read and is also not over the top. Whenever I see a bunch of the Tt eSPORTS product boxes at a LAN stacked together I know exactly who made them before reading the labels.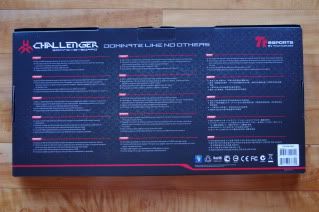 On the front of the box we can see a clear glossy photo of the keyboard, along with some titles and logos for the hand cooling fan and macro keys. On the back of the box you can read about the key features in just about any language you could wish for. Simple and to the point, there are no paragraphs of information to wade through here.
Moving on to opening the box, the first thing I noticed is that the cardboard is made of very high quality and is quite thick. On the inside of the box the cardboard is all black and there is another section that holds the keyboard into place and gives it even more protection. No chance of a damaged keyboard I should hope! On top of the secondary layer is a cutout that holds the driver CD inside a black sleeve. It's great to see a driver CD included with such a budget product, most manufacturers these days don't include a CD and you have to download the drivers from their website if you want to use them but more on the drivers soon.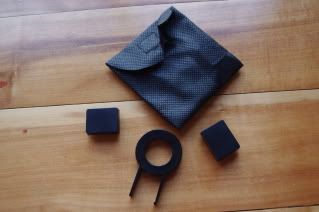 Lifting off the top layer of cardboard we pull out the included product manual which is again made of very high quality glossy paper and goes along with the black and red theme. There is a little black bag containing the key removal tool and dummy windows key caps that should prove extremely useful for those of you who can sometimes accidentally find yourselves pressing the windows keys while in game. The bag also contained two round rubber caps which are not in the photo.
The keyboard itself is inside a plastic sleeve to further protect it from scratches and to keep it in perfect condition on arrival to you.
Now here is something you don't see very often…a hand cooling fan with a storage compartment built into the top of the keyboard. The two extra rubber caps are spares for the small hole that the fan plugs into in case you lose the originals. Whatever possessed Tt to include this fan I don't yet know, but perhaps it will actually help those of you who do get sweaty hands while gaming. More on this further on.
Looks & Build Quality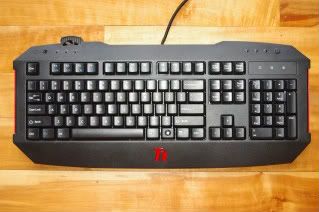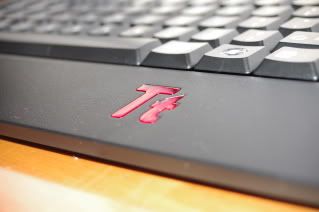 Looking onto the actual keyboard it again sticks to the striking black and red theme. It has some simple plastic red strips along both sides which are useless but do look the part, if a little tacky. The font on each keycap is a clear, bright white much like the text on the box, and are all easy to make out even in darker conditions. There is a red Tt logo on the wrist rest that emits a subtle red glow when turned on. It would be nice to have a switch/button on the keyboard to turn this on/off but thankfully you can do this within the drivers if it ends up annoying some users. None the less it looks cool and rounds off the theme well while not blinding you in the dark. If there was no way to turn this off then it could put off many people so I'm glad Tt took a step in the right direction with such a simple but potentially deal breaking thing.
As far as build quality goes, this keyboard will do the job but it does flex somewhat which is something that most budget orientated keyboards will unfortunately end up doing. It's not so bad that it was flexing under normal typing conditions though, unless you bash your keyboard. Only when it went through the twisting force my hands gave them to test the strength did it become obviously flexible! The keys themselves are all sturdy enough as per usual on any half decent board.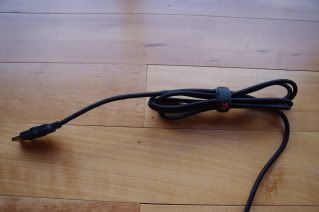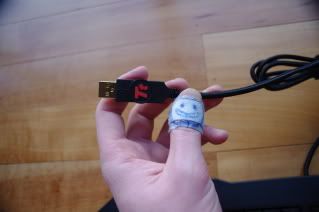 The braided cable is excellent quality. Much better to see a thick braided cable than a cheap plastic cable that takes 5 seconds under a PC case to become flattened for life. To top it off it has a gold plated USB connector, a bit of a marketing gimmick however it does stand up there with higher end keyboards in this regard.
The last thing to look at as far as build quality would be the fan. The fan slots into a small hole at the top of the keyboard (one hole on both ends so you can use it where you want it) to feed it power and hold it upright. But it does wobble a little. The connection is not particularly strong really, and if you are prone to raging then be careful where you wave your hands as you could easily snap the connector off the fan if it is hit hard enough.
Features & Impressions
So what does this keyboard have that a cheap Microsoft or Logitech board for $20 doesn't? Well for a start there is the fan. Which isn't really a start at all, I have come to the sad realization that the fan is only there as a marketing stunt. It does not have enough power to cool your hand under normal conditions. If the weather is very hot (isn't gonna happen anytime soon in Tassie) then maybe you will notice it somewhat but for me it was a little too far away to be of much use. If it was a little more powerful then I can see it being too loud which at the moment it isn't.
Perhaps for next time the fan could be placed underneath the WASD keys, this would mean fresh air is pushed directly under your hand and there would be no problems with accidentally snapping the fan off. It might increase the price to the buyer though and for that reason I would like to see it left off the next batch of Tt keyboards.
The inclusion of inbuilt memory and media keys does make up for that downfall though. Not many keyboards in this price range will give you programmable macro keys. The media keys require you to hold in a 'Fn' button first (located where the left windows key would normally be) then press in one of the keys from 'F1-F8'. To switch between macro profiles you hold in 'Fn' and press between 'F9-F12'. This saves room on the board as there are no buttons dedicated to profile switching or media functions, so it much like a laptop keyboard in this regard.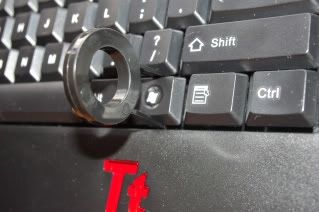 On the topic of the keys the included key removal tool works a treat. The dummy key caps can be swapped out with the windows key and completely prevent you from accidentally depressing that button. A brilliant idea to employ to prevent the spastic gamer inside of you who may press the windows key in a wild effort to throw a grenade.
The drivers installed painlessly and are simple and to the point. I myself hardly used the macro functions of the board but for anyone who does you can easily assign specific key combinations to a single key press depending on which profile is currently active. Probably useful for those of you that play RPG games and need to cast complex spells.
As I mentioned before you can also turn the glowing Tt logo completely off using the driver software. I am sorry for not taking screenshots of the drivers before I removed them (hate leaving drivers installed that I don't use after setting everything up), but they follow the red/black theme of the board and are very straightforward but nothing amazingly innovative to note on the drivers GUI side of things.
The last major feature is the inclusion of an extra USB port to the top of the board. This is fantastic news for the people out there who have their PC further away from them and are too lazy to raise their arm out to plug in a USB device. USB memory sticks and USB cables for cameras etc can be quickly switched in and out at your leisure. Handy indeed especially for someone who has no front USB ports such as myself (the joys of using a certain pre 21st century IBM Aptiva case).
Oh yeah and there is the feel of the actual keys. Nothing out of the ordinary, they feel like any other standard desktop keyboard. Actually I lied, they do feel a little better after wearing them in for a few days and getting used to them. It's no $150 mechanically switching dream machine but it gets the job done very well for anyone who has not already owned a mechanical keyboard for a long period of time. I can quite comfortably type this review out without any complaints so that's a start!
Value & Conclusion
OK I think I have babbled on far enough, lets cut to the chase - is it worth it? Well for the AU$40-50 street price you can currently get it for (quick search on staticice) I am going to say it ultimately depends on a few factors. If you are currently using a keyboard aimed at gamers with at least some sort of gaming related features then this may not provide much else for you.
If you are using a super tight budget or generic keyboard which came with your computer then it might be worth a look. It provides any gamer with some useful features and has some dashing looks to boot. It is good value in a way but you must also remember that you can get keyboards with a whole host of extra features for only $20-30 more such as back-lit keys, headphone ports dedicated macro keys and even more elaborate drivers.
If you are on a strict budget of $50 and must upgrade to something gamer-worthy then look no further, because there isn't a lot of competition on the Australian market in this price range. If you are also prone to sweaty hands then the fan might even help you out a bit more than it did for me, so that's another thing to consider.
All up I would give this keyboard a good looking into, I am happy with Thermaltake's build quality and looks this time around especially considering the price. If Tt ditch the fan next time and maybe give it something like a removable wrist support (something I did not mention but is often sought after) and an extra USB connector, yet get the price at or under what it currently is then it will be an even better deal and one hard to pass up.
If you are looking for more then maybe check out the Tt Challenger "Pro" which builds more features onto a similar design and looks, but that's another story!
For now I hope you enjoyed my review and I myself hope that I can give you more reviews in the future
Keep an eye out for a two part video taking an in depth look at this board very soon.
Zenny AKA "Zenskas"
Edited by AptivaGaming - 8/22/11 at 11:03pm