Yes, just another review thread.
Yes I see quite a few reviews of just the 400, or the 500, or the G9x. But what I haven't seen is a review comparing all three at the same time, which is what I was looking for when trying to replace my beloved G5.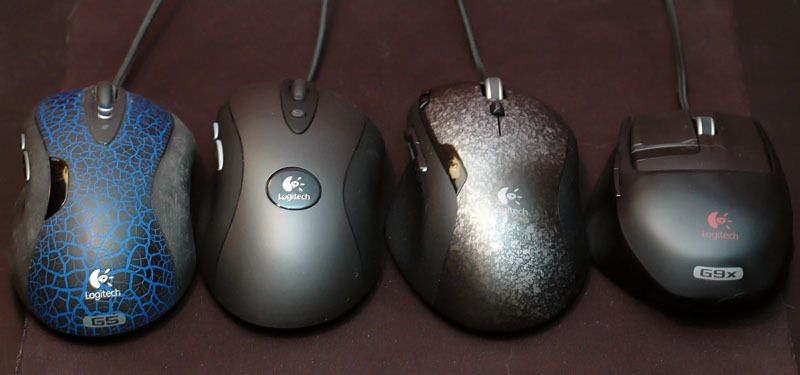 Let me just say I consider myself a pretty "normal" human being. Meaning I'm not really bothered by things like prediction, jitter, and "bad" LOD unless specifically testing for them. So while I might mention them, they were not a problem for me on either three of these mice.
I had been using a G5 for years, and of coarse like everyone grew to love the shape and nothing else felt right. Then a couple weeks ago the right button decided it had seen enough abuse. So without doing proper research I ordered a G9X from my favorite online store. I thought it was the clear choice being Logitech's highest end gaming mouse, and it was only a few dollars more than the G500 at the time. I had no idea the 500 is basically the same mouse (sensor) as the G9x with the shape I've become addicted to. So when I got the G9x of coarse I was disappointed and had trouble getting used to it. (However, as I'll explain later I'm now surprised to find I've grown to like it.) So a week later the G400 and G500 went on sale at a large retailer near me, so I brought them both home to try.
G400
•Feels 100% familiar from the G5, of coarse. With a few nice new touches. I know there have been some complaints of being too slippery, but mine feels great. Definitely more rubberized than the G5.
•Nicer, thinner chord. Yes, it really is nicer and has less memory. I much prefer it to the braided chords on the others.
•Right and Left buttons sound and feel better than the 500 and G9x. Quieter and a bit easier to push. Sounds and feels exactly like my old G5.
•Scroll wheel is the nicer feeling rubber wheel like that of the G5, however the "clicks" aren't as firm and robust. Feels like a cheep old worn out mouse when turning it. I did experience a couple instances of it scrolling back the opposite direction. Almost like it goes back a ½ click. Only happened once or twice so far…
•No display of DPI setting, and mine requires just the right push on the + DPI button or it doesn't work. (Possibly just a defective button on mine?)
•Optical, not laser. This is definitely not a problem, and I actually prefer how this mouse tracks over the others. Maybe more due to sensor placement? (The G500 feels weird to me at times, having the sensor towards the front.)
•No onboard memory. Ie – No changing defaults and uninstalling software. Not really a problem for me, since the defaults are fine for me. I could see this being a problem if you needed to nock the report rate down from default. But thanks to this site, my rig is plenty "cranked up" to handle 1000 ms report rate. =D
•…1000 report rate out of the box. (G500 is 500 out of box.) This can be a good thing, or a bad thing depending on your situation.
•Software – Nothing here that hasn't been discussed many times over. No, it doesn't use the traditional setpoint we're used to. Yes, there is some jitter from using the software.
•On the topic of jitter: It's one pixel here and there. If you're going to miss from one pixel, you really (and I mean really) deserve to miss anyways. =D Other than drawing lines in paint, I did NOT notice the jitter and I think anyone who claims their naked eye can perceive one pixel from a normal viewing distance in game is kidding their self. Yet I still wouldn't run the software because it would still be in the back of my mind using it, so I understand. I just don't like people raging over it. I mean come on… what's the pixel dimension on an average LCD these days? You really think your naked eye can perceive that? =D
•Prediction. Yep, definitely has it. Probably why I like the way it tracks more than the others. (Does the old G5 have prediction? If so that could explain why I prefer it and the 400's tracking.)
•Last, and least – no weight cartridge. It's a bit gimmicky anyways. (Although I do like having a super heavy mouse.)
G500
•Runs 500 hz report rate "out of box." Personally I can't notice a difference between 500 and 1000. So in my case, 500 is probably preferred to reduce cpu load or whatever. Even though thanks to this site my computer can easily handle it…
•As mentioned, has a rough texture like the other shell for the G9x. At first I didn't like it. But I'm ok with it now. It's definitely easier to grip, but definitely doesn't feel as "nice" as the 400.
•I like where the DPI buttons are, although I have noticed if I'm not careful it's easy to click the LMB when changing DPI and waste a few rounds. So if you're going for stealth or low on ammo, use caution. =D
•Thumb buttons are in a good place, however for me less is more. (I prefer the classic 2 button g400 layout.) That said, they are very easy to use and to tell apart from another. Their layout is good. I just prefer "less."
•Thumb rest is wider than the 400. Also the whole mouse feels a little wider, even though I don't think it really is? Anyways I like it over the 400.
•Right side has more room for both ring and pinkie fingers than the 400. At least it sure feels like it…
•Both the 400 and 500 seem to have better feet for gliding my cloth pad. They both slide better than the G9x. More like my old G5 did. (I refuse to use a hard pad. Cloth is more comfortable and I need a bit of resistance to control my twitchy nerves in game.)
•Has two spots on the top plate that look like some one took a lighter to it. Kind of blackened or burned. I'm sure this is just part of the design, but this was one of the first things I noticed unboxing, and it startled me a little. I had thoughts of some kid burning it with a lighter and returning it… =D
•Has weights. I like the weights, just not the kind you find in a gym. I do like having something in my hand that is heavy. (Probably compensating for something else, yes.)
•Slightly heavier w/o weights than the 400. Which as stated above, I like.
•Right and Left clicks are, as previously stated, louder and require slightly more effort than the 400. I really do prefer the 400 in this regard.
•Laser, not optical. I'm still getting used to this and the G9x's tracking. It's not bad, just "different."
•Can setup mouse with setpoint and uninstall. (Has on board memory) Very nice.
•Starting to realize I like the slightly different shape of the 500 better than the 400. It just feels a little wider and larger?
•Scroll wheel sounds a little "rattle-ish" when you spin it fast, but otherwise it's better than the 400. But not as good as the G9x which feels a bit more solid.
•Starting to notice the tracking feels funny at times due to the sensor being at the front of the mouse. I tend to make small adjustments with the back side of the mouse when needing to move the cursor only a few pixels which doesn't work all that well having the sensor at the front of the mouse. Just something to get used to, I'm sure.
G9X
The biggest trouble I had with the G9x is that it tracks completely different than my old G5. I can't really explain it. With all settings the same, it just feels completely different. Almost like the G5 can read my mind and puts the cursor right where I want, and the G9x requires slower more careful movement. Besides that, of coarse being a totally different shape, I had trouble getting used to gripping it. Anyways keep in mind I've had this mouse for a couple weeks now. In that time I've grown to really like it. Although I still prefer the classic G5 shape for general computer tasks, and any games besides FPS. The G9x's shape really works well for me in FPS where I usually don't need to pick up the mouse very often. Anyways, this list is shorter simply because it's the same as the 500, just a different shape.
•I had a lot of trouble using it at first due to it's very different shape.
•Doesn't fill up my hand like the classic G5/400/500 shape.
•A bit harder to pickup and lift off with. Requires a tad more effort.
•Much wider than the G5/400/500 shape. Makes the other seem slim now that I'm more used to it.
•Finding the more I use it, the more comfortable and pleasant it is.
•Still the tracking just feels "off" for some reason, as well does the 500. Something probably more attributed to being so used to only using one mouse for many years. (Before the G5 I had a first gen G5... so I've been using them for almost 7 years roughly.)
CONCLUSION
For me the G500 wins by a slight margin. I really love the feel and look of the 400, but the 500 just has better features. And the G9x, although I'm getting used to it for games, still doesn't work as well for me for every day computing which is 75% of my screen time.
As a final note, as I said I do use a cloth pad. I also have a hard surface pad (allsop brand) but I simply like the plush feel of the cloth. I know it's been said over and over that laser mice don't like cloth pads, but mine seem to track on them just fine for roughly the last 7 years.
As a final, final note here is what happened to my first gen G5. This is called "K9 separation anxiety."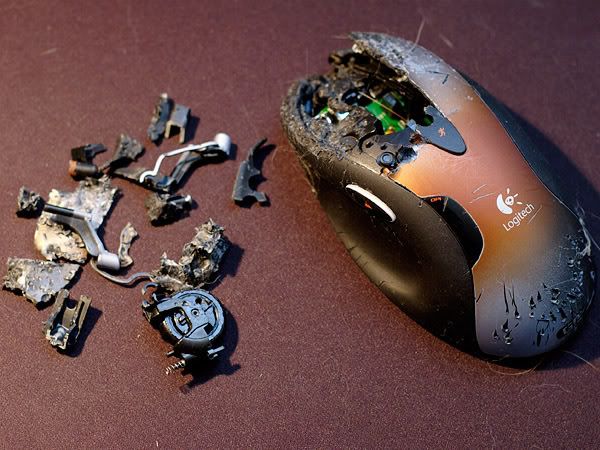 Edited by aberg12012 - 8/22/11 at 6:58am