Hello everyone,
I purchased a new MSI GTX570 Frozr III last week and I've been having some problems with it.
Some games work fine, but most games crash after a random period of time (anywhere from 5 minutes to an hour). What happens is the screen stutters a little and then either just goes completely black (while i still hear the sound) or it crashes to desktop.
Here is my computer specs:
Antec Nine Thousand Case
Thermaltake W0163RU Toughtpower QFan 650W
Asus P5E3 Deluxe Wifi@n Motherboard
Intel Core 2 Quad Q6660 Stepping G0 SLACR
Corsair CMX8GX3M2A1333C9 XMS 8GB DDR3 RAM - PC10666, 1333MHz, 2x 4GB
Creative Labs Sound Blaster X-Fi ExtremeGamer Black
2x Western Digital 500gb 7200 RPM 12mb cache Sata 2 disks in Raid 0
My bios settings looks like this (not these values though, read below):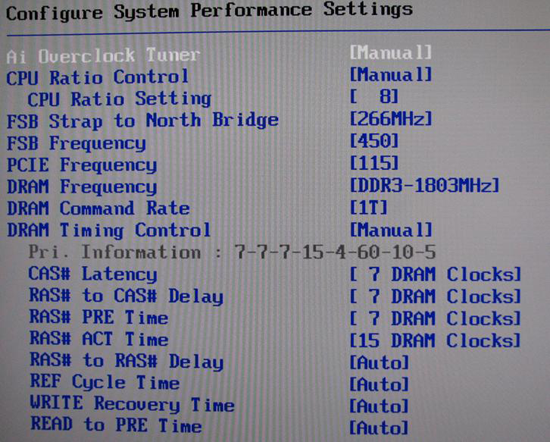 My settings:
Cpu ratio setting: 9
FSP strap to North Bridge: 333mhz
FSP Frequency: 333mhz
PCIe: auto
Dram frequency: DDR3-1333
Dram Command rate: Auto
CAS Latency: 9
RAS to CAS: 9
RAS Pre Time: 9
RAS ACT Time: 24
Everything else is on auto except ram voltage which i have set to 1.6.
I'm using the latest nvidia drivers: 280.26 which I have installed multiple times the normal way and then using driver sweeper in safe mode.
My bios is updated to its most recent version, all hardware also have their latest drivers.
I had a Palit 9600GT 512mb in the same slot before and never had the problem of the game crashing during intense gaming sessions like this.
Games affected are:
battlefield bad company 2 with all settings on max and 16 CSAA, HDAO/Vsync turned off.
Civilization 5 with all settings on max 16xAA
Crysis 2 on the maximum graphic settings.
Fallout - New vegas on max settings as well..but that game crashes so much anyway its hard to tell
The game does not crash in Heroes of Newerth at max settings... No dx11 maybe?
I've ran furmark, occt, Hdtune all without errors or crashing.
I've ran the heaven 2.5 benchmark tools a couple of times, sometimes it crashes with a "direct3d11" error, sometimes it goes to the end without a hitch.
This is a bit more thorough repost from the PSU forums as I believed at first my PSU might not be good enough for this card which was debunked.
I'm by no means an expert in all things computers, this is the first rig I've done any overclocking on, and am not familiar with every little details. Hell my bios settings could be all borked, thats why I need your help!
Edited by Nutron - 8/22/11 at 12:22pm