I have an ASUS G50VT with the 9800M GS. I have been running the GTS clocks forever (600/1500/800 vs 530/1325/800) and with the laptop reaching end of life I figured it was time to see what it can really do.
The card has 64 Streaming processors and a 256 bit interface which is the same of the desktop 9600 GT. The GTS clocks minus the memory are the same as the low power 9600. My ideal target would be the 9600 GT speeds.
The card was flash 640/1600/900 @ 1.15 volt and software overclocked to 650/1625/900. I ran ATI tool to test for artifacts and for the first hour use MSI Kombuster to artificially raise the temps even higher than they get with ATI Tool since its a bit dated. The last hour I burned the overclocked CPU 10 rounds. Keep in mind the air first cools the cpu then cools the gpu in this notebook so it has an impact.
The CPU-Z at the time (post burn) was showing speed at a downclocked multiplier so dont mind the speed reading, shoulda noticed/waited.
I pushed the cpu just a tiny bit further and ran a 3dmark06. My XP record on GTS was 10084. This was my best windows 7 pass at 9920.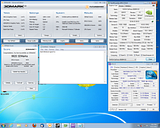 I am back to 640/1600 and have to admit 650 isnt fieldable. I can in any given situation run stable on 640/1600 but 650 needs 1.2v with the laptops own cooling which is too high and hot. This test was done bottom panel off on a notebook cooler. I also removed the pwm pin to prevent the fan from throttling in case it decided to be stupid. The laptop is normally benched so its not an unreasonable setup but its also not normal.
Edited by RainMotorsports - 8/22/11 at 5:01pm
CPU
Motherboard
Graphics
RAM
i5-2500K @ 4.5Ghz
ASUS P8Z68 V PRO
GTX 570 MSI TF III @ 950/1900/2300
16GB Corsair Vengeance
Hard Drive
OS
Keyboard
Power
2TB Seagate 5900 RPM
Windows 7 x64 Ultimate
Ideazon Z Board
Seasonic X750
Case
Mouse
Thermaltake V9 BlacX
Logitech G700
View all
CPU
Graphics
RAM
OS
Intel Core 2 Duo T9600 2.8Ghz @ 3.1Ghz
Nvidia 9800M GS (OC @ 640/1600/800)
4GB DDR2 800Mhz
Windows 7
Mouse
Logitech G700
View all
hide details
CPU
Motherboard
Graphics
RAM
i5-2500K @ 4.5Ghz
ASUS P8Z68 V PRO
GTX 570 MSI TF III @ 950/1900/2300
16GB Corsair Vengeance
Hard Drive
OS
Keyboard
Power
2TB Seagate 5900 RPM
Windows 7 x64 Ultimate
Ideazon Z Board
Seasonic X750
Case
Mouse
Thermaltake V9 BlacX
Logitech G700
View all
CPU
Graphics
RAM
OS
Intel Core 2 Duo T9600 2.8Ghz @ 3.1Ghz
Nvidia 9800M GS (OC @ 640/1600/800)
4GB DDR2 800Mhz
Windows 7
Mouse
Logitech G700
View all
hide details