My new computer is finally complete, thought I'd share with you guys, currently the photos are crappy cuz they're from my phone cuz the camera died while taking pics... I'll upload the higher quality stuff and any progress pics I find when it's charged.

[UPDATED]

Overall the build went extremely smooth, NO problems what so ever, booted up first time installed perfectly fine, it was scary how problem free everything went. Though I did do weeks of research on everything before I started building.

The only real scary bit was mounting that heatsink, I know people who are using the 9700 on a intel board know what I'm talking about. You gotta bend that S-bracket like half an inch putting so much pressure on just the screw head that if you slip your going to punch a hole through the motherbaord with your screw driver lol.

Running windows 7 64bit, and I installed Ubuntu 11.4 on they're own separate drives, though Ubuntu seems to be having internet issues or it could also be the crappy comcast internet we just upgraded to ><


The Build : AZUURA
intel i7 2600, idle at 33C load 57C room temp 28C, stock clocks
Zalman 9700 CNPS
Gigabyte P67A D3 B3
Corsair Vengence 16GB DDR3
PNY Quadro 2000D (entry level workstation card)
2x WD 320gb blue
1x Samsung Spinpoint 1tb
Corsair TX 650
Antec 902 v3

2x HP ZR22W IPS monitors

The first monitor to arrive, and just look at the beautiful back light bleed.. I had to return this one, and it's replacement, to get one that had no noticeable bleed. Monitor #2 had very little bleed barely visible under very low lighting situations and with a dark background



that awesome IPS view angle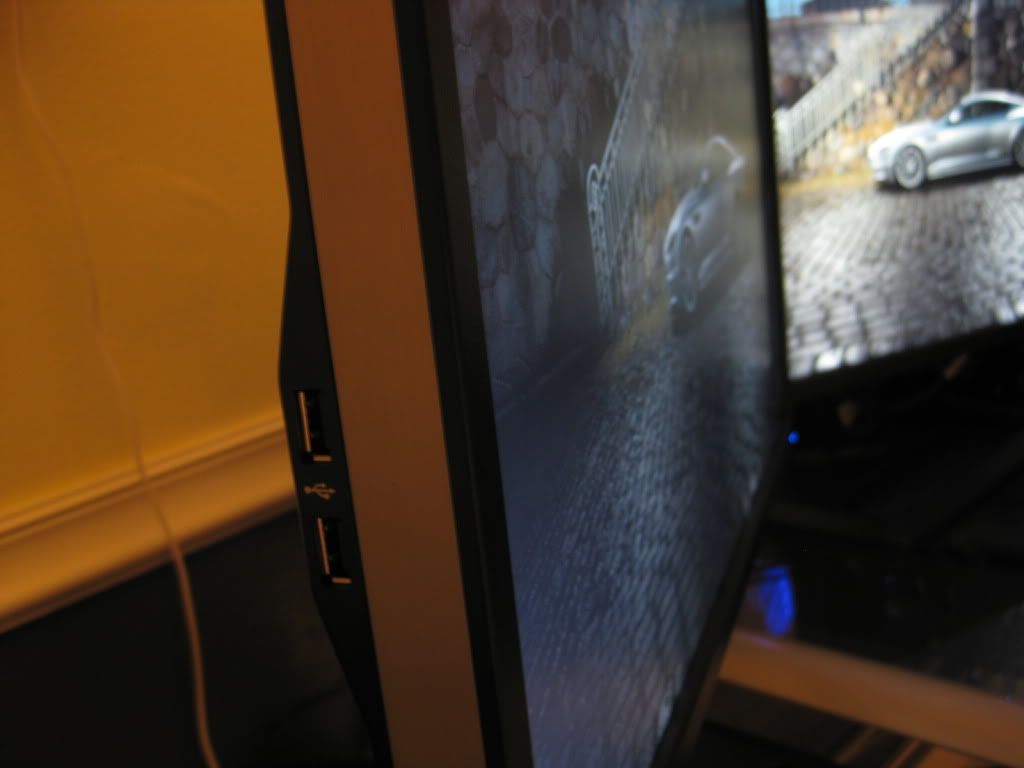 The layout, not enough room on the desk, so the second monitor is sitting on top of the receiver lol. The excellent screen movement works well to line them up side by side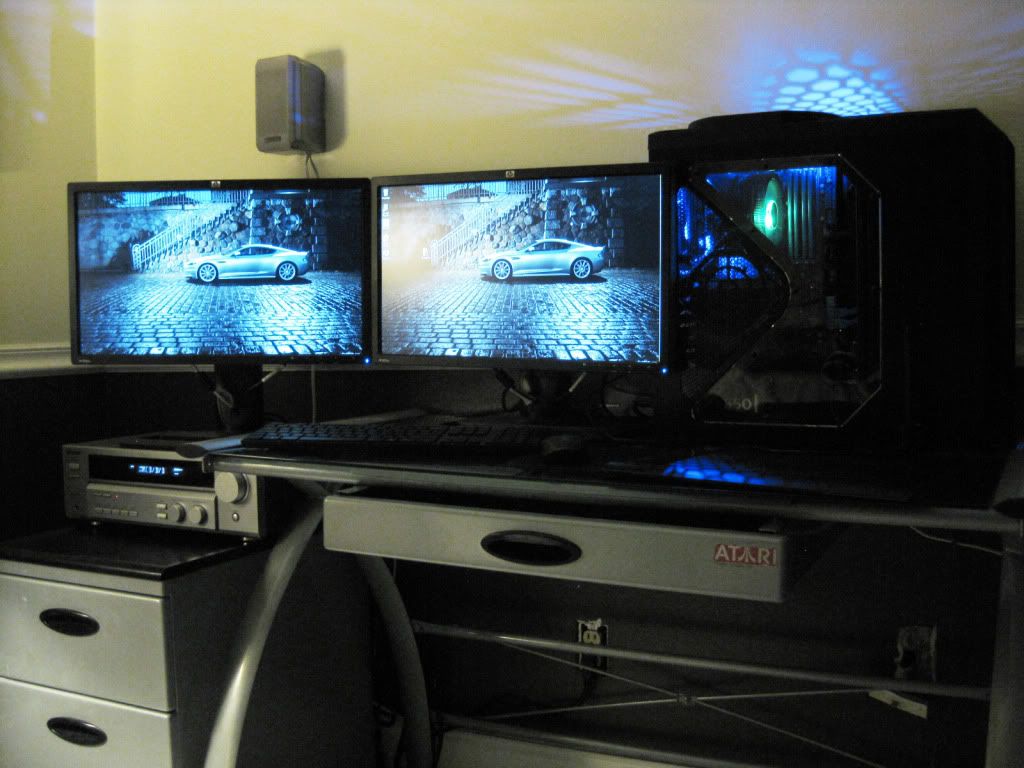 Fingers crossed that single small screw keeps that speaker on the wall =P



For work purposes I find this keyboard excellent, the low profile keys are quiet and very comfortable to use when your transitioning from a laptop.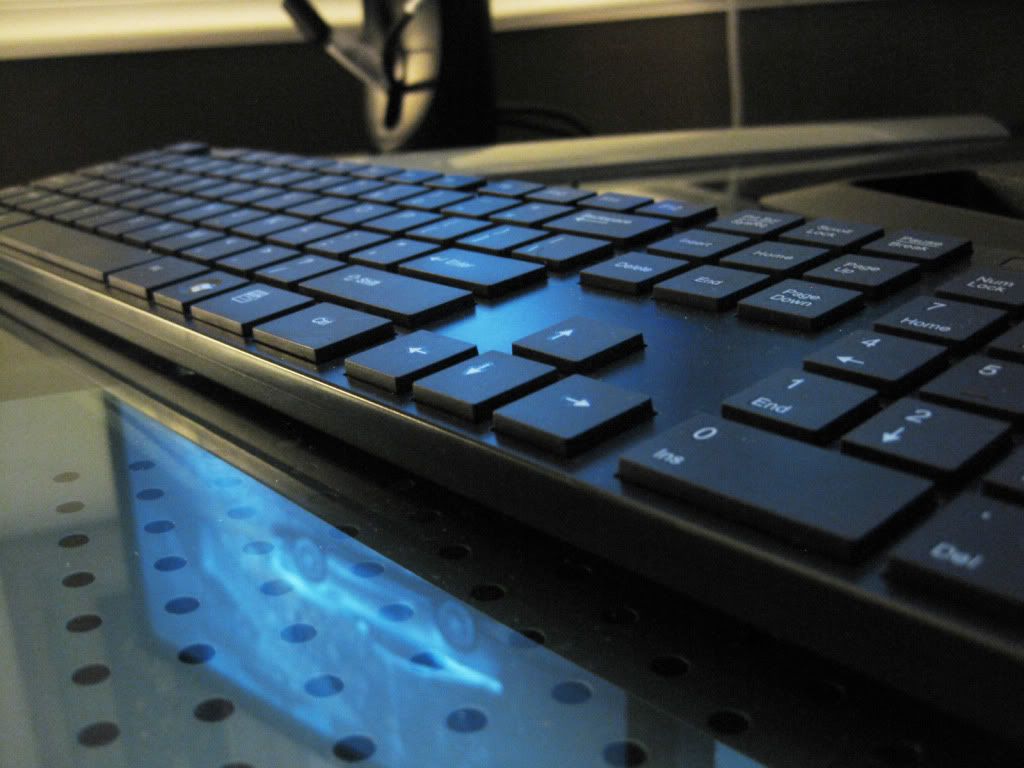 The paint job on the inside of the case is better then the paint on the outside



Those fans are actually SPINNING lol, the fast exposure and flash caught then stopped in time.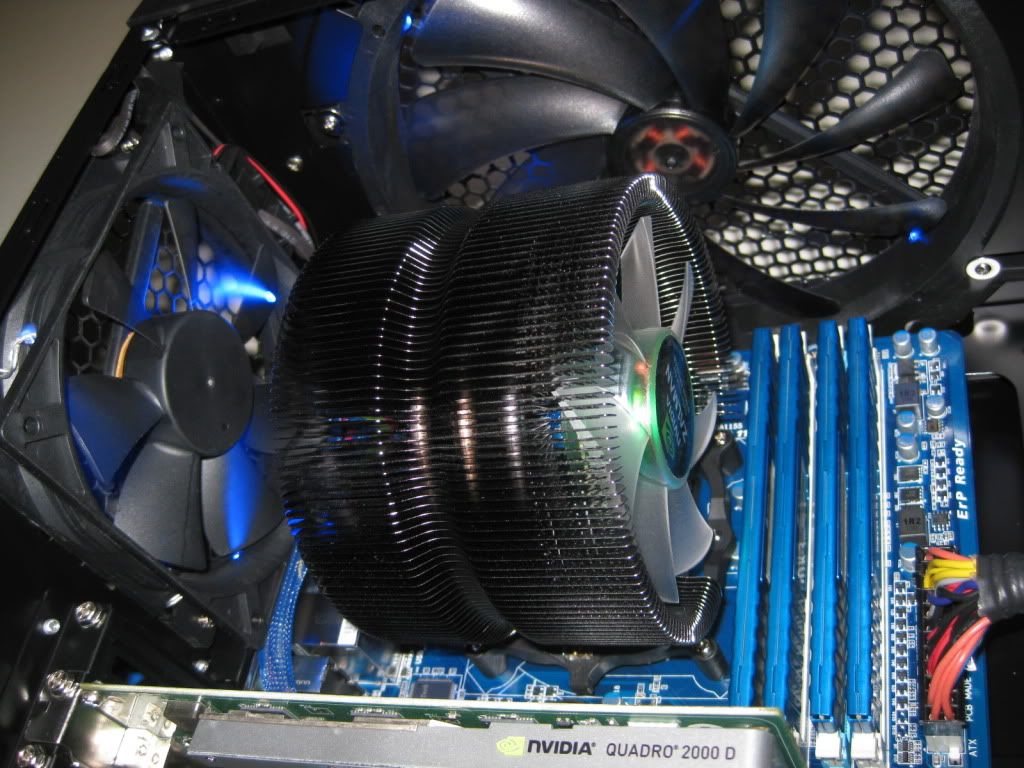 Did I need an after market cooler to run a stock CPU... nope.. are there better coolers on the market.. yup... But do they look as awesome as this?????



At 450$ this ENTRY level workstation card cost as much as a high end gaming card >< But it has superior stability, better openGL support and other features I've yet to explore.



You know that really nice bag that Corsair wraps they're PSU in? it's very useful for storing all the left over parts from the build, screws, zips, brackets, etc..



Couple thing's I learned I thought I'd share if anyone else is planning on building they're first computer.

The newegg video on how to build a computer, extremely useful

Flash your bios before you install the OS

Use a magnetic tip screw driver, do not want to be dropping screws all over your motherboard

Unplug all extra hard disk drives and flash drives before you install a OS, had to learn the hard way that Windows will stash the reserve partition where ever it want's, and Ubuntu won't give you the option to install on the blank drive if it detects windows anywhere

Nitrile medical gloves have anti-static properties, great extra layer of defense and keeps smudges and finger prints off all your pretty new hardware


Test boot your system before you drop it in the case

Do cable management before you drop in the motherboard, cuz it will get in the way

One of these are the most useful tools you will ever have in your arsenal lol

Amazon.com: Energizer 6 LED Headlight With Bright Lights: Sports & Outdoors
Edited by Sn0 - 8/24/11 at 7:01pm
CPU
Motherboard
Graphics
RAM
i7 2600
Gigabyte P67A D3 B3
PNY 2000D
Corsair Vengence 16GB
Hard Drive
Optical Drive
Cooling
OS
1x 1TB Samsung Spinpoint 2X WD 320GB Blue
LG DVD/CD Burner
Zalman 9300NT
Windows 7 64bit, Ubuntu 11.4 64bit
Monitor
Keyboard
Power
Case
2x HP ZR22W IPS
CM Storm Quickfire TK Cherry RED
Corsair TX 650
Antec 902 V3
Mouse
Audio
Other
Logitech Anywhere Mouse
Ultrasone PRO 550 w/ cheap kenwood amp, kenwood...
Logitech G13 Gaming Pad
View all
hide details
CPU
Motherboard
Graphics
RAM
i7 2600
Gigabyte P67A D3 B3
PNY 2000D
Corsair Vengence 16GB
Hard Drive
Optical Drive
Cooling
OS
1x 1TB Samsung Spinpoint 2X WD 320GB Blue
LG DVD/CD Burner
Zalman 9300NT
Windows 7 64bit, Ubuntu 11.4 64bit
Monitor
Keyboard
Power
Case
2x HP ZR22W IPS
CM Storm Quickfire TK Cherry RED
Corsair TX 650
Antec 902 V3
Mouse
Audio
Other
Logitech Anywhere Mouse
Ultrasone PRO 550 w/ cheap kenwood amp, kenwood...
Logitech G13 Gaming Pad
View all
hide details