Quote:
Originally Posted by
skitzab1
Sporkchop
Today at 6:59 am
Yeah send me some pics of what you have or plan on.
I have some metal now for modding! Turns out i have a ton of sheet metal from when I put in my furnace! its gonna be perfect i think.... and FREE!
I am going to use some cardboard and make some templates of my ideas... ill post them on the board or send them to you.
My idea is that I want to hide the wires coming out of the powersupply....and make a tunnel for the fan on the bottom of the case (where the SSD cage used to be) to help keep the GPU cool.
I am thinking about doing the H100 and use the 200mm fan on the top of the case under the handle so i can use that use that fan!
Good looking out bro!
Cheers!
Matt
aka sporkchop
skitzab1
Today at 7:10 am
so 200mm fan on the bottom in front of psu with blowhole up to your card interesting is that your ame ??
skitzab1
Today at 5:20 pm
well this is all for u( put a bit of thort into this for u but remember my basment is about an inch higher than the psu
this is just tape and cardbourd moc up i could not push the fan farther back as it hit the botom of the mobo tray but u should be abel to sort something
make yours a little wider or something as my as my mobo has gone from the right side to the left side u will have to mock up a template for yours as this one would be back to front in your case

i thort u would like this one if u want to pay for postage i could evan probly send the red fan to u if interested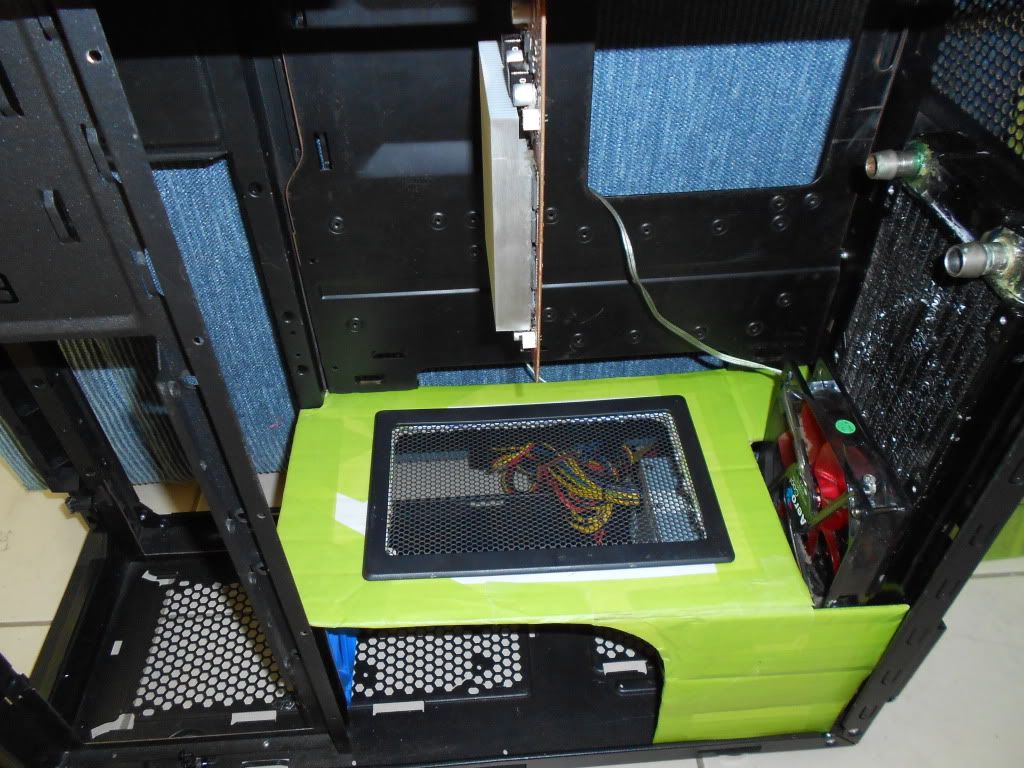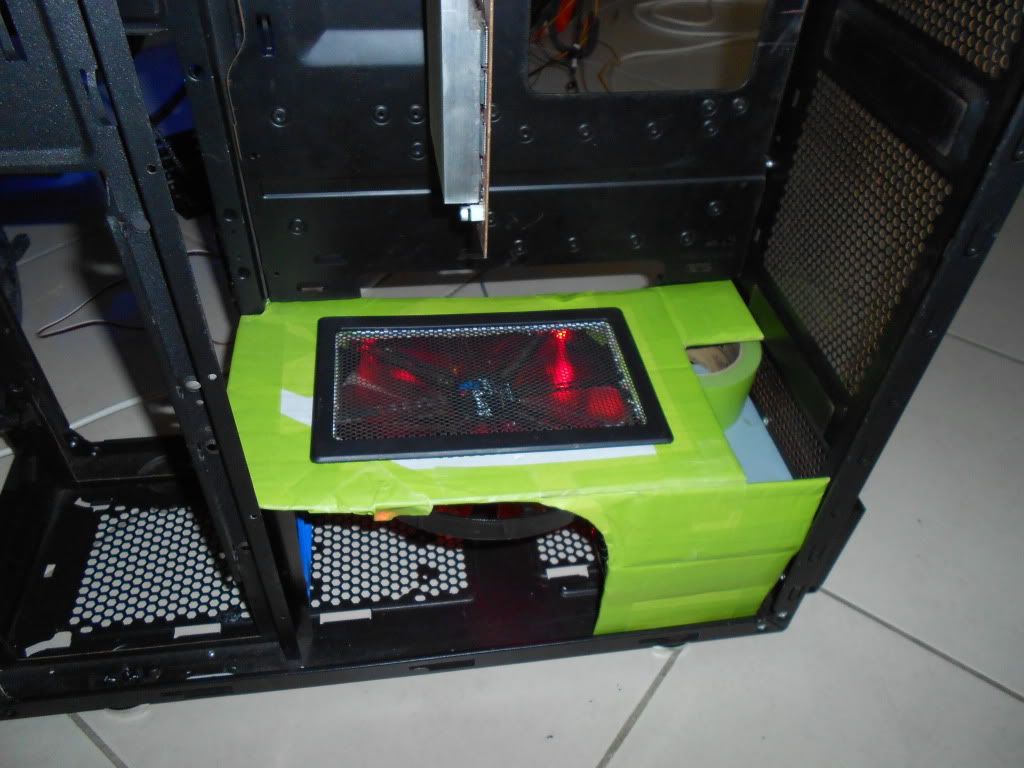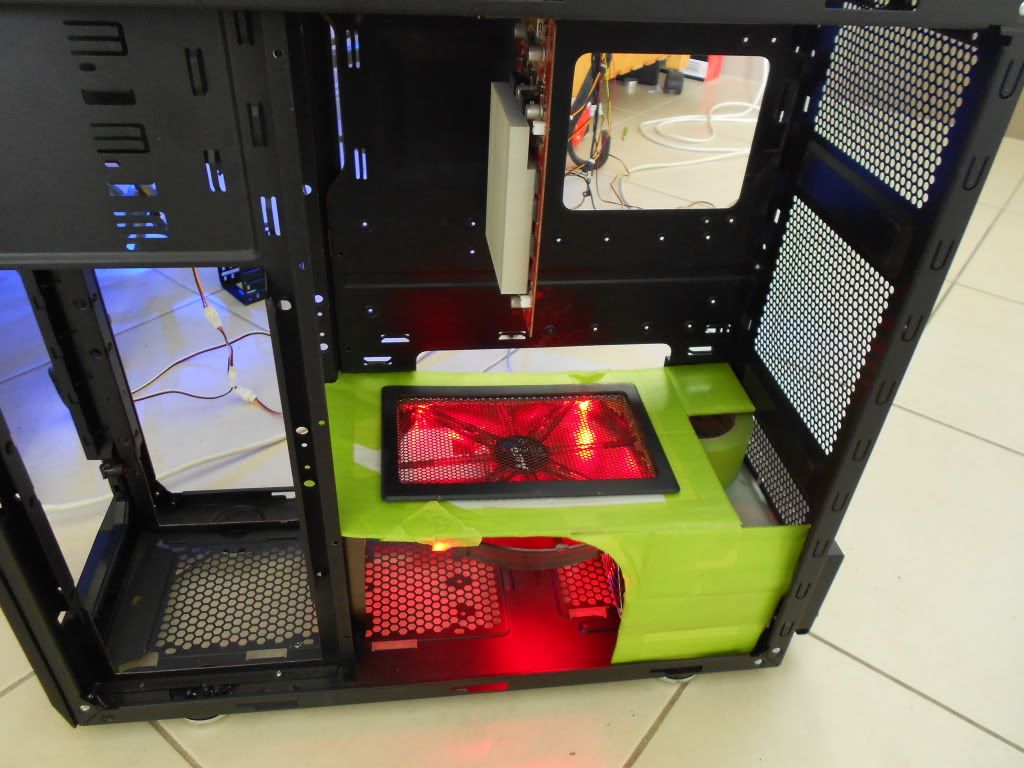 hope this puts a smile on ur face Sporkchop if i can help a felo trooper ill jump to it
i find it fun ????
CPU
Motherboard
Graphics
RAM
Core i7 3820
ASRock X79 Extreme 9
Sapphire 5770 X 2 In Crossfire
16GB Corsair Vengence
Hard Drive
Hard Drive
Hard Drive
Hard Drive
Plextor SSD 128 GB
1 TB WD Black
1.5 tb WD Black
2 tb Seagate Green
Hard Drive
Optical Drive
Cooling
Cooling
WD RAPTOR 300
Plextor PX850SA
Corsair H-100 Water cooling on processor
Factory Cooling for both 5770 Graphic Cards
OS
Monitor
Monitor
Keyboard
WINDOWS 7 Ultimate 64
ViewSonic VX2235wm
Samsung 920 BW
APC With Cherry Switches.
Power
Case
Mouse
Mouse Pad
Corair HX-1000
CM Storm Trooper Enigma Cobra Edition
Microsoft SideWinder Gaming Mouse
ASUS Black Leather
Audio
Creative Core Recon 3Di
View all
hide details
CPU
Motherboard
Graphics
RAM
Core i7 3820
ASRock X79 Extreme 9
Sapphire 5770 X 2 In Crossfire
16GB Corsair Vengence
Hard Drive
Hard Drive
Hard Drive
Hard Drive
Plextor SSD 128 GB
1 TB WD Black
1.5 tb WD Black
2 tb Seagate Green
Hard Drive
Optical Drive
Cooling
Cooling
WD RAPTOR 300
Plextor PX850SA
Corsair H-100 Water cooling on processor
Factory Cooling for both 5770 Graphic Cards
OS
Monitor
Monitor
Keyboard
WINDOWS 7 Ultimate 64
ViewSonic VX2235wm
Samsung 920 BW
APC With Cherry Switches.
Power
Case
Mouse
Mouse Pad
Corair HX-1000
CM Storm Trooper Enigma Cobra Edition
Microsoft SideWinder Gaming Mouse
ASUS Black Leather
Audio
Creative Core Recon 3Di
View all
hide details