I know it's a little late in the game, but Corsair was nice enough to send out a kit of their Vengeance ram to those who participated in the August Ice event last month at Microcenter in Michigan.
Many believe the 1366 platform to be showing it's age or past it's prime, but there are still some who are upgrading from older platforms and 1366 is still very capable and currently more affordable than ever. Fortunately, memory manufacturers still sell some triple channel kits. Looking at newegg as reference, they currently have three 2000mhz kits and about twenty seven 1600mhz kits. For this reason, I did some testing at both speeds to see how this vengeance kit compares in both areas.
Here is a little bit of Corsair marketing.
Quote:
Corsair Vengeance DDR3 memory modules are designed with overclockers in mind. Vengeance DIMMs are built using RAM specially selected for their high-performance potential. Aluminum heat spreaders help dissipate heat, and provide the aggressive look that you want in your gaming rig. As a bonus, the attractive low price of Vengeance memory will also leave lots of room in your system build budget.
One can see by the specs and price, that they are not designed to be performance or benching ram. As corsair says, "they'll look good in your gaming rig." At $80, they are not much more expensive than a 1600mhz cas7 kit.
A picture of whats under the hood. You will see that the ic's have "high-performance potential" written all over them
Visuals
The ram, IMO, doesn't look bad and has black heat spreaders that go well with most motherboards. However, the height, combined with thin aluminum, makes them feel less sturdy than some of the competitors similarly priced options. The tall spreaders can also get in the way of fans if a thick heatsink is used. I'm using the Coolermaster Hyper 212 and had no issues with clearance or fitment. Maybe something like a Megahalem or a person with 38mm fans might encounter clearance issues.
Performance
Testing will be done at 1600mhz and 2000mhz in order to compare kits currently available on the market. Nothing to extensive was used. Most of the time I spent with the ram was running Super Pi 32m and a little bit of Aida64.
Testing Equipment
Evga Classified 760
i7 920 @ 4gzh w/ 4ghz uncore.
Coolermaster Hyper 212 with Push/Pull Gentle Typhoon AP15
Corsair Vengeance 2000mhz 10-10-10-27 2T @ 1.5v
First off I started trying to run the ram at rated specs. Unfortunately I could not get them to run 32m with the rated voltage. I tried at 1.55v and was also unsuccessful. I then skipped to 1.6v and I was able to complete 32m. This should not be an issue as the normal rated voltage on the 1366 platform is typically 1.65v. I did not go over 1.65v as this is designed to be used for a 24/7 gaming system and there is no need to exceed 1.65v.
10-10-10-27 2t 2000mhz @ 1.6v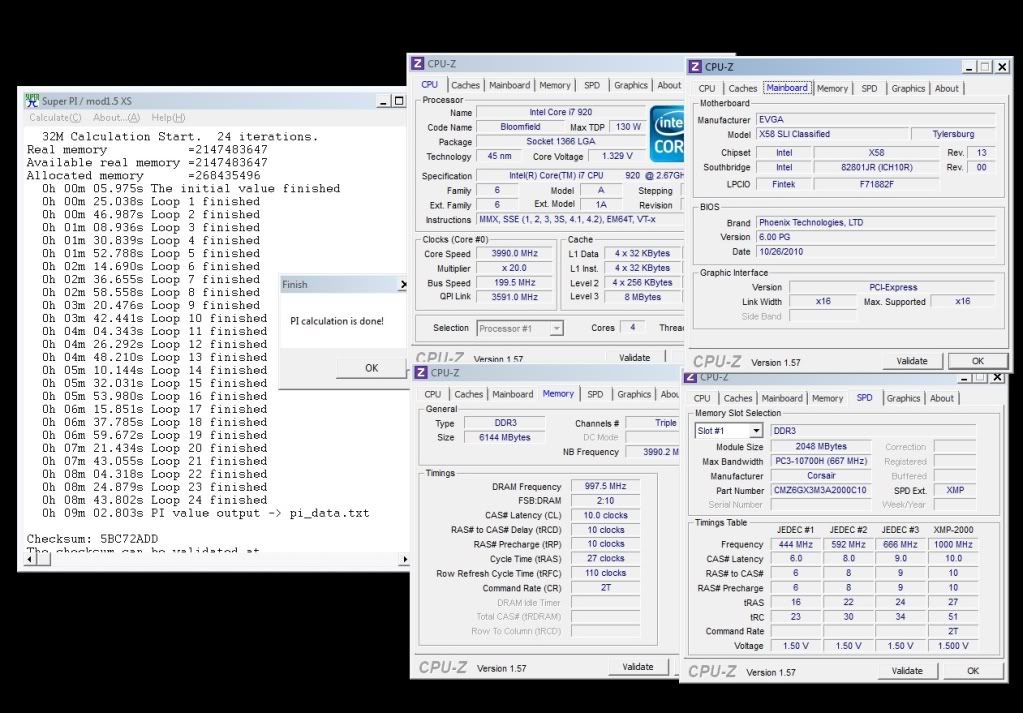 It also ran 1t at same voltage/timings
9-10-9-25 1t 2000mhz @ 1.65v
and then Aida 64
I then switched to 1600mhz and kept same voltage, this is what I managed.
7-8-7-18-1t 1600mhz @ 1.65v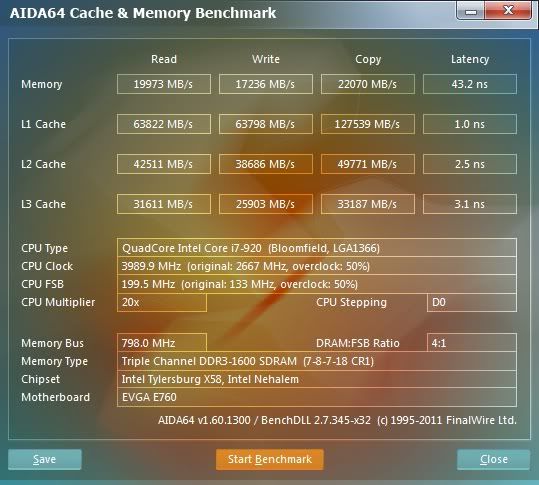 Conlcusion
Due to the lack of great or really good memory on the market nowadays, we rarely see a nice 2000mhz cas8 kit or even cas9. With Sandy bridge, it also seems that 2000mhz kits aren't sought after any more and instead we have plenty of 2133mhz and 1866mhz kits. This particular Vengeance kit compares well with 1600mhz kits and is one of the very few 2000mhz kits. At this point, due to their rather high timings, it comes down to looks and support, IMO. Almost all memory has lifetime warranty, so it's down to how well the company can take care of their customers. Fortunately I've never had to use Corsairs RMA service, but they have taken care of me when I lost some cables on a power supply and they sent me replacements with no questions asked. With that type of service, I'm sure there is nothing to fear when buying Corsair.
Pros:
- Rated for high speeds
- Lower voltage than normal for platform
- Sleek looking heat spreaders
- Clock fairly well at lower speeds
Cons:
- Doesn't run rated speed at rated voltage
- High timings for rated speed
- Tall heat spreaders can possibly get in the way of CPU heatsink.