Just saw these things over at the Aquacomputer forum, they're the newest versions of the all-in-one external units AC has done for a while now; just buy the water blocks with one and you're set for the system: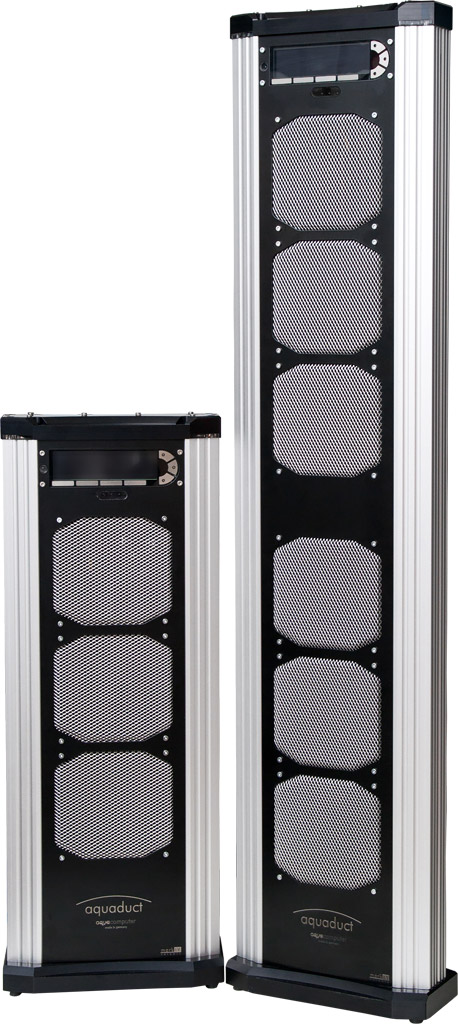 Key details:
499.90 Euros for the 360, E599.90 for the 720 on the Aquacomputer store. Available at the end of the month, from the same place.
These use the same pumps as the MK III, which if I recall properly is a custom Eheim 600 (600 LPH/1.5m head, don't remember power draw but I think it's 11 watts). Sebastian (AC forum admin) has assured members at the AC forum that there will not be a point where the flow rate negatively impacts temperature, even in the 720 model (in case you're worried that it's not powerful enough, which it might not be if you've spammed water blocks everywhere in your system).
They feature a built in water quality sensor to measure conductivity and corrosive properties (among other things, I think) over time; not needed IMO, but it is exclusive to the Aquaduct, it will not be sold as a separate device. The readings from this sensor can be displayed in the Aquasuite or on the Aquaero XT. There are other sensors, as well, for water temperature, flowrates, in/out air temperature, and water level.
These feature older Airplex Pro radiators, mainly because if they were to use the new AMS rads, they'd have to redesign the whole thing and it would set launch back quite a bit.
There is an RGB LED built into the water column in the units and it can be customized via the Aquaero XT/Aquasuite.
Since it has an Aquaero XT built in, it expectedly comes with the handy Aquaremote.
I think I covered everything... if I haven't Shoggy can likely answer things better. To me they're far too expensive to seriously consider, but they're very nice nonetheless.
CPU
Motherboard
Graphics
RAM
Intel Core i7 920 D0 (Batch # 3901A240)
Foxconn X58 Blood Rage (non-GTI)
eVGA GeForce GTX670 2GB
6GB Corsair Dominator 1.6GHz TR3X6G1600C8D Rev 3.2
Hard Drive
Optical Drive
Cooling
OS
Samsung SSD830 128GB / Seagate 640GB+1TB+2TB+4TB
Samsung SH-S223Q 22X
XTTH | OCZ Freeze | 9G1212H1011
Windows 7 Ultimate x64 SP1
Monitor
Keyboard
Power
Case
Dell U2410f (rev. A02)
OCN-Ducky DK-9008
Antec HCPP-850
CaseLabs SM8
Mouse
Mouse Pad
Audio
Other
Logitech G500
Sharkoon 1337
Asus Xonar DX + Swan D1080MkII08 + MXL Tempo
Lifecam Cinema
View all
hide details
CPU
Motherboard
Graphics
RAM
Intel Core i7 920 D0 (Batch # 3901A240)
Foxconn X58 Blood Rage (non-GTI)
eVGA GeForce GTX670 2GB
6GB Corsair Dominator 1.6GHz TR3X6G1600C8D Rev 3.2
Hard Drive
Optical Drive
Cooling
OS
Samsung SSD830 128GB / Seagate 640GB+1TB+2TB+4TB
Samsung SH-S223Q 22X
XTTH | OCZ Freeze | 9G1212H1011
Windows 7 Ultimate x64 SP1
Monitor
Keyboard
Power
Case
Dell U2410f (rev. A02)
OCN-Ducky DK-9008
Antec HCPP-850
CaseLabs SM8
Mouse
Mouse Pad
Audio
Other
Logitech G500
Sharkoon 1337
Asus Xonar DX + Swan D1080MkII08 + MXL Tempo
Lifecam Cinema
View all
hide details