Quote:
Originally Posted by
JoeWalsh
All lobbies are private (public matchmaking groups players then finds a server), so the only way to join one is to look for one under the 'private games' tab under 'find a lobby.' However, the system doesn't seem to be set up for non-stats-style matchmaking right now - just for playing with friends. I dunno really, it just seems incomplete and I wouldn't use it yet. The public vs AI option is probably best if you don't want to kill your stats.
Then again, if you can get 10 OCNers and friends playing at the same time, you could do a private match and have some real fun
Quote:
Originally Posted by
JoeWalsh
I believe that all public, non-AI matches add to stats. The ways to leave your stats alone are to (1) play a public game versus bots (right under find public game option, 5 humans vs 4 bots) or to play a private game. Private games can be played with humans by having up to 10 people join the lobby and/or with bots by selecting the "Fill empty slots with AI" checkbox under options when you create a private lobby.
Let me know if this doesn't completely answer or you need more help
+1 to these. Thanks for helping out, Joe.
Edit - Here is the latest update, as I mentioned last night Lycan is now in the game!
Quote:
Originally Posted by
Dota Team
The trails will run red
March 23, 2012 - Dota Team
Is there a full moon out? Because Lycan is on the prowl.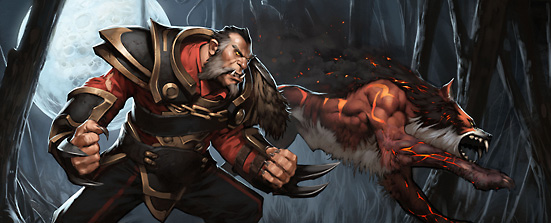 One thing to check out in today's update is the new Hero Performance Rating section in your Persona page. Your performance ratings show how well you play each hero compared to other players of similar skill.

These stats are only available to you. Your ratings will become more accurate the more you play, so get cracking!
This week we are also increasing the number of invites being sent out. In addition, we'll be giving the most active Dota 2 players some more copies to gift to friends. This will be done on a regional basis based on available capacity, starting with US West.
Oh, these might be relevant to your interests:
This week's
Dota 2 Top 10
plays.
AnGeul created a
teaser
for the Asian Dota Masters tournament.
Finally, today's changelog is available
here
.
blog.dota2.com
Edit 2 - Wow...GoDz is a part that Asian tournament and he is a friend of mine. Holy crap.
Edited by Zulli85 - 3/22/12 at 6:41pm
CPU
Motherboard
Graphics
RAM
Intel C2D E6600 B2
EVGA 680i A1
Evga 8800GT
OCZ 4GB DDR2 800
Hard Drive
Optical Drive
OS
Monitor
WD Caviar Black 600 GB
NEC DVD-RW
Windows 7 Pro 64-bit
BenQ V2400W 24" widescreen
Keyboard
Power
Case
Mouse
Random Logitech
OCZ GameXStream 700 Watt
Antec P182
Logitech G700
Mouse Pad
Razer Destructor
View all
hide details
CPU
Motherboard
Graphics
RAM
Intel C2D E6600 B2
EVGA 680i A1
Evga 8800GT
OCZ 4GB DDR2 800
Hard Drive
Optical Drive
OS
Monitor
WD Caviar Black 600 GB
NEC DVD-RW
Windows 7 Pro 64-bit
BenQ V2400W 24" widescreen
Keyboard
Power
Case
Mouse
Random Logitech
OCZ GameXStream 700 Watt
Antec P182
Logitech G700
Mouse Pad
Razer Destructor
View all
hide details