One of the downsides (or upsides if you prefer) is that all mITX boards are single slot, meaning no corssfire/sli.
I was looking over some server parts for another reason and I came across this:
Flexible dual PCIe riser
. Basically it takes 1 x16 signal slot and splits it into 2 x8 slots. Since most all cards today are not bottle necked by a x8 slot there seems to be little problem with splitting it.
I was wondering how well it would work on a mITX board with a couple of
these
to get them out of the way of each other.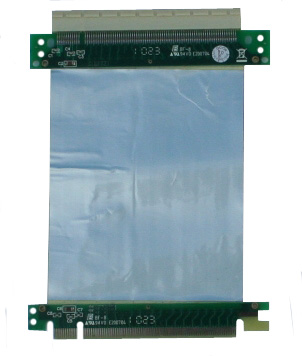 I know that riser cables increase latency. From what I've read, the differences are minuscule.
What is the validity of getting these and crossfiring/sli-ing two cards onto a mITX board?
CPU
Graphics
RAM
Hard Drive
Intel i7-3615QM
GT 650m
Samsung
Crucial M4
Hard Drive
OS
Monitor
Power
Seagate ST1000LM024 HN-M101MBB
Windows 7 Ultimate 64-Bit
17.3" 1920x1080
Delta SADP-90FH D 90W
Mouse
Audio
Logitech M505
Fiio E10
View all
hide details
CPU
Graphics
RAM
Hard Drive
Intel i7-3615QM
GT 650m
Samsung
Crucial M4
Hard Drive
OS
Monitor
Power
Seagate ST1000LM024 HN-M101MBB
Windows 7 Ultimate 64-Bit
17.3" 1920x1080
Delta SADP-90FH D 90W
Mouse
Audio
Logitech M505
Fiio E10
View all
hide details