Hello members of the OCN!
I have a build for you guys to critique and suggest items to me as it comes together. Originally this build was going to be themed around Air cooling with an industrial look and feel and was started on another Forum. But as I planned the build I realized just how much I really wanted to do another water cooling rig. Since my last water cooled PC I have accumulated a lot of parts and feel this is the time to put them in use as Bulldozer is in fact on the horizon. Most of these parts are brand new and as of this time only been tested. The list comes next!
All of these parts are sitting at home with exclusion of the BD chip just waiting for my time off!
.: Core Build :.
CPU: FX8150 (In its stead until release a 1075T will be used)
MAIN : Asus 990FX Sabertooth
GPUs : 2 – XFX6850s in Crossfire.
MEM : Mushkin Enhanced Blackline Ridgeback 6/8/6/24 @ 1600 4x2gb
SSD : Crucial M4 64Gb x 2 Raid0
HDD : 640Gb Western Digital Black x2 Raid0
SOUND : Creative X-Fi Fatality
PSU : Enermax Revolution85+ 1020 Watts (Overkill is good.)
CASE : 650D (Lots of work to be done here!)
.: Cooling :.
CPU Block : EK Supreme HF Full Copper with Black Acetal Top
GPU Blocks : (Undecided)
MEM Block (Undecided)
PUMP : Liang MCP350 x2
TOP : EK DDC Top Black Acetal
RES : 150Ml Bitspower Z-Tank + 80Ml Bitspower Z-Tank
RAD : 1x 240 Koolance + 1x 220 Koolance or 1x 200mm Rad
FITTINGS : Bitspower Compression Fittings, Various Sizes and Shapes.
FC : Zalman 6 Fan Controller, Brushed Anodized Black Aluminum
FAN : YateLoon : 140mm x2 120mm x3 (All are the Medium speed models, 120s are thin version.)
TUBING : Tygon Silver AntiMicrobial.
.: Misc Parts :.
Carbon Fiber ModSmart High Density Sleeving
Grey and Black Misc Heat Shrink
NZXT Sleeved lighting cables. White
Modders Mesh, Small Hole Format Sheets.
Sound Dampening Materials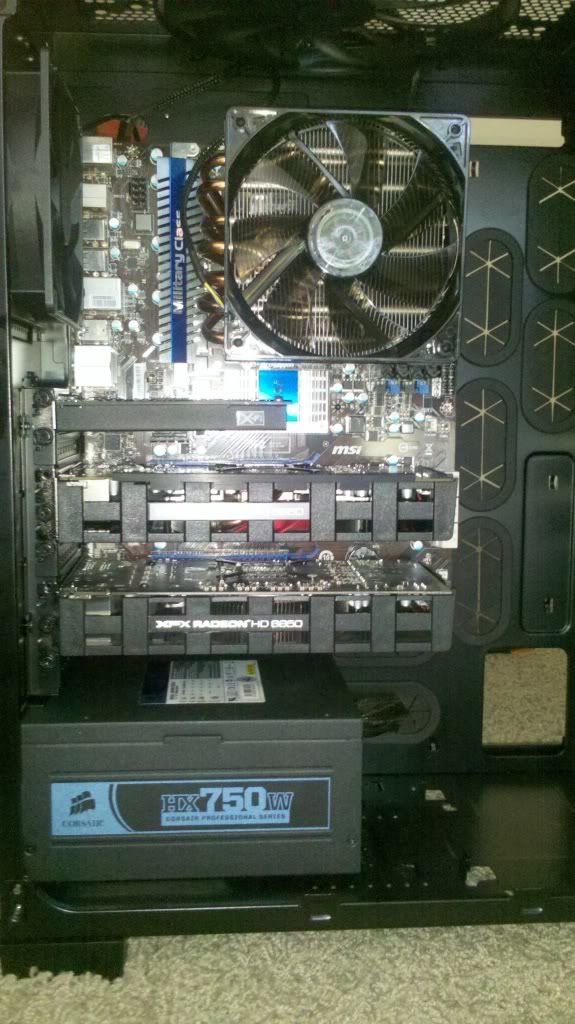 This was the Mock Build to test parts, it was originally performed on an MSI 890FX-G65 with a different PSU as well. As stated in the parts list these will be a 990FX Sabertooth and an Enermax Revolution85+ which are there as of now!
This is going to be a long journey as the fabrication process has just begun. I have only had 1 day at home to work on this so far and it was spent designing and measuring. I hope to give you guys some eye candy before the end of the upcoming weekend!
Have a great one!
CPU
Motherboard
Graphics
RAM
FX-8350 5.1Ghz
Asus 990FX Sabertooth
XFX 7950
Mushkin Enhanced 2x8G 11/11/11/30 - 2400Mhz
Hard Drive
OS
Keyboard
Power
SSD:2xM4 120Gb // 2x640Gb Black
Win7 Ultimate 64b
Corsair K90
Enermax Revo85+ 1020W
Case
Mouse
Corsair Air 540
RAT7 + G9x
View all
hide details
CPU
Motherboard
Graphics
RAM
FX-8350 5.1Ghz
Asus 990FX Sabertooth
XFX 7950
Mushkin Enhanced 2x8G 11/11/11/30 - 2400Mhz
Hard Drive
OS
Keyboard
Power
SSD:2xM4 120Gb // 2x640Gb Black
Win7 Ultimate 64b
Corsair K90
Enermax Revo85+ 1020W
Case
Mouse
Corsair Air 540
RAT7 + G9x
View all
hide details