Hi all...
The problem in a nuttshell: I can't get TrueHD bitstreaming working. FFdshow will pick up the stream as TrueHD, but keeps making the output PCM 5.1 48khz / 32-bit integer.
First, my setup:
APU:
AMD A8 3850 / 2.9 GHz - Socket FM1 - L2 4 MB - Box
Mobo:
Gigabyte GA-A75M-UD2H (rev. 1.0)
Receiver:
Samsung HTD6500
As you can see, all of these components must be well-capable of playing TrueHD content.
I've connected my HTPC to my receiver with an HDMI cable.
Now, for the problem:
I can play back 5.1 sound, no problem. It plays DTS like a charm, i have absolutely no problems with playback whatsoever, except for this:

I can't get it to bitstream in TrueHD.
First, i thought it was the settings in FFdShow, and MPC-HC. I've checked all guides, settings, etc. Even had a collegue take a look at it, who has this working at home;
All settings in FFDshow and MPC-HC should be fine.
I can post em if people are interested.
Then, i noticed something:
When i open the audio output device (The AMD HDMI Output) and i check supported formats -> Encoded Formats list, i see only the following 2 codecs: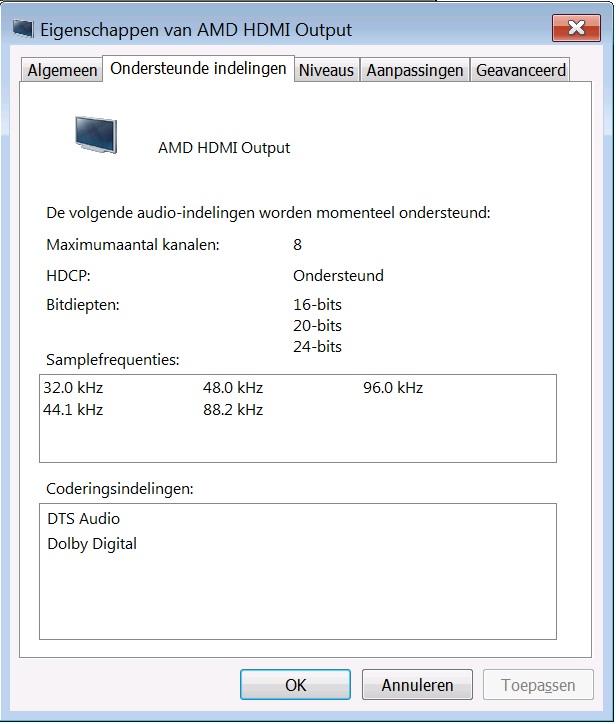 Also, the samplefrequency is 96.0 khz max.
What the f? Shouldn't this be up to 192 khz, and at least look something similair to this: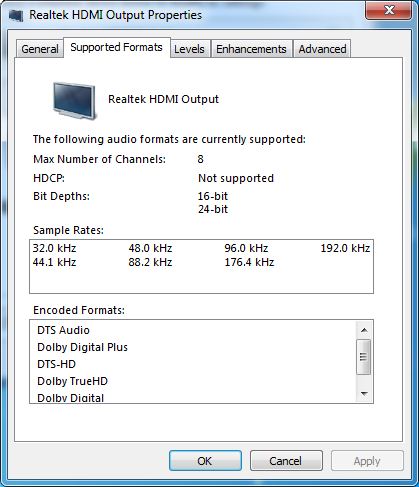 I've tried different drivers, both from AMD, Realtek, ATI, etc, but to no avail.
My 2 questions are:
1. Could this be the reason that i can't get bitstreaming to work (that it is making the output PCM 5.1, no matter what i try)?
2. Where is the problem residing here? The mobo should be well-capable of playing TrueHD formats, and my receiver is capable of decoding it.
I'm totally lost here. Where should i turn to get my encoded formats list like the one in the last picture? Is it a driver? If so, is it AMD / ATI / Realtek? Or is it hardware related? Etc.
I'm totally lost here, so if any1 have seen this problem before, or God willingly knows the answer to this, i'd be forever grateful.
Thanks in advance,
Kami.