3D Fanboy Competition:

nVidia

vs

ATi

!!



Pick your team

Green

or

Red

.



Benchmarks:




3Dmark03




3Dmark06




3Dmark Vantage

(PhysX disabled)
Rules:
Pick one team
Red or Green.
The losing fanboys must forever hold their peace until the next refresh.
First place in each class will win $30, 2nd $20 and there will be
2 random $50 prize drawings
!!
No unreleased hardware.
ANYTHING GOES!!!
All submissions must be formatted and comply with hwbot standards. I.E 2 instances of cpu-z on both the memory and cpu tabs along with an instance of gpu-z and the details tab. [The game resolution must not be covered up and the game FPS test(details tab) must be showing.]
Any cheats will be banned from this and future competitions.
You can enter up to 4 classes but only on one team.
No background is required this time, just your user-name and
team color/colour
in the form of notepad.
Please refrain from editing submissions post and make a new post instead.
There are 4 classes per team, x1, x2, x3 and x4 gpu categories.
The team with the highest overall total in 03', 06' and Vantage will be the winners.
ATI Fanboy Captain:
El Gappo
nVidia Fanboy Captain:
PizzaMan
Competition time frame:



Starts: Oct 4th

.


Ends: Nov 4th 23:59 -5 GMT
sample of valid screenshots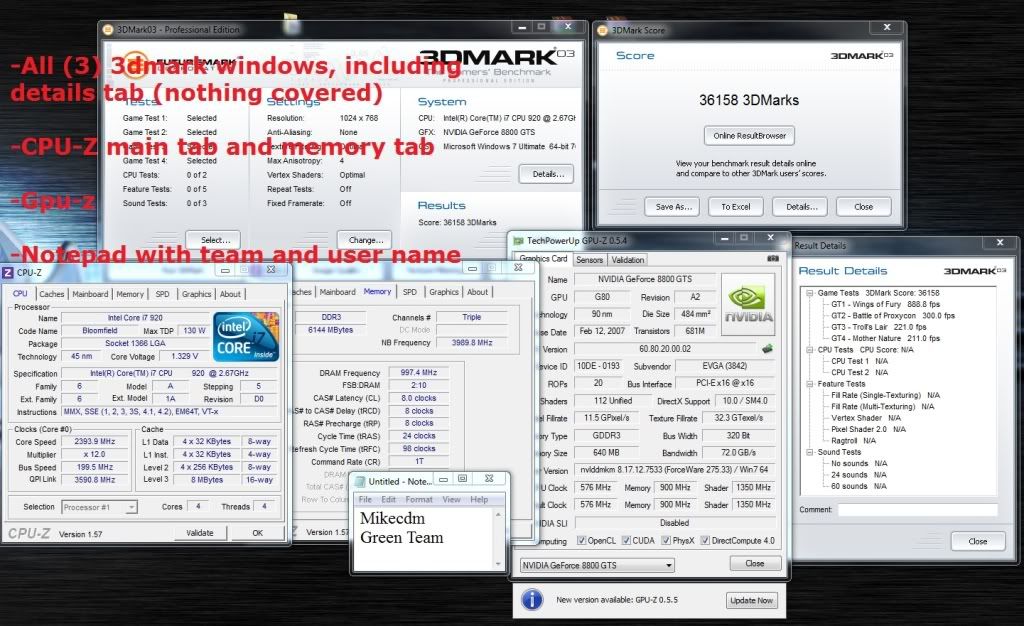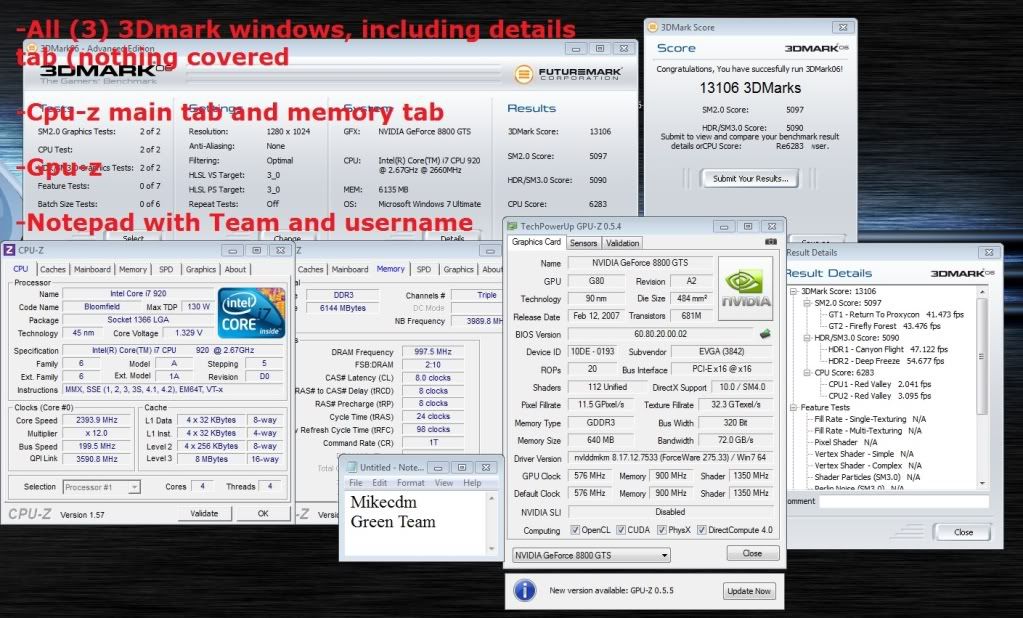 Quote:
Originally Posted by
HobieCat;15201459
You need to click the button I've highlighted in
RED
once you finish running the benchmark.
Thanks to xXSebaSXx for the wallpaper. Wallpaper is optional and not required.
Quote:
Prize winners
Mikecdm $30
Khalam $60
Maximous $20
Scorpion49 $20
covertash $20
topdog $60 (topdog is giving his x1 class winning up for random drawing to those in REd team's x1 who submitted for all three benchmarks)
Nexus6 $30
rubicsphere $40
H3LLsREAPER911 $20
Randoms:
1337LutZ $30 (Winner of topdog's random give-a-way from red team's x1)
Eaglake $50
ryan w $50
[NOTE] Prize winners, please PM me your paypal address with Fanboy prize in the title.
CPU
Motherboard
Graphics
RAM
E8400, E8600, 980BE
T2RS+, P5E3, TA890FXE
8800GTS's,GTX's,GS,Ultra's,9600GT
Lots of D9's and some crap DDR3
Hard Drive
Power
Case
Seagate 250GB + 80GB WD for benching
TT 875w, Corsair 650TX
Custom bench station
View all
hide details
CPU
Motherboard
Graphics
RAM
E8400, E8600, 980BE
T2RS+, P5E3, TA890FXE
8800GTS's,GTX's,GS,Ultra's,9600GT
Lots of D9's and some crap DDR3
Hard Drive
Power
Case
Seagate 250GB + 80GB WD for benching
TT 875w, Corsair 650TX
Custom bench station
View all
hide details