Hi Guys,
Good to be on a Ocing Forum
Basically i am having problems with my Asus M4e
I have 2 gtx 580 LE Xtreme and a xonar STX Sound card
The Layout im trying to run is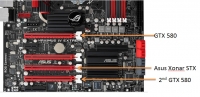 Click to view full size![/URL]
But when the sound card is in 4th slot it does not work, the only slot it seems to work in that i have tried is the 6th (pcie 4) or the first Slot (pcie 16x) it seems to be something to do with the nf200 ?
When i boot computer in above layout, sound card is detected but as unknown device and drivers will not install. going through Device manager and updating that way Causes BSOD.
Have tried Clearing Bios, running all stock atm
The reason i am trying to run the above layout is so the fans have room To suck in air.
What are my options here ?
From what i gather it seems to be the nf200 issue but not sure.
Any help is accepted
Cheers guys