.
What do you think could this "DOC" be ?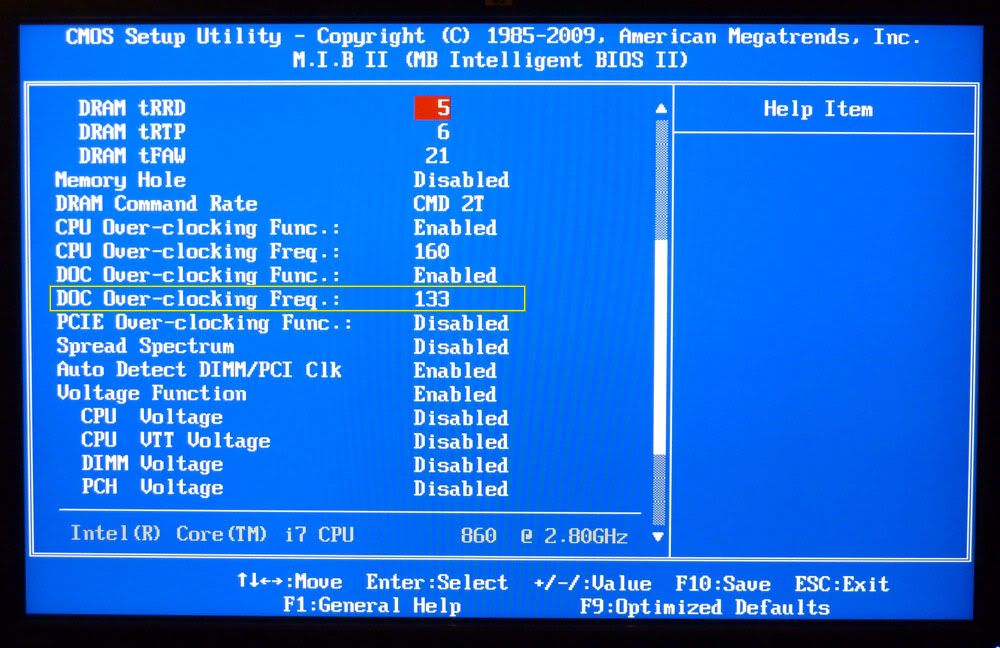 If follow the order in the list of options explained here :
http://www.hardwaresecrets.com/article/ECS-P55H-A-Black-Series-Motherboard/803/5
would it make sense that it indeed refers to RAM BClock ?
I don't see any other option of setting Memory BClock, so maybe thats it indeed? IF in 1156 boards Memory BClock is separately adjustable. (is it?) I am noticing that altering the "CPU Over-Clock freq" (CPU BClock i guess) alters the memory speed too ("CPU Over-Clock Freq" Mhz x mem multi) (*)
The only other manual option for memory besides timings is adjusting its multiplier (is given in the form of "800 Mhz,1066 Mhz,1333 Mhz,1600 Mhz" meaning 6x, 8x, 10x, 12x respectively)
An ECS representative was only able to state "it's Dynamic Over Clock function for allowing user set a CPU base clock" ....
(*) Maybe , when "DOC" is disabled, the Memory BClock is the same as the CPU Block ?
.
Edited by monographix - 10/7/11 at 5:17am
CPU
Motherboard
Graphics
RAM
i7 880
ECS P55H-A
VTX-3D HD 7870
1600 8Gb Ripjaw
Hard Drive
OS
Monitor
Power
Vertex 2 180, Samsung 840 180, intel 330 180, 5...
Win7 x64
HP ZR24W
Enermax Liberty Eco 620 mod
Case
Xigmatek Midgard
View all
hide details
CPU
Motherboard
Graphics
RAM
i7 880
ECS P55H-A
VTX-3D HD 7870
1600 8Gb Ripjaw
Hard Drive
OS
Monitor
Power
Vertex 2 180, Samsung 840 180, intel 330 180, 5...
Win7 x64
HP ZR24W
Enermax Liberty Eco 620 mod
Case
Xigmatek Midgard
View all
hide details