Here is a shot of my T10. I'm running two water cooling loops with 2 XSPC RX360 rads in push/pull config. One in the flex bay area and one in the PSU area. Sorry for the cable mess,
my rig is still under upgrade construction.
I'm waiting for my man Martin from Psychosleeve to finish up with my AX1200.
If your looking to go push/pull with a thick rad such as the RX360, then the T10 is your case, lots of head room.
As you can see in the pic, I still have plenty of room both forward and aft of the rad.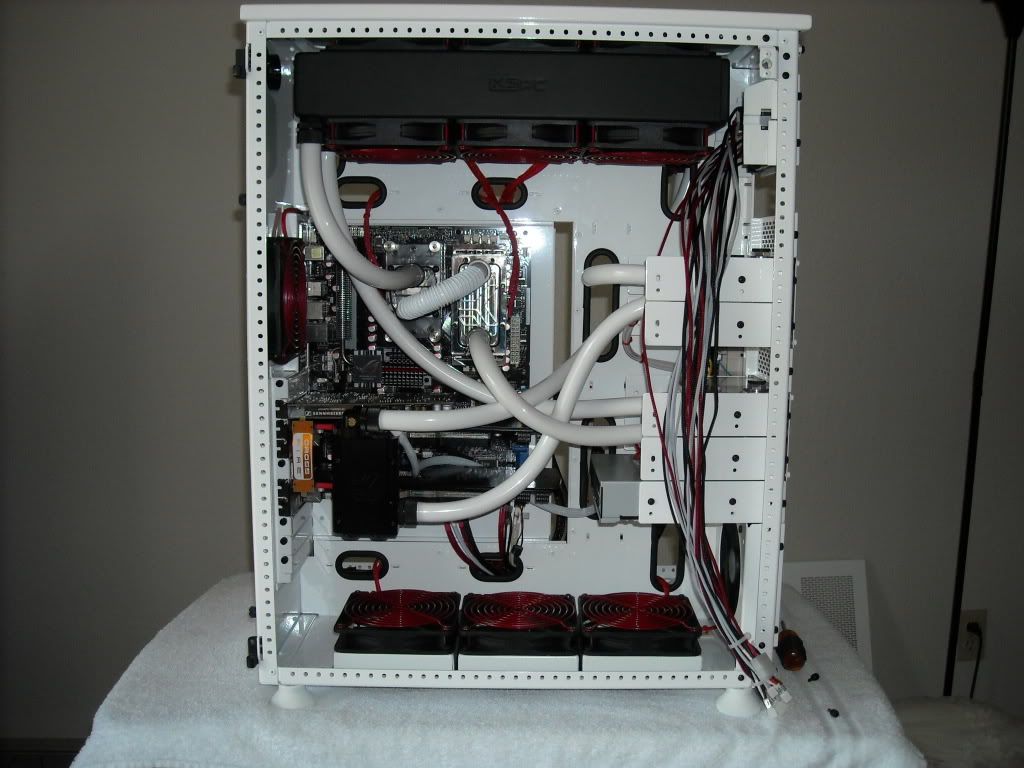 Edited by TPE-331 - 10/11/11 at 3:10am
CPU
Motherboard
Graphics
RAM
AMD Phenom II X6 1090T
ASUS Crosshair III Formula
x2 SAPPHIRE Radeon HD 5870s
8GB Corsair Dominator GT
Hard Drive
Hard Drive
Optical Drive
Cooling
120GB Intel 510 SSD - 256GB Crucial M4 SSD
x2 1TB Western Digital Caviar Greens
Pioneer BDR-205 BD/DVD
EK-Supreme LTX
Cooling
Cooling
Cooling
Cooling
x2 EK-FC5870
x2 XSPC RX360 Radiators
EK-RAM Dominator
x20 Yate Loon 120mm Case Fans
Cooling
Cooling
Cooling
OS
EK-FC Bridge DUAL Parallel 3-Slot
x2 XSPC Acrylic Dual 5.25" Bay Reservoirs
NZXT Sentry LX 5.25" Dual Bay Fan Controller
Windows 7 Ultimate x64
Monitor
Keyboard
Power
Case
x2 25.5" ASUS VW266Hs
Logitech G15
Corsair AX1200W - White
CaseLabs T10 - White
Mouse
Audio
Cooler Master Sentinel
ASUS Xonar Xense
View all
CPU
Motherboard
Graphics
RAM
Core i7 980x Extreme @ 4.5Ghz
ASUS Rampage III Black Edition
ASUS GTX 480 TRI-SLI
12GB Corsair Dominator GT @1600MHz 8-8-8-24 1T
Hard Drive
Hard Drive
Hard Drive
Hard Drive
OCZ Vertex 2 120GB SSD
x2 OCZ Vertex 3 120GB SSD
1TB Western Digital Caviar green
500GB Western Digital Scorpio Blue
Hard Drive
Optical Drive
Cooling
Cooling
3TB Seagate Baracuda
LG Super Multi Blue BD/DVD Burner
EK-Supreme HF - Rev 2
x3 EK-FC480
Cooling
Cooling
Cooling
Cooling
x3 EK-FC480 GTX Backplates
EK-FC Bridge TRIPLE Parallel
EK-RAM Dominator
x3 XSPC RX 480 Radiators
Cooling
Cooling
OS
Monitor
x1 XSPC RS 360 Radiators
x2 EK Multi Option Advanced 400 Reservoirs
Windows 7 Ultimate x64
(2) Dell E2210H 22" Widescreens
Keyboard
Power
Case
Mouse
Logitec G15
x2 Corsair AX1200W
CaseLabs Magnum TH10 - Matte Black
CoolerMaster Sentinel
Audio
Creative Labs Titanium HD
View all
hide details
CPU
Motherboard
Graphics
RAM
AMD Phenom II X6 1090T
ASUS Crosshair III Formula
x2 SAPPHIRE Radeon HD 5870s
8GB Corsair Dominator GT
Hard Drive
Hard Drive
Optical Drive
Cooling
120GB Intel 510 SSD - 256GB Crucial M4 SSD
x2 1TB Western Digital Caviar Greens
Pioneer BDR-205 BD/DVD
EK-Supreme LTX
Cooling
Cooling
Cooling
Cooling
x2 EK-FC5870
x2 XSPC RX360 Radiators
EK-RAM Dominator
x20 Yate Loon 120mm Case Fans
Cooling
Cooling
Cooling
OS
EK-FC Bridge DUAL Parallel 3-Slot
x2 XSPC Acrylic Dual 5.25" Bay Reservoirs
NZXT Sentry LX 5.25" Dual Bay Fan Controller
Windows 7 Ultimate x64
Monitor
Keyboard
Power
Case
x2 25.5" ASUS VW266Hs
Logitech G15
Corsair AX1200W - White
CaseLabs T10 - White
Mouse
Audio
Cooler Master Sentinel
ASUS Xonar Xense
View all
CPU
Motherboard
Graphics
RAM
Core i7 980x Extreme @ 4.5Ghz
ASUS Rampage III Black Edition
ASUS GTX 480 TRI-SLI
12GB Corsair Dominator GT @1600MHz 8-8-8-24 1T
Hard Drive
Hard Drive
Hard Drive
Hard Drive
OCZ Vertex 2 120GB SSD
x2 OCZ Vertex 3 120GB SSD
1TB Western Digital Caviar green
500GB Western Digital Scorpio Blue
Hard Drive
Optical Drive
Cooling
Cooling
3TB Seagate Baracuda
LG Super Multi Blue BD/DVD Burner
EK-Supreme HF - Rev 2
x3 EK-FC480
Cooling
Cooling
Cooling
Cooling
x3 EK-FC480 GTX Backplates
EK-FC Bridge TRIPLE Parallel
EK-RAM Dominator
x3 XSPC RX 480 Radiators
Cooling
Cooling
OS
Monitor
x1 XSPC RS 360 Radiators
x2 EK Multi Option Advanced 400 Reservoirs
Windows 7 Ultimate x64
(2) Dell E2210H 22" Widescreens
Keyboard
Power
Case
Mouse
Logitec G15
x2 Corsair AX1200W
CaseLabs Magnum TH10 - Matte Black
CoolerMaster Sentinel
Audio
Creative Labs Titanium HD
View all
hide details