Ok, Im thinking of buying a XSPC 750 RX360 KIT along with a RS240 RAD and an extra pump.
This is my first water cooling setup, I am on a budget. I am hoping this setup with be good enough.
Units to be cooled: 1 CPU 1090T , 2X HD 6990'S.
Rotation:
Pump/Combo>>360rad>>CPUblock>>Extrapump>>240rad>>gpu's> >Pump/combo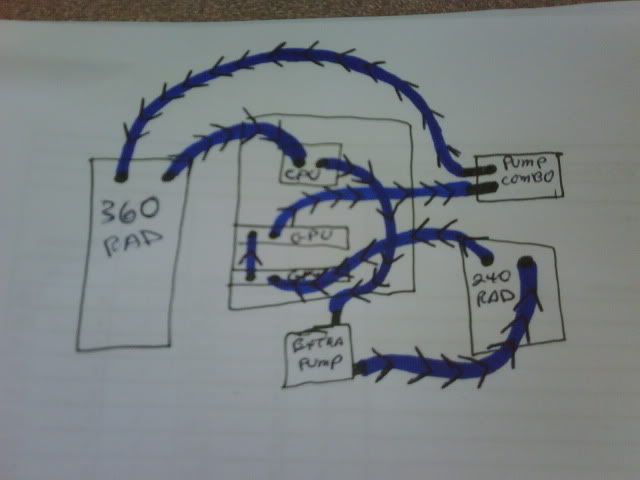 Advise would be appreciated.
CPU
Motherboard
Graphics
RAM
AMD PHENOM 1090T @ 4.2ghz
GA-990FXA UD5
2X SAPHIRE 6990
G.SKILL 16GB 1600
Hard Drive
Optical Drive
OS
Monitor
CRUCIAL M4 256GB SSD
DVD/BURNER
WINDOWS 7 64BIT
ASUS LCD 23"
Keyboard
Power
Case
Mouse
LG BRAND , CHEAPY
CORSAIR AX1200
ROSEWILL MODIFIED
LOGITEC MX518
Mouse Pad
ICEMAT
View all
hide details
CPU
Motherboard
Graphics
RAM
AMD PHENOM 1090T @ 4.2ghz
GA-990FXA UD5
2X SAPHIRE 6990
G.SKILL 16GB 1600
Hard Drive
Optical Drive
OS
Monitor
CRUCIAL M4 256GB SSD
DVD/BURNER
WINDOWS 7 64BIT
ASUS LCD 23"
Keyboard
Power
Case
Mouse
LG BRAND , CHEAPY
CORSAIR AX1200
ROSEWILL MODIFIED
LOGITEC MX518
Mouse Pad
ICEMAT
View all
hide details