Hi Guys,
I started my first water cooling build about 6months ago.
System consisted of a XSPC RS240 kit plus a GPU block for my 6970 and an extra RX120 Rad.
Worked well and have had no problems whatsoever, other than temps and have drained the system at least 3 times for component swaps.
Now the real story, I am currently upgrading to a better loop, but after I took apart my system, I have noticed a strange white residue in the tubing. I have noticed it before since my tubes were a bit cloudy a few months back, but have not looked into too much detail until now. I have included pictures below to show.
I don't know how my tubes developed this fine(thick?) layer of residue. All of the tubes in my system have a layer, and after the water dried up, you can see some in the reservoir wiring. The tubing has transitioned from being transparent to opaque over this time. There is also a ring around the tips of the barbs. All the residue can be rubbed off easily with a cotton swab or fingernail. The residue did not stick on the blocks as they were clean, although the RASA block had just a very fine layer on the acetal portion.
All my tubes were Primochill LRT tubing which is supposedly lined with an anti-microbial layer. I had a silver kill coil with a couple of silver barbs in the system and was using distilled water. Before installation, I didn't flush the radiators efficiently, only with a couple cups of room temp distilled water with a couple minutes of violent shakes x2. System temperatures were not awesome or anything, maybe because I didn't have enough radiator to cool my system below? I also had some blue led lights.
I think it might be the radiator flux, but I might be mistaken. Could anyone enlighten me on what this might be? Is it algae...something else? How can I prevent this? Any solutions would be helpful.
Thanks.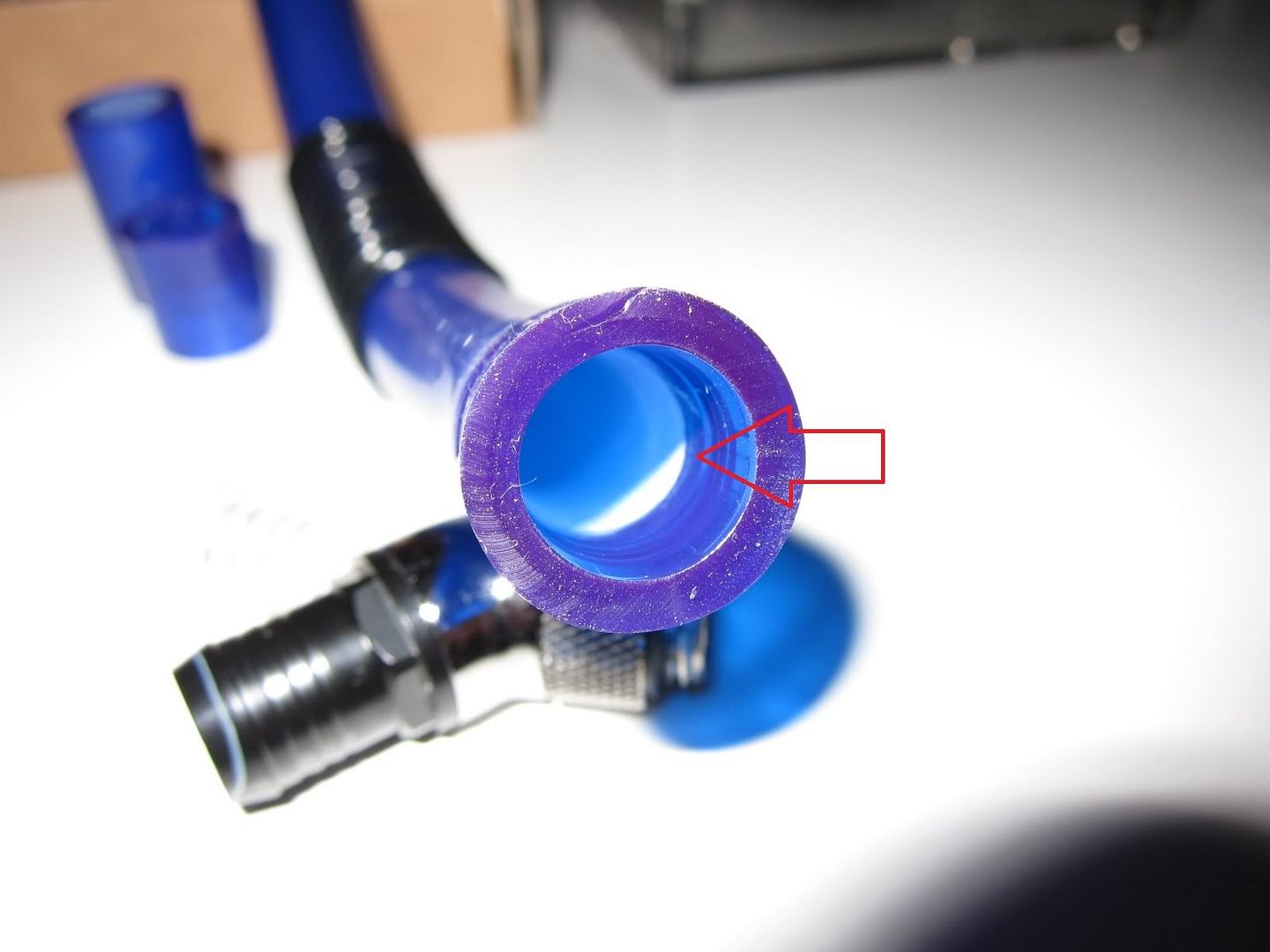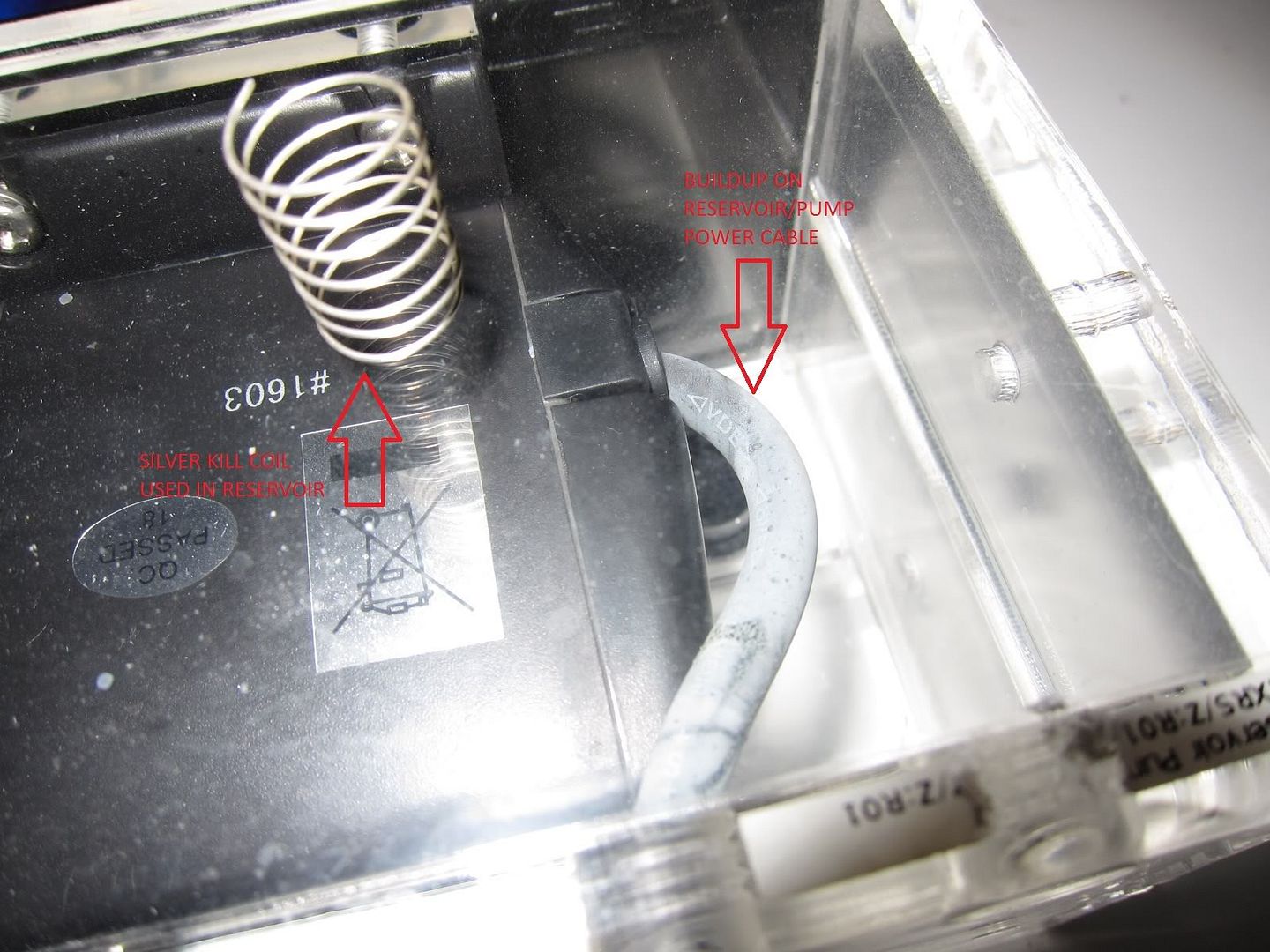 CPU
Motherboard
Graphics
RAM
i7 970 @4.2Ghz (HT On)
Asus P6X58E-D
Sapphire 7970 @1200/1700
12GB OCZ Dominator 1600 MHz
Hard Drive
Optical Drive
OS
Monitor
60GB OCZ Vetex 2, WD Black: 640GB, 1TB, 2TB
LG DVD/BluRay Multi
Win7 Home Premium 64bit
30" HP ZR30w
Keyboard
Power
Case
Mouse
Saitek Eclipse Blue
Corsair AX850
Coolermaster CM690ii Advanced Modded
Mionix Naos 5000
View all
hide details
CPU
Motherboard
Graphics
RAM
i7 970 @4.2Ghz (HT On)
Asus P6X58E-D
Sapphire 7970 @1200/1700
12GB OCZ Dominator 1600 MHz
Hard Drive
Optical Drive
OS
Monitor
60GB OCZ Vetex 2, WD Black: 640GB, 1TB, 2TB
LG DVD/BluRay Multi
Win7 Home Premium 64bit
30" HP ZR30w
Keyboard
Power
Case
Mouse
Saitek Eclipse Blue
Corsair AX850
Coolermaster CM690ii Advanced Modded
Mionix Naos 5000
View all
hide details