Spoiler alert***
From what I can tell, I would need 158 peltier coolers to cool the water 11C once the water is flowing.
I got all excited the first time I saw this
Then I realized the above had almost zero thermal load.
I have an extra PSU and a CORSAIR CAFA70 120mm Dual-Fan CPU cooler, plus some old heat syncs and was day dreaming about building something similar to this
Great build thread and experiment documentation here:
http://forums.vr-zone.com/project-lo...r-worklog.html
The above was built by fusionmkx. His results with 600g of non-circulating water and two 138W@15V TECs powered by separate 12V PSUs. The fan he used to cool the air coolers was a monster 2.8 Amp fan that actually kept the hot sides cool.
WATER TEMP CHANGE OVER TIME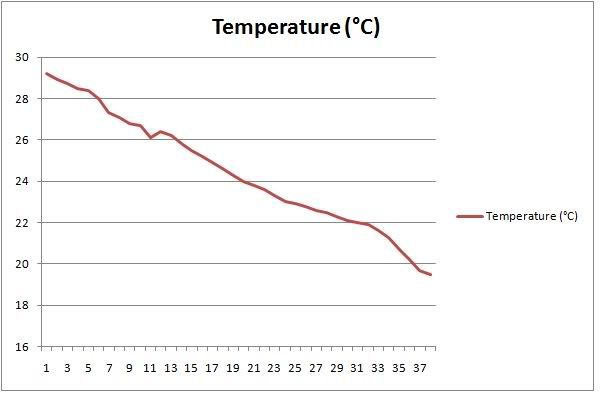 To be fair the results above were achieved without any insulation, or proper clamping load on the TECs. But it still cooled the water, and would be along the lines of what I was planning to make.
So I started doing the math to see which TEC I would need. Unfortunately my math says that it's not which one, but how many...
Please tell me I'm wrong.
I have a Thermaltake Bigwater which has a pump that flows 500 L/hr, but per
http://www.overclockers.com/king-flowmeter/
Flow rates can quickly drop to 12.7% of free-flow in a system.
Free-flow, 12.7% of free-flow
500, 63.5 L/hr
132, 16.76 gal/hr
0.138, 0.0175 L/second
138, 17.5 g/second
I was planning to have the res filled by the stock radiator outlet where I'm guessing the coolant will generally be about 35C. And to have the pump draw directly from the TEC cooled res. So the question becomes how many watts will it take to cool 17.5 g of water/second?
I found a nice formula from an HVAC engineer:
"Here is a simple formula to calculate load when water is the medium:
Q = 500*GPM*(Delta T)
Q = load in BTUh*
500 = constant
GPM = flow in gallons per minute
Delta T = temperature difference in Fahrenheit between the supply water and the return water
*To get BTUh from Watts, multiply watts by 3.412"
And a nice dew point chart on Wikipedia. The red parallelogram represents the likely humidity and temps in my apartment/case.
On a bad day I could see condensation as warm as 24C!
Best case scenario is I wouldn't see it till 12C.
But lets only shoot for only 24 just to be conservative and safe from condensation.
With the water returning from my radiator at 35, the delta T would be 11C
Q(in BTHh) = 500(a constant) * 0.368(gallons/min) * deltaT F *1.8(convert to C) = Watts * 3.412(conversion factor)
Q = 500 * 0.368 * 1.8 * deltaT = Watts * 3.412
331.2 * dT = Watts * 3.412
dTF of 11C would take me from 35C to 24C and would require 1067 watts!
dTF of 23C would take me from 35C to 12 and would require 2233 watts!
I was thinking that prolonged idle times might be the saving grace of the design but, now I doubt it.
Once the water is no longer stagnant the heat load of the water gets crazy!
Looking at fusionmkx's temp drop over time above you see he dropped from ~29.3 C to ~22C in the first 30 min of cooling. If you halve those results to represent a single pelt design you achieve a delta T of ~7.3C/60min/600g of water.
that's 0.12166 C/min and 0.0020277 C/sec/600g of water
With my middle of the road pump producing 17.5g/sec of water I could hope for a slightly better 0.0695 C steady-state reduction in temp.
For this to be worthwhile I would really want at least a 11C reduction.
11C / 0.0695 C = 158
Presuming that I had the same efficiency as fusionmkx, I would need 158 peltier coolers to cool the water 11C once the water is flowing. And an even more rediculous 331 TECs to drop the coolant 23 C, from 35 to 12C!
Bogus
Edited by Gigapunk - 10/11/11 at 7:54am
CPU
Motherboard
Graphics
RAM
Pentium Dual-Core e6300 Wolfedale-2M
PEGATRON IPIBL-LB (Benicia)
Intel G33/G31 internal, but ordering a 6850 soon
4x2
Hard Drive
Optical Drive
OS
Monitor
750 and 80 gig 7200rpm
ATAPI DVD A DH16A6L
Windows 7 Ultimate 64bit
DELL E173FP [Monitor] (17.1"
Power
Case
350W from a Dell Dimensions 8400
HP Pavillion 96120f
View all
hide details
CPU
Motherboard
Graphics
RAM
Pentium Dual-Core e6300 Wolfedale-2M
PEGATRON IPIBL-LB (Benicia)
Intel G33/G31 internal, but ordering a 6850 soon
4x2
Hard Drive
Optical Drive
OS
Monitor
750 and 80 gig 7200rpm
ATAPI DVD A DH16A6L
Windows 7 Ultimate 64bit
DELL E173FP [Monitor] (17.1"
Power
Case
350W from a Dell Dimensions 8400
HP Pavillion 96120f
View all
hide details