[SOLVED]
'Ow do!
Okay I'll be a little more formal. Hey there!
I'm just dropping this here out of curiosity, you see I bought a set of Revoltec 12" white cathodes from ChilledPC. They came about three days ago and I couldn't wait to get them in, so I begun installing them, this set came with one of the expansion slot covers with the on/off switch. I set everything up as it should be (I've set up sets like these before) and nothing happened, after taking a look I noticed something that may be the cause as to why it wouldn't work.
Basically the power cable from the molex connector seems wrong, you'll see what I mean, I've attached a photo so you can tell me if I'm right or wrong.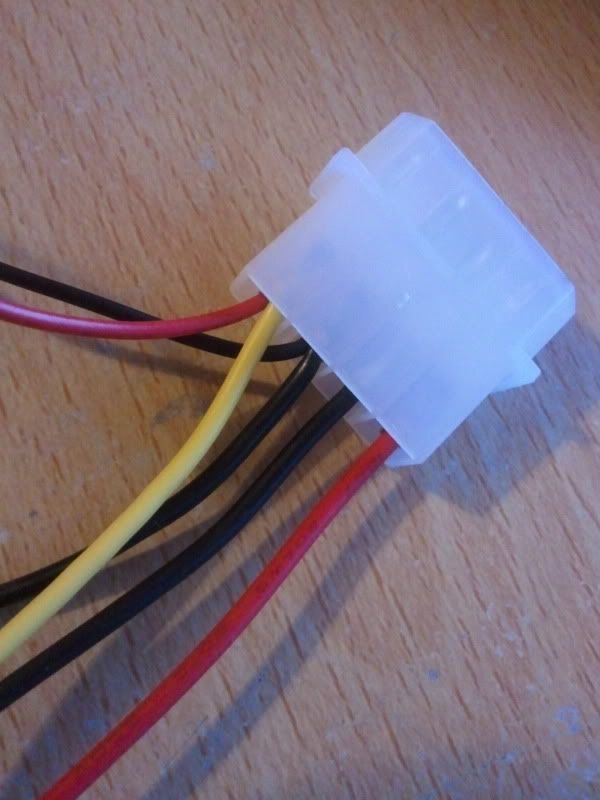 At the moment I'm using my cathode kit with an old power cable I had lying around from my old cathode kit but I want to be able to turn them on an off with out messing around opening the case and fidgeting around.
Any help would be great thanks.
_Fri
Edited by Friburg - 10/13/11 at 3:28pm
CPU
Motherboard
Graphics
RAM
Intel Core i7 6700K @ 4.00GHz
Gigabyte GA-Z170X-Gaming G1
Gigabyte GTX 1080 G1
4 x 8GB Corsair Dominator Platinum DDR4 @ 3000MHz
Hard Drive
Hard Drive
Hard Drive
Cooling
OCZ ARC-100 240GB
WB Blue
WD Blue
Corsair H100i GTX
OS
Monitor
Keyboard
Power
Microsoft Windows 10 Professional
Acer H274HL
Patriot Viper V760
Corsair HX750
Case
Mouse
Mouse Pad
Audio
Corsair Air 540
A4Tech X-748k
AUKEY Gaming Surface
Sound Blaster ZxRi
Audio
Audio
Razer Kraken 7.1 Chroma
LOGITECH Z533 Multimedia 2.1
View all
hide details
CPU
Motherboard
Graphics
RAM
Intel Core i7 6700K @ 4.00GHz
Gigabyte GA-Z170X-Gaming G1
Gigabyte GTX 1080 G1
4 x 8GB Corsair Dominator Platinum DDR4 @ 3000MHz
Hard Drive
Hard Drive
Hard Drive
Cooling
OCZ ARC-100 240GB
WB Blue
WD Blue
Corsair H100i GTX
OS
Monitor
Keyboard
Power
Microsoft Windows 10 Professional
Acer H274HL
Patriot Viper V760
Corsair HX750
Case
Mouse
Mouse Pad
Audio
Corsair Air 540
A4Tech X-748k
AUKEY Gaming Surface
Sound Blaster ZxRi
Audio
Audio
Razer Kraken 7.1 Chroma
LOGITECH Z533 Multimedia 2.1
View all
hide details