I'm unsure, my motherboard has been very strange this past half of year. I can no longer connect to SATA 0 or 1 for more than a few boots until it hangs and doesn't load the device, or crashes my PC. Just last night on SATA 4 it prints out some random text there and the boot completely freezes (also, SATA 2 wasn't loaded).
I've also had a few graphics issues and I believe some RAM issues that are
completely
random. I have not attempted to overclock for months now, factory BIOS settings, and at random times my PC will blue screen (screenshot below).
I've swapped SATA cables back and fourth, replaced them with others I've had, tried to isolate one stick of RAM they may have caused any issues, even bought a new Graphics card (wanted a new one anyways), and still issues are occurring.
I'm not sure even what to be looking for, either visually, tests, symptoms, or what not.
Ask questions if I'm explaining it horribly or you need more information.
Motherboard - EVGA X58 SLI LE 141-BL-E757
Bios - Stock what came on here (I could get versions if it mattered)
Screenshots: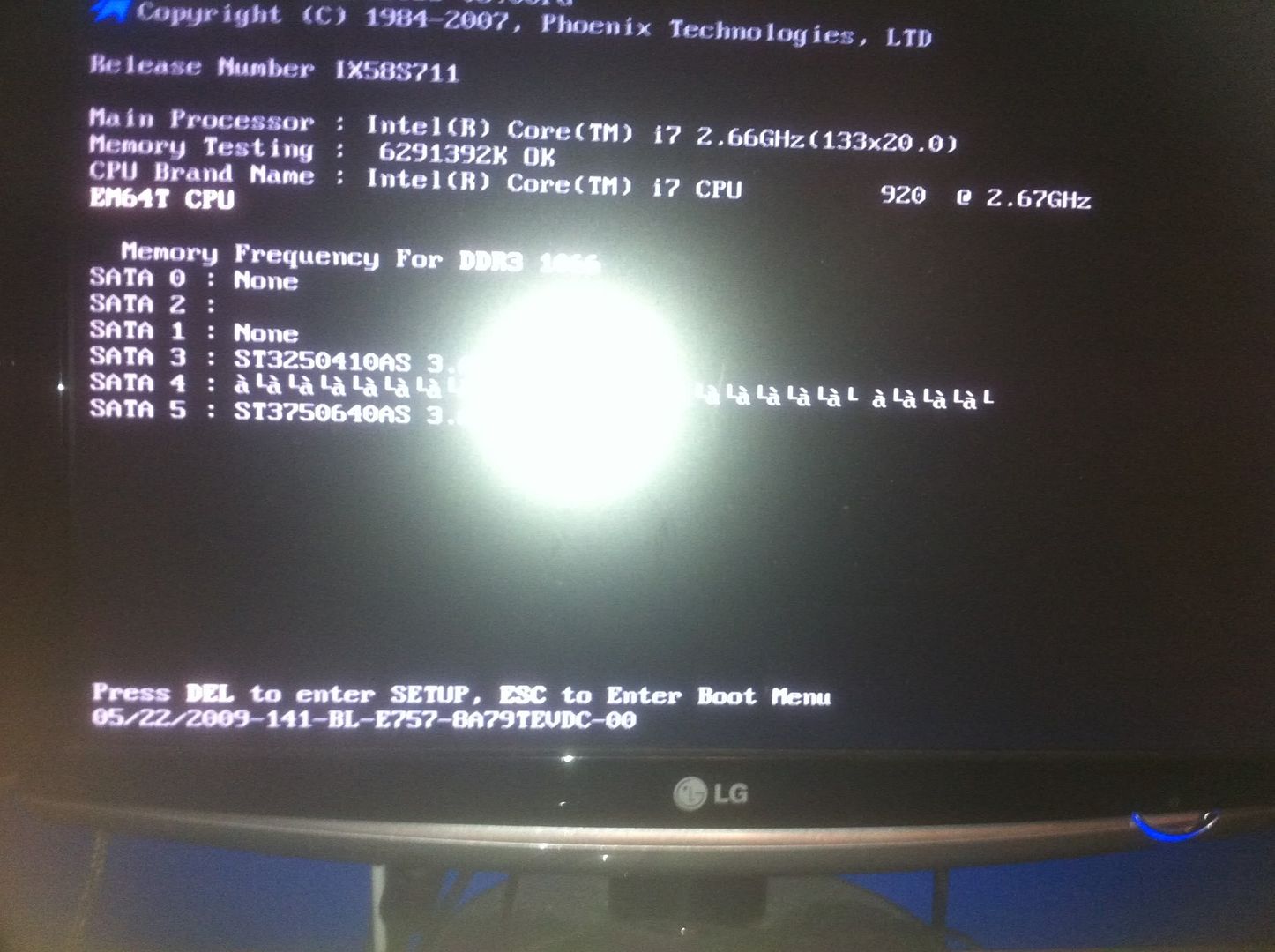 CPU
Motherboard
Graphics
RAM
i7
EVGA X58
GTX 570 & 280
3x2GB DDR3
Hard Drive
Optical Drive
OS
Monitor
80GB Vertex 2, 250GB/750GB Seagate 7200RPM Storage
Basic LG DVD Burner
Windows 7
1x22" LG Flatron, 2x19" LG Flatron
Keyboard
Power
Case
Mouse
Logitech G110
Corsair 750W
Antex 1200
Razor Mamba
Mouse Pad
XTrac Ripper
View all
hide details
CPU
Motherboard
Graphics
RAM
i7
EVGA X58
GTX 570 & 280
3x2GB DDR3
Hard Drive
Optical Drive
OS
Monitor
80GB Vertex 2, 250GB/750GB Seagate 7200RPM Storage
Basic LG DVD Burner
Windows 7
1x22" LG Flatron, 2x19" LG Flatron
Keyboard
Power
Case
Mouse
Logitech G110
Corsair 750W
Antex 1200
Razor Mamba
Mouse Pad
XTrac Ripper
View all
hide details