Quote:
Originally Posted by
mcg75
Yes and no.

For 1 data request, they would be about the same at around 30mb.

That's why there is a second 4k catagory 4k-64rd. That's how much performance for multiple requests. The faster the drive can process each request, the faster is works.

The M4 is higher in that regard than all Sata 2 ssd's at almost 300mbs.
Thanks for your responses.
Yes, the 4k-64rd catagory for my agility is at 29.08mb, whereas the m4 is at almost 300mb (like you stated).
So do you think upgrading from my agility to the crucial m4 (and still just using a SATA2 port) will be beneficial? What kind of speeds am I looking at for the seq, 4k, and 4k-64rd? Will I be able to attain those 300mb speeds you mentioned by using a SATA2 port?
Here is a picture of the stats of my agility: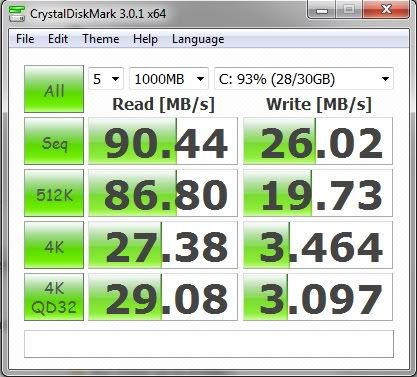 Edited by Recipe7 - 10/12/11 at 9:19am