I wonder why my comment is still awaiting moderation.
Ever heard of a GPU bottleneck? Might want to explain that to your readers.
Anand gives a good explanation of this.
Civilization V
Civ V's lateGameView benchmark presents us with two separate scores: average frame rate for the entire test as well as a no-render score that only looks at CPU performance.
While we're GPU bound in the full render score, AMD's platform appears to have a bit of an advantage here. We've seen this in the past where one platform will hold an advantage over another in a GPU bound scenario and it's always tough to explain. Within each family however there is no advantage to a faster CPU, everything is just GPU bound.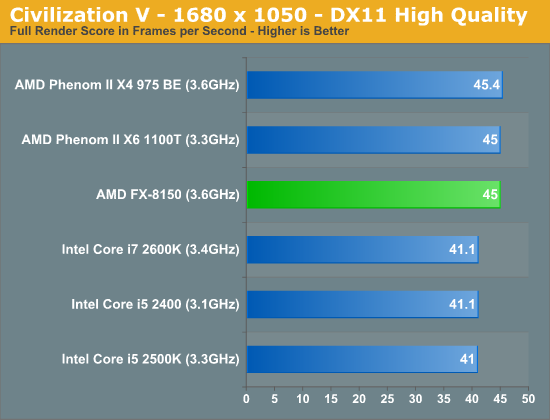 Looking at the no render score, the CPU standings are pretty much as we'd expect. The FX-8150 is thankfully a bit faster than its predecessors, but it still falls behind Sandy Bridge.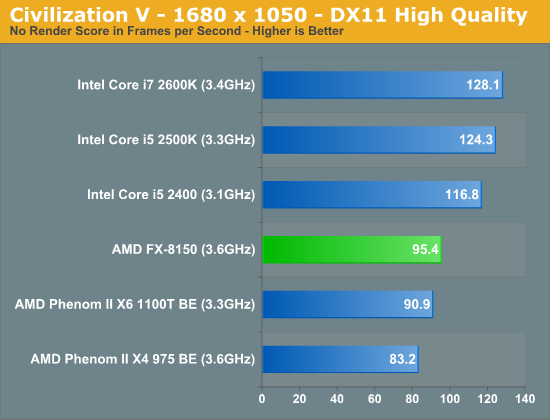 BF3 GPU Bottleneck proof
Edited by 2010rig - 10/13/11 at 6:49pm
CPU
Graphics
RAM
Hard Drive
Snapdragon S4 Dual core 1500mhz
Adreno 225
Samsung 2GB
16GB Onboard Flash
OS
Monitor
Power
Case
Android 4.4.2 - CM11
4.8" AMOLED 1280x720
2100 mAh battery
Otterbox Defender
View all
hide details
CPU
Graphics
RAM
Hard Drive
Snapdragon S4 Dual core 1500mhz
Adreno 225
Samsung 2GB
16GB Onboard Flash
OS
Monitor
Power
Case
Android 4.4.2 - CM11
4.8" AMOLED 1280x720
2100 mAh battery
Otterbox Defender
View all
hide details