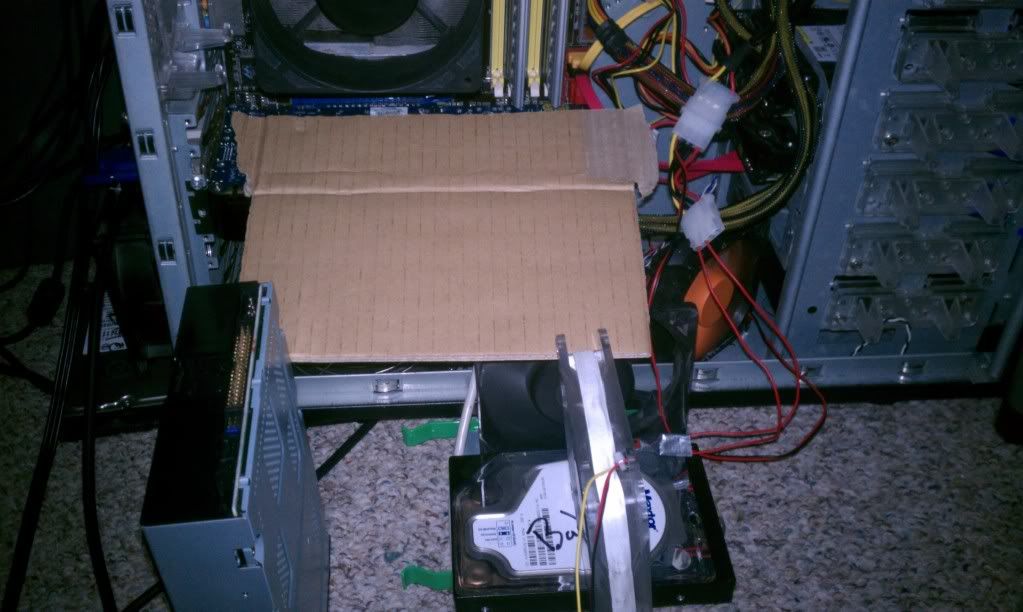 This is what happens when I stay up until ~6:30am on sundays watching back to the future....lol.
(all hdds are known dead)
The case's feet are sitting on a HDD to prop the rear up enough for the "exhaust" fan (~100CFM). The first to the left is one of the three intake fans (100CFM), the second is a NIDEC two of three (over 100CFM I think), and the third is an older TT fan. And then you see the card board...I notices because of the spacing cool air was escaping over top of the car! So this keeps most of its flowing underneath the card. With the arrangement of fans its basically a big push pull lol. Why is that 120 not being used? I push more air when flap paper in the air then that fan does so, it serves as a pillar
I have a refurb BLUE PNY GTX465. Stock voltage was 1.012, very very awesome...(BOO). I am still using an untouched stock HSF for it. Temps went from about 85C to 77C. If I keep it I will replace what I'm sure is not great thermal paste. I might also try to remove the plastic casing and have my fans cool the HS instead.
EDIT:
I'm doing this @
1.087v
840/1680
1680
EDIT 2:
Took all fans out, same voltage but I'm now running 822/1644, 1680 @ 81. I wonder if I took off the outter plastic case and just made my own wind tunnel how that would work.. I can say that this is very loud.... BTTF is turned all the way up haha.
Edited by Mr.N00bLaR - 10/16/11 at 4:16am