Hey all!
I've been drinking Mountain Dew by the gallon over the past week while spending a lotta time here doing research for my new system. Got the first shipment of parts a couple days ago and have the rig about 97% built, but had to do another order today to finish things up. It should be ready to fire up by the end of the week. I'm excited.
I believe it's actually ready to fire up now, but I'm going to wait until all the parts arrive and do it right.
Here are a couple shots of it so far. Only shown with 2 x 4GB of Corsair Vengeance, two more 4GB sticks to be installed in a few days, as well as some LED fans. I'll also be installing a side-panel window with a 120mm LED intake fan. (click to enlarge)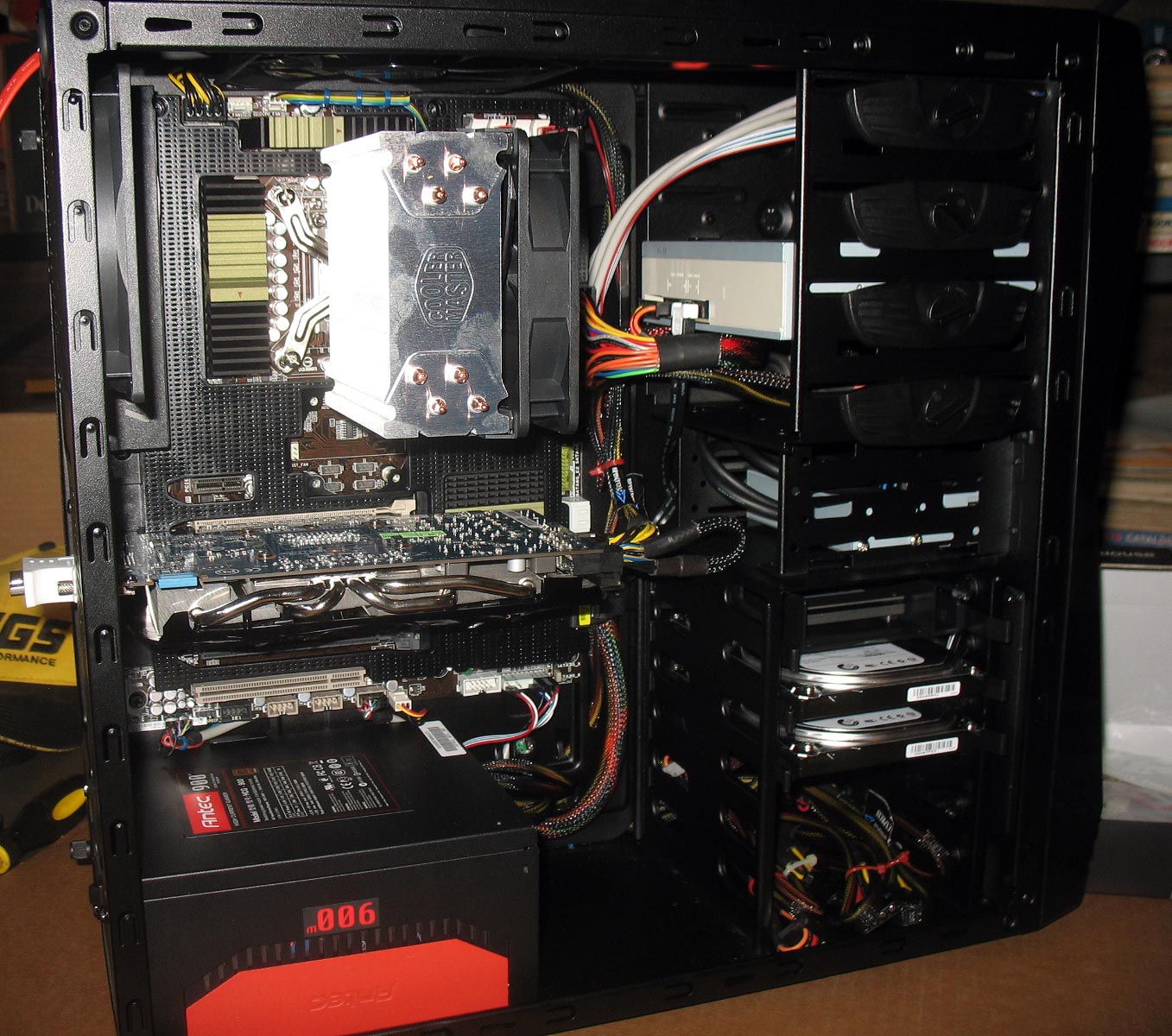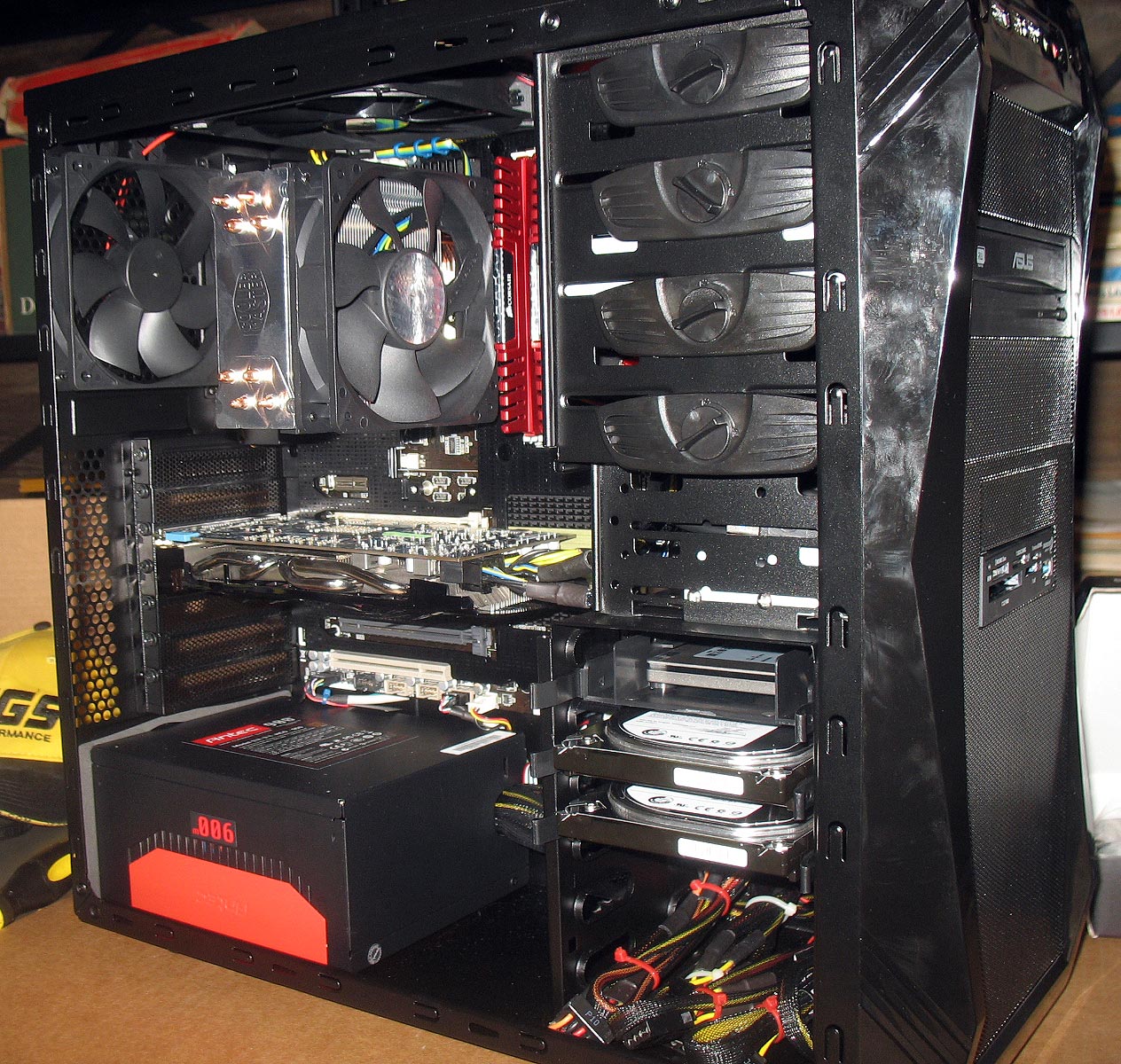 Yeah, there are a few pieces that are a little overkill for what I plan to do with it, but like I always say...it's better to have it and not need it than need it and not have it!
Plus this will give me a little room to expand in the future as funds allow.
Since I built my first system 10 years ago (Pentium II), I've been wanting to do some playing around with overclocking, but never really felt secure enough to try it. But that's about to change. I won't be looking to do anything outrageous...just bump it up a little to a nice stable OC. I'm also thinking about doing a little entry-level gaming, so this winter should be pretty exciting for me.
CPU
Motherboard
Graphics
RAM
i5 2500K 3.3GHz (@ 4.8GHz)
Asus Sabertooth P67 (Rev3)
Gigabyte GeForce GTX 560Ti
4 x 4GB Corsair Vengence DDR3 1600
Hard Drive
Optical Drive
OS
Monitor
2 x 500GB SG Barracuda; 2TB WD; Crucial 128GB SSD
ASUS 24X Sata DVD Burner
Win 7 x64
AOC 21" LCD
Keyboard
Power
Case
Mouse
Gigabyte GK-K6800
Antec High Current Gamer Series 900W
Rosewill Challenger (soon w/window)
Gigabyte GM-M6800 optical USB
View all
hide details
CPU
Motherboard
Graphics
RAM
i5 2500K 3.3GHz (@ 4.8GHz)
Asus Sabertooth P67 (Rev3)
Gigabyte GeForce GTX 560Ti
4 x 4GB Corsair Vengence DDR3 1600
Hard Drive
Optical Drive
OS
Monitor
2 x 500GB SG Barracuda; 2TB WD; Crucial 128GB SSD
ASUS 24X Sata DVD Burner
Win 7 x64
AOC 21" LCD
Keyboard
Power
Case
Mouse
Gigabyte GK-K6800
Antec High Current Gamer Series 900W
Rosewill Challenger (soon w/window)
Gigabyte GM-M6800 optical USB
View all
hide details