Hey I have been having a lot of problem with lag on my computer, even when I have nothing open. I believe I have isolated the problem to the graphics card, but truthfully I have no idea.
I have GTX 580 over clocked edition, a i7 2600k running at 4.4GHz, 8Gb of Corsair Dominator RAM and a Asus P8p67 Deluxe edition motherboard. My system is water-cooled and runs around 31 degrees celsius usually.
Some how, my entire system is lagging. When I experience lag it effects sound and video, as well as the programs that I am running.
The lag seems to correspond with GPU usage, when the computer lags my GPU usage will sky rocket, sometimes up to 99% (Hence why I think it is my graphics card..). I have provided a picture below, all I was doing was watching a TV show on VLC and my computer went nuts.
It isn't program specific, it first started in iTunes, when I reinstalled iTunes it seemed to go away, but then it started happening everywhere. I have uninstalled and reinstalled several programs as well as GPU drivers. I have also reseated my RAM and GPU in attempts to make the lag go away. Obviously they have all failed or else I wouldn't be here talking to you...
Any help you could provide would be greatly appreciated. I would love for this to go away. As a last resort I think I am going to reinstall my OS (Windows 7 Ultimate), my friend seems to think that it may be causing this.
Once again, Thank You,
Justin
This is the photo of the time when my GPU usage was going crazing

And this photo I happened to take right now, I woke the computer from sleep and it went nuts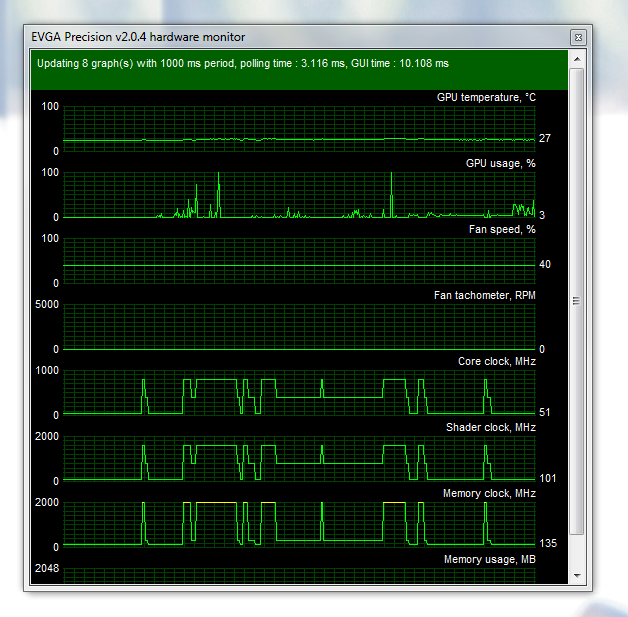 Edited by justinriddoch - 10/17/11 at 3:13pm
CPU
Motherboard
Graphics
RAM
i7 2600K
Asus P8P67 Deluxe
EVGA GTX 580 Overclocked Edition
8GB Corsair Dominator
Hard Drive
OS
Monitor
Keyboard
OCZ Vertex 2 60Gb Boot Drive/2Tb WD Caviar Black
Windows 7 Ultimate
2 Samsung BX2350
Razer Blackwidow Ultimate
Power
Case
Mouse
Mouse Pad
Corsair AX750
Corsair Obsidian 800D
Logitech G9x
Steel Series
View all
hide details
CPU
Motherboard
Graphics
RAM
i7 2600K
Asus P8P67 Deluxe
EVGA GTX 580 Overclocked Edition
8GB Corsair Dominator
Hard Drive
OS
Monitor
Keyboard
OCZ Vertex 2 60Gb Boot Drive/2Tb WD Caviar Black
Windows 7 Ultimate
2 Samsung BX2350
Razer Blackwidow Ultimate
Power
Case
Mouse
Mouse Pad
Corsair AX750
Corsair Obsidian 800D
Logitech G9x
Steel Series
View all
hide details