So I've been reading guide after guide about how to unlock my last core on my Athlon II x3 450 processor. They all pretty much say the same thing. I tried it. The whole, turn the ACC to auto and let it do the rest. I also turned on Core Unlocking on both my motherboard and in the bios (I have a Asus M4A87TD EVO MB).
Here's my problem. It doesn't unlock any extra cores, but it changes my processor from an Athlon II x3 450 to a Phenom II x4....with only 3 cores! What's going on? CPU-Z and a dxdiag says the same. Windows says I have a Phenom II X4 B50. I have no clue what's going on. Everything tells me I have a x4 proc, but only 3 cores. No L3 cache was unlocked, nothing changed except the name of my processor.
Also, I unfortunately, have a Propus instead of a Deneb.
Here's proof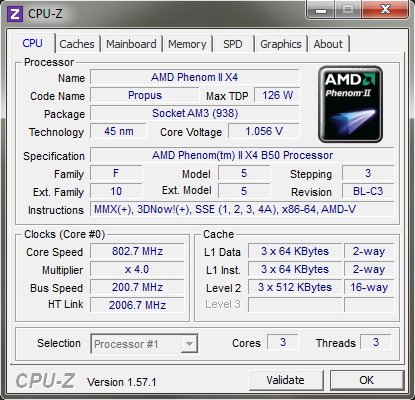 Am I able to somehow get my 4th core unlocked? Or possibly an L3 cache out of this? What does this really mean for my processor?
System specs:
AMD Athlon II x3 450 Stock clock
Kingston Hyper X 6 gig RAM Stock clock
2x nVidia 9600 gto OCed
500gig internal 500 gig external hdd
24" 1920x1080 Hanns G monitor
CPU
Motherboard
Graphics
RAM
Athlon II x3 450 3.2 GHz
Asus M4A87TD EVO
nVidia 9600 GTO x2
Kingston HyperX 6gig
Hard Drive
OS
Monitor
Power
WD 500gig Internal WD 500gig External
Windows 7 Ultimate
Hanns·G HZ201DPB Black
hec X-Power Pro 650
Case
Linkworld 313-06-C2228
View all
hide details
CPU
Motherboard
Graphics
RAM
Athlon II x3 450 3.2 GHz
Asus M4A87TD EVO
nVidia 9600 GTO x2
Kingston HyperX 6gig
Hard Drive
OS
Monitor
Power
WD 500gig Internal WD 500gig External
Windows 7 Ultimate
Hanns·G HZ201DPB Black
hec X-Power Pro 650
Case
Linkworld 313-06-C2228
View all
hide details