I have a question regarding ram.
Currently i am running 2GB of ram.(screenshot of ram).And the rig from my signature.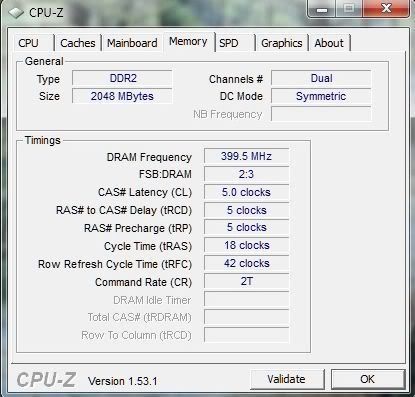 I want to buy 4 more GB of ram.This model.
http://www.emag.ro/memorii/kit-dual-channel-corsair-twin2x-2x2048mb-ddr2-800mhz-dhx--pTWIN2X4096-6400C5DHX
The question is:Could i use 6GB of ram whit my mobo, or should i use just the new 4GB sticks.
CPU
Motherboard
Graphics
RAM
Intel(R) Core(TM)2 Quad CPU Q6600 @ 2.40GHz
Gigabyte P35 DQ6
Gigabyte GTX 460
4096MB RAM DDR2 Corsair XMS 2 Dual Path
Hard Drive
Optical Drive
OS
Monitor
Seagate 350 GB
Asus DVD
Win 7
Philips 233V5
Power
Case
Mouse
Antec True Power Trio 650 Watt
Thermaltake Shark Black
A4Tech X7
View all
hide details
CPU
Motherboard
Graphics
RAM
Intel(R) Core(TM)2 Quad CPU Q6600 @ 2.40GHz
Gigabyte P35 DQ6
Gigabyte GTX 460
4096MB RAM DDR2 Corsair XMS 2 Dual Path
Hard Drive
Optical Drive
OS
Monitor
Seagate 350 GB
Asus DVD
Win 7
Philips 233V5
Power
Case
Mouse
Antec True Power Trio 650 Watt
Thermaltake Shark Black
A4Tech X7
View all
hide details