The Story:
I have had my i7 970 for almost a year now.
Since day one, I have had it running on my H70,
Since march, I had a custom loop just like in my sig rig.
Currently I am on air using a Corsair A70 until my new parts arrive.
Next week I will be using an EK Supreme HF block with 2ual 120 Rads.
The Issues:
The issue is the temperature fluctuations of my processor.
With all of my different cooling setups and several mounts on each, the temperature spread on the cores were not uniform.
Core #1 was always the hottest and would usually be about 10-15C hotter than the coolest core on idle or load.
Under load, the difference between cores was vast: will post some screenshots.
For whatever reason, even underwater, my prime and IBT/Linx temps would always reach 80C+ and the temperature difference trend would continue with whatever mount I do.
Today I just took my heatsink off to examine the chip, and with a razor blade I checked the flatness of the heatspreader. It seemed very flat to me, so I am wondering why are my temperatures like this.
I updated my bios because i was running the cpu on a very old BIOS that the board didn't support (but it still worked well). Now I am on the latest bios thinking the temps would be fixed, but I think it made them hotter under load...lol.
With my new water cooling parts and better thermal paste arriving (shin etsu), if I don't see a decent drop in temperature or a change with this trend, I don't know what to think.
Did I get a bad chip? I am really inclined to Lap my cpu just to see what sort of temps i might achieve that way, or I might sell it and get a 2600k.
What do you guys think?
Tried my old method of thermal paste application today. Always did this until recently I was using pea or X-method before this.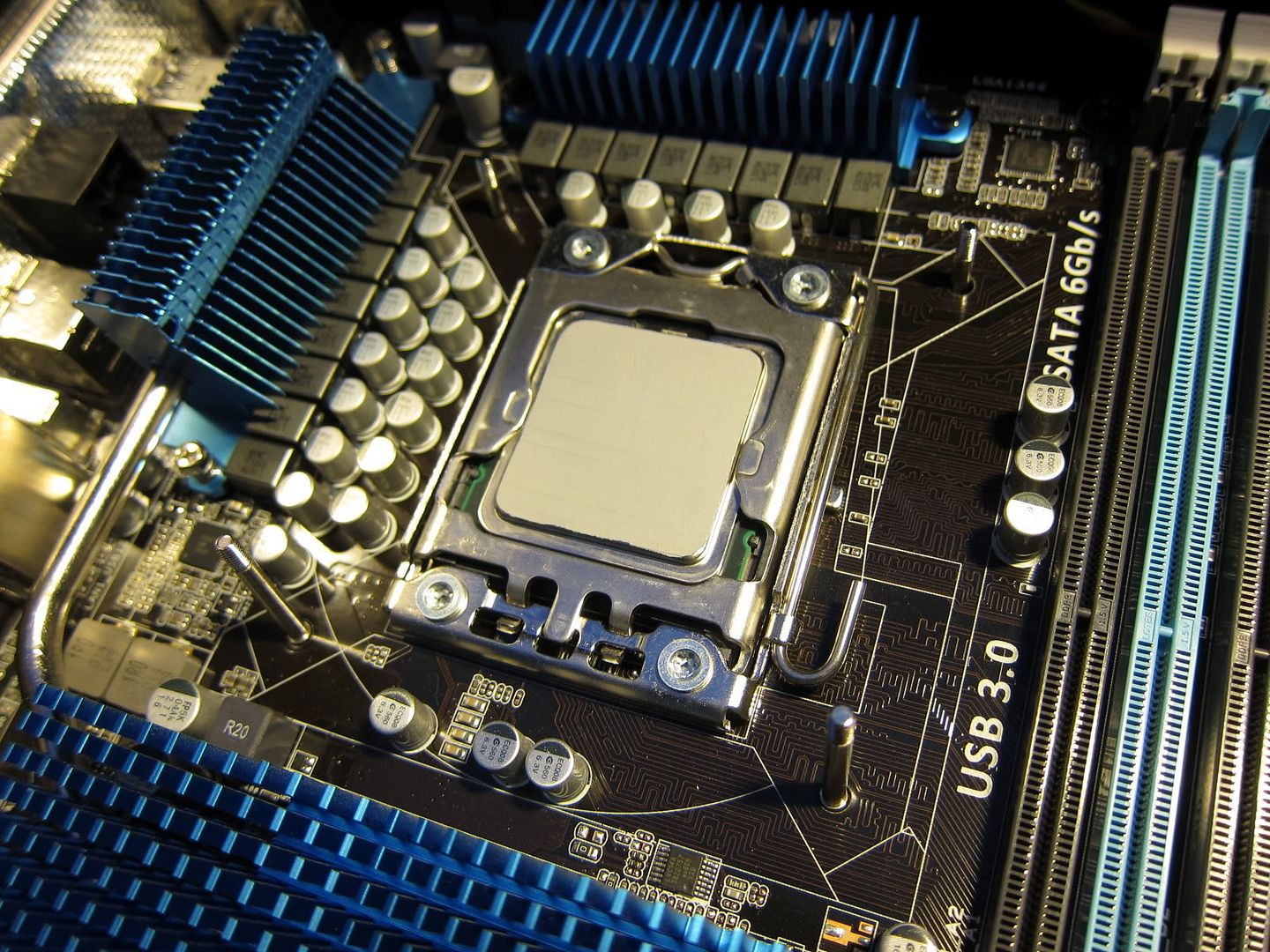 Corsair A70 2x GT AP15's - IDLE - MX3 Spread Method
Corsair A70 2x GT AP15's - LOAD - MX3 Spread Method
CPU
Motherboard
Graphics
RAM
i7 970 @4.2Ghz (HT On)
Asus P6X58E-D
Sapphire 7970 @1200/1700
12GB OCZ Dominator 1600 MHz
Hard Drive
Optical Drive
OS
Monitor
60GB OCZ Vetex 2, WD Black: 640GB, 1TB, 2TB
LG DVD/BluRay Multi
Win7 Home Premium 64bit
30" HP ZR30w
Keyboard
Power
Case
Mouse
Saitek Eclipse Blue
Corsair AX850
Coolermaster CM690ii Advanced Modded
Mionix Naos 5000
View all
hide details
CPU
Motherboard
Graphics
RAM
i7 970 @4.2Ghz (HT On)
Asus P6X58E-D
Sapphire 7970 @1200/1700
12GB OCZ Dominator 1600 MHz
Hard Drive
Optical Drive
OS
Monitor
60GB OCZ Vetex 2, WD Black: 640GB, 1TB, 2TB
LG DVD/BluRay Multi
Win7 Home Premium 64bit
30" HP ZR30w
Keyboard
Power
Case
Mouse
Saitek Eclipse Blue
Corsair AX850
Coolermaster CM690ii Advanced Modded
Mionix Naos 5000
View all
hide details