**If you just want to answer my questions and don't feel like listening to my ramblings, please skip to the bottom of this post.
So I just got a FT02! Someone was selling it on craigslist, and I couldn't pass it up.. He wanted $140 for it so I grabbed it. It was in like new condition. Even came with the box and all accessories. My thoughts on the case:
WOW! This thing is quality! I mean, I heard people saying it was a nice case, but just.. wow!
My previous case was an Antec 900 with some mods (see worklog in sig). After drilling some holes, and a couple other mods, it looked great! The only problem was, if I was going to EVER add another HDD (or remove one), or basically do any upgrade aside from upgrading my video card, it would be nearly impossible to do without ripping apart the whole thing. Well I decided that once I could afford it, I was going to do a complete overhaul. Upgrade everything besides my SSD/HDDs. Well lady luck was on my side, as that craigslist ad came at the perfect time!
Back to the FT02. This thing is HUGE. I figured it would be a little longer than my 900, but it's taller as well. The black interior is something I haven't experienced in a case, so that is nice as well. The fans are massive! And I thought the 900 had a lot of fans!
The vertical tool less HDD bays are also something I haven't used before, and I love them! I'm leaving the hot swap bay open in case I need to trouble shoot a friend's HDD or something, although I might just buy four more for convenience sake. They're only 7 bucks on Amazon..
I read some reviews about people not liking the lack of space for the USB and GPU inputs, but I am using almost all of them and I don't see anything I don't like up there. The tool less 5.25 bay openings are nice too.
Now on to my personal opinions of the things I don't like/need to change:
Why doesn't the top bay have a tool less design?? All of the others do except for the top. I'd like to know the reasoning behind that, as I see none.. Speaking of the front bays, my bluray drive won't fit in the top bay, and BARELY fits in the second from the top! Is this a flaw with the case? No. But I hadn't read about that problem anywhere, and it would have been nice to know. Not the end of the world.
The Bluray drive in the second bay. It actually touches the corner. I had to lean it down a tad so it went under the screws. That extra millimeter allowed me to secure it:
Would have been less noticeable in the top bay.. But oh well!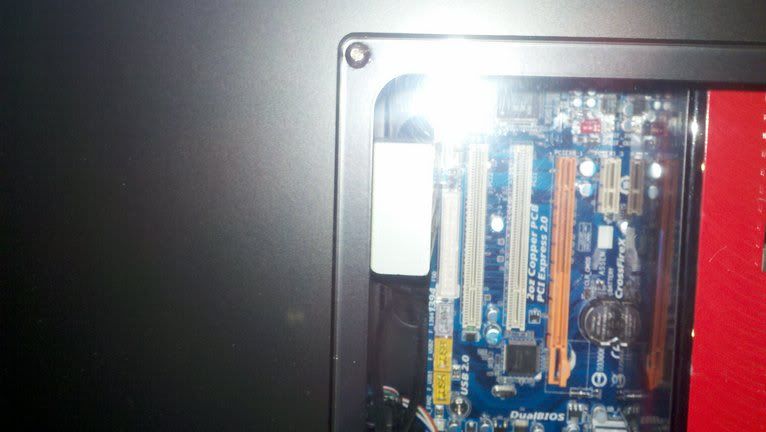 Another thing that I need to deal with..
I need a new PSU
. I REALLY do! Only the end sata power cables on each cable reach my HDDs/bluray drive.. I had to get molex to sata extenders to fit my other HDDs. I'll probably get one of
these
as well. Just to clean things up in the back. Same thing goes with the GPU power. I have it just sitting inside the case (not in the back section) because it won't reach.. U-G-L-Y. It's not a huge deal.. I desperately need a new PSU anyways. How this PSU has lasted five years is beyond me..
Other than those two main things which are more just problems on MY end than Silverstone's, this thing is gorgeous! I am very happy I bought it, and honestly, I feel I would have been just as happy spending the money for a new one.
And if anyone was wondering, my my Antec 900 will be starting it's new job as my *new* server case!
QUESTIONS:
Do I NEED to use the piece of velcro to secure the PSU? Right now I don't have it on, and it seems pretty solid. Is it more for larger PSUs?
Are there 3.5" panel converters? I have a card reader and right now it's just sorta screwed into the top bay and has nothing around it lol. Or did the previous owner just not give that piece to me?
Does anyone have a recommendation on a PSU that can reach everything ok? I am thinking I am going to sleeve the cables once I upgrade the rest of my rig, so the cables don't need to look nice.
Thanks!
Edited by raiderxx - 10/22/11 at 3:48pm