My first watercooling build. I'm hoping to do it right the first time around, so the system lasts a few upgrades.
sorry about crappy picks...
The case: A Lian-Li A71F
The hole I recently cut:
Parts I plan on using...
Black ice GT stealth
got it: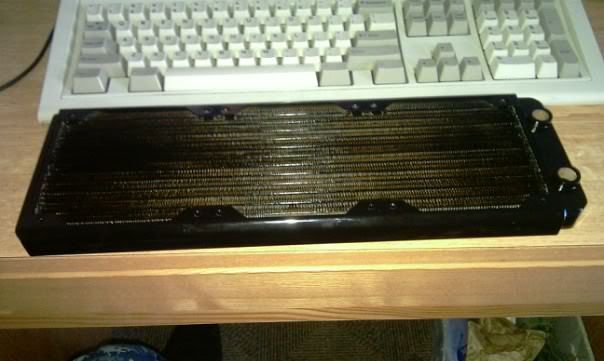 Bitspower 1/2 ID 3/4 OD compression fittings
EK Supreme HF
D5 pump
a resevouir of some sort ( haven't decided on one )
I have two Delta TFC1212DE's looking for a third... that I wanted to put on the radiator. 30FPI
:D
Considering how loud they are, probably getting a Lamptron FC9.
Will post when things come in the mail.
Edited by tipo33 - 2/19/12 at 10:14am
CPU
Graphics
RAM
Hard Drive
i7-2760QM
NVIDIA Quadro 2000M
16gigs (4x4) 1600 DDR3
Samsung 840 EVO 256gig
Hard Drive
Optical Drive
OS
Monitor
Samsung Spinpoint M9T 2TB
DVD-RW
Debian 8.2
15" 1080P LED
Mouse
Trackpoint
View all
CPU
Graphics
RAM
Hard Drive
Core 2 Duo (Merom) 2.0
Intel Graphics Media Accelerator X3100
4G Samsung
Intel X40
Optical Drive
OS
Monitor
Keyboard
DVD
Linix Mint 14
15" SXGA+
ALPS ANSI
Power
Case
Mouse
Audio
90w power brick
T60 4:3
UltraNav
Intel HD Audio
Other
Atheros 9820
View all
hide details
CPU
Graphics
RAM
Hard Drive
i7-2760QM
NVIDIA Quadro 2000M
16gigs (4x4) 1600 DDR3
Samsung 840 EVO 256gig
Hard Drive
Optical Drive
OS
Monitor
Samsung Spinpoint M9T 2TB
DVD-RW
Debian 8.2
15" 1080P LED
Mouse
Trackpoint
View all
CPU
Graphics
RAM
Hard Drive
Core 2 Duo (Merom) 2.0
Intel Graphics Media Accelerator X3100
4G Samsung
Intel X40
Optical Drive
OS
Monitor
Keyboard
DVD
Linix Mint 14
15" SXGA+
ALPS ANSI
Power
Case
Mouse
Audio
90w power brick
T60 4:3
UltraNav
Intel HD Audio
Other
Atheros 9820
View all
hide details