Quote:
John McCarthy, the creator of the Lisp programming language and a pioneer in artificial intelligence, has died. He was 84.

McCarthy died yesterday, Stanford University's School of Engineering announced in a tweet today. McCarthy invented Lisp, a program that became the language of choice for AI, in 1958 while at MIT and published its design in the 1960 paper Recursive Functions of Symbolic Expressions and Their Computation by Machine, Part I. One of the oldest high-level programming languages (second only to Fortran), Lisp is still in use today.

McCarthy said he felt there were aspects of human intelligence that could be described precisely enough that a machine could be programmed to simulate it.

McCarthy is also credited with coining the term "artificial intelligence" in that proposal, describing it as "the science and engineering of making intelligent machines."
(
source
)
obligatory XKCD comics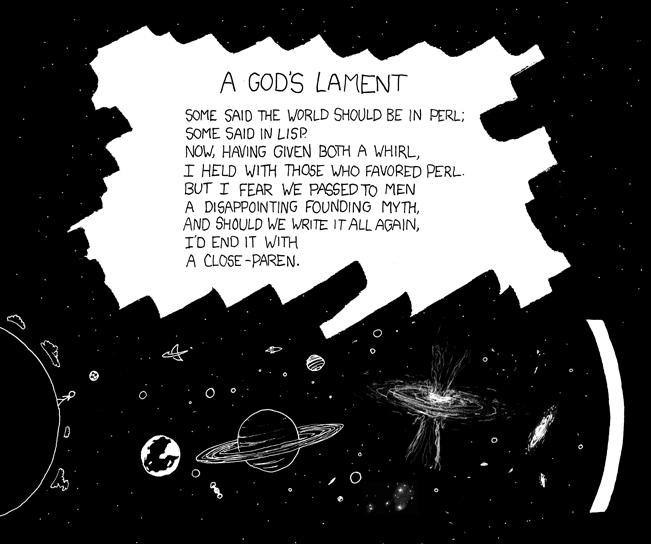 Quote:
Any sufficiently complicated C or Fortran program contains an ad hoc, informally-specified, bug-ridden, slow implementation of half of Common Lisp.
- Greenspun's tenth rule
For those who don't know what lisp pioneered, here's an excerpt from a Paul Graham
essay.
Quote:
What Made Lisp Different

When it was first developed, Lisp embodied nine new ideas. Some of these we now take for granted, others are only seen in more advanced languages, and two are still unique to Lisp. The nine ideas are, in order of their adoption by the mainstream,

1. Conditionals. A conditional is an if-then-else construct. We take these for granted now, but Fortran I didn't have them. It had only a conditional goto closely based on the underlying machine instruction.

2. A function type. In Lisp, functions are a data type just like integers or strings. They have a literal representation, can be stored in variables, can be passed as arguments, and so on.

3. Recursion. Lisp was the first programming language to support it.

4. Dynamic typing. In Lisp, all variables are effectively pointers. Values are what have types, not variables, and assigning or binding variables means copying pointers, not what they point to.

5. Garbage-collection.

6. Programs composed of expressions. Lisp programs are trees of expressions, each of which returns a value. This is in contrast to Fortran and most succeeding languages, which distinguish between expressions and statements. It was natural to have this distinction in Fortran I because you could not nest statements. And so while you needed expressions for math to work, there was no point in making anything else return a value, because there could not be anything waiting for it. This limitation went away with the arrival of block-structured languages, but by then it was too late. The distinction between expressions and statements was entrenched. It spread from Fortran into Algol and then to both their descendants.

7. A symbol type. Symbols are effectively pointers to strings stored in a hash table. So you can test equality by comparing a pointer, instead of comparing each character.

8. A notation for code using trees of symbols and constants.

9. The whole language there all the time. There is no real distinction between read-time, compile-time, and runtime. You can compile or run code while reading, read or run code while compiling, and read or compile code at runtime. Running code at read-time lets users reprogram Lisp's syntax; running code at compile-time is the basis of macros; compiling at runtime is the basis of Lisp's use as an extension language in programs like Emacs; and reading at runtime enables programs to communicate using s-expressions, an idea recently reinvented as XML.

When Lisp first appeared, these ideas were far removed from ordinary programming practice, which was dictated largely by the hardware available in the late 1950s. Over time, the default language, embodied in a succession of popular languages, has gradually evolved toward Lisp. Ideas 1-5 are now widespread. Number 6 is starting to appear in the mainstream. Python has a form of 7, though there doesn't seem to be any syntax for it.

As for number 8, this may be the most interesting of the lot. Ideas 8 and 9 only became part of Lisp by accident, because Steve Russell implemented something McCarthy had never intended to be implemented. And yet these ideas turn out to be responsible for both Lisp's strange appearance and its most distinctive features. Lisp looks strange not so much because it has a strange syntax as because it has no syntax; you express programs directly in the parse trees that get built behind the scenes when other languages are parsed, and these trees are made of lists, which are Lisp data structures.
Edited by hajile - 10/25/11 at 7:49am