Greetings fellow OC'ers!
Follow me as I embark on what will be my last major build for some time to come!
This all came about when I happened to be strolling through our local Microcenter and spotted a Corsair Graphite 600T on sale. I purchased the case and when I got home, I hopped on OCN and checked out some of the other member builds and I was pretty impressed with some of the quality builds I was seeing.
A couple weeks later, back to Microcenter, I spotted some parts that they had on display. It happened to be both the ASUS Maximus IV Extreme -Z and the ASUS MATRIX GTX 580. I think I stood in awe and drooled on the display case for a solid 10 minutes. The instant paralysis of seeing such electronic goodness gave me a name for the build -- Neurotoxin.
This will be my first RoG build – and I wanted to stay true to the color scheme which seemed to be the natural Red/Black and traces of aluminum. I will also try and get some red LED lighting involved, but I want to try and avoid using CCFL's so I don't have to mess with the inverters.
The "basics" -- plan for the build, but as everyone knows, plans are always subject to change
1. SLI MATRIX GTX 580's (If I'm going out, it will be with a bang)
2. Internal WC Loop for the Core i7 2600K
3. Create impressive airflow for the graphics cards, but still maintain a tolerable noise level
4. Cable sleeving of PSU cables
5. Cable Management of additional cables.
6. San Ace 172mm intake fan to replace front 200mm stock fan
7. Lighting (LED's instead of CCFL's)
Hardware
Corsair AX1200
ASUS Maximus IV Extreme-Z
ASUS MATRIX GTX 580 Platinum
ASUS MATRIX GTX 580 Platinum
Intel Core i7 2600K
Corsair Dominator GT DDR3 2133 (16GB)
Corsair Force GT 120GB SSD
Water Cooling
BlackIce GT Stealth 240 XFlow Rad
Koolance PMP400
Koolance CTR-CD12 (Pump and Fan controller with Display)
Koolance RP-402X2 (Bay Reservoir)
Koolance CTR-SPD24X2 (Pump controller for 24VDC fans)
Koolance Black Compression Fittings
XSPC Raystorm CPU Block (Red LEDS)
Case Fans
San Ace 120x120x25 fans (86CFM for radiator)
San Ace 120x120x25 fan (176CFM for rear exhaust)
San Ace 172x172x51 fan (300CFM for front intake / GPU cooling)
Warning: Spoiler!
(Click to show)
The spacious and attractive Corsair 600T
The impressive (and expensive) ASUS Maximus IV Extreme-Z and ASUS MATRIX GTX580 Platinum
1. Boxes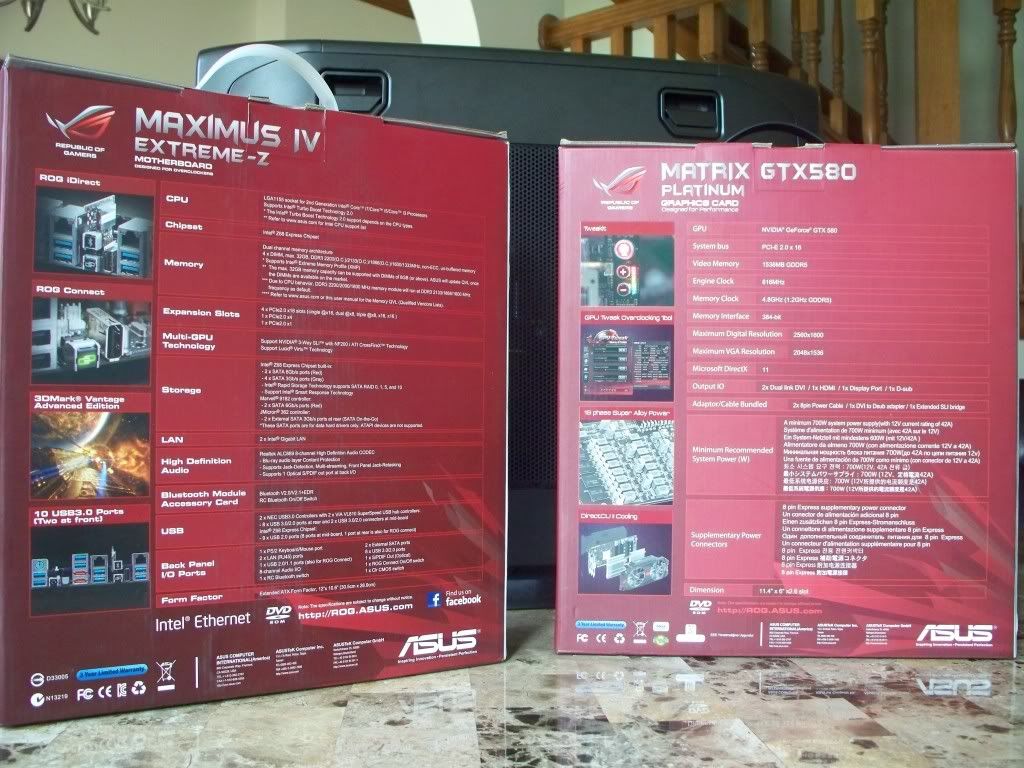 2. Installed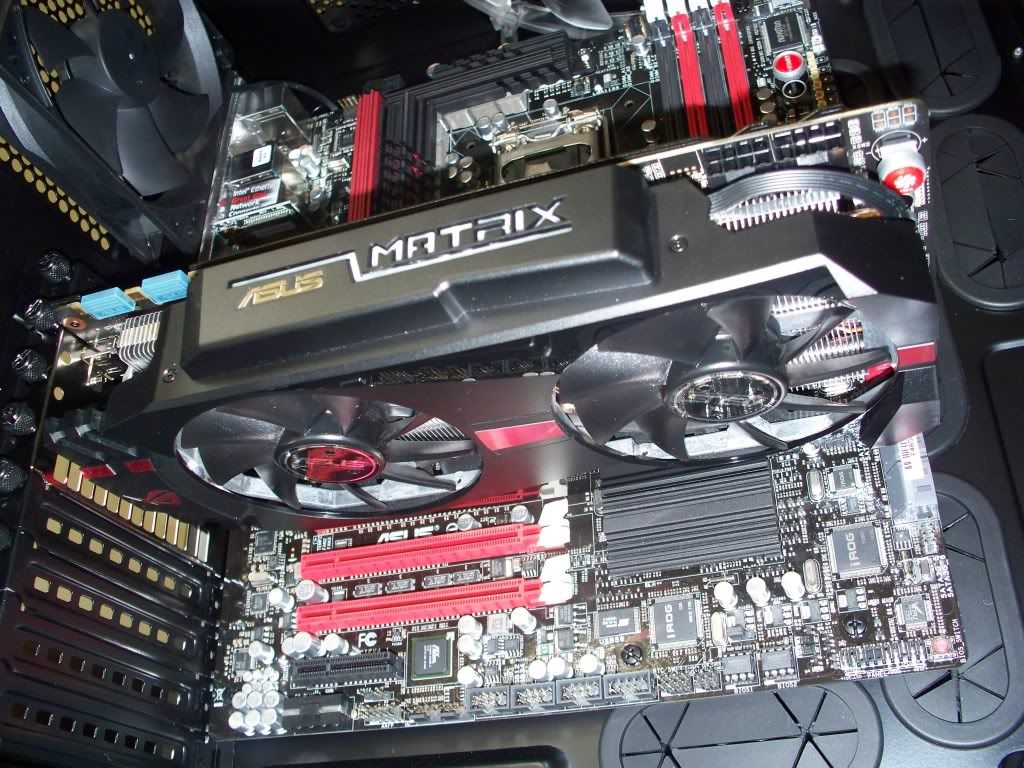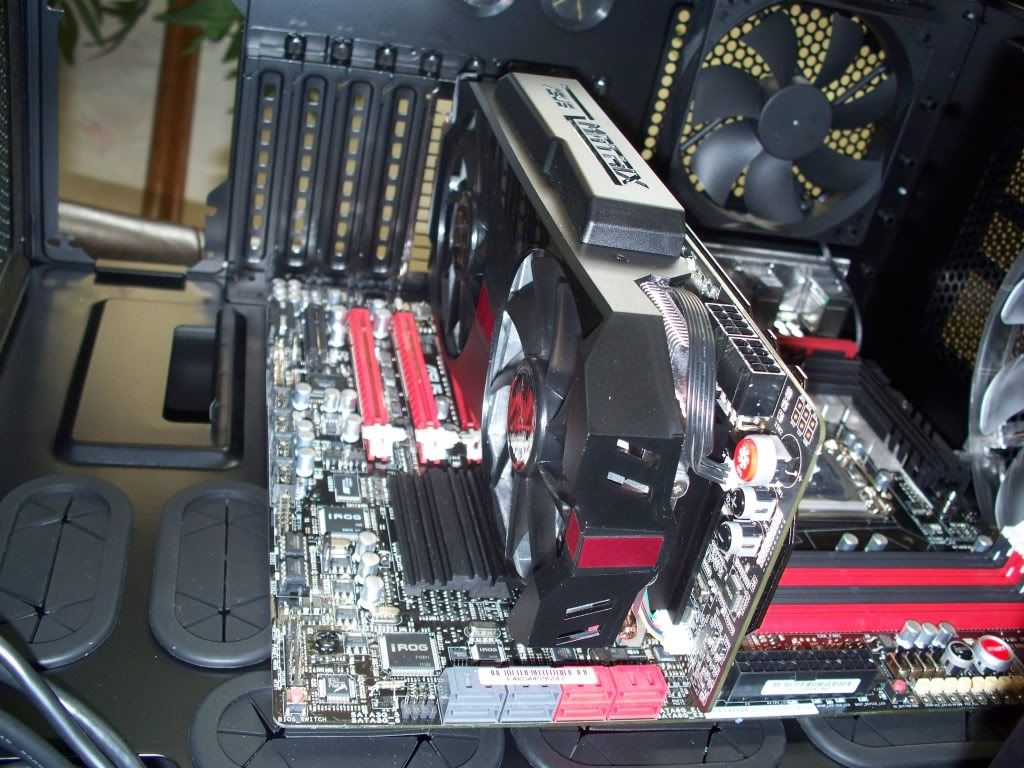 I still need to purchase the second ASUS MATRIX GTX 580 Platinum, but I am trying to pick up some of the other items that don't require a stimulus package to get in the meantime.
Edited by vercomtech - 12/27/11 at 2:47pm
CPU
Motherboard
Graphics
RAM
Intel Core i7 2600k
ASUS Maximus IV Extreme-Z
ASUS MATRIX GTX580
Corsair Dominator GT
Hard Drive
Optical Drive
OS
Power
Corsair GT SSD 120
External - "Need my space"
Windows 7 Professional x64
Corsair Professional AX1200
Case
Corsair Graphite 600T
View all
hide details
CPU
Motherboard
Graphics
RAM
Intel Core i7 2600k
ASUS Maximus IV Extreme-Z
ASUS MATRIX GTX580
Corsair Dominator GT
Hard Drive
Optical Drive
OS
Power
Corsair GT SSD 120
External - "Need my space"
Windows 7 Professional x64
Corsair Professional AX1200
Case
Corsair Graphite 600T
View all
hide details