Quote:
Originally Posted by
alltoasters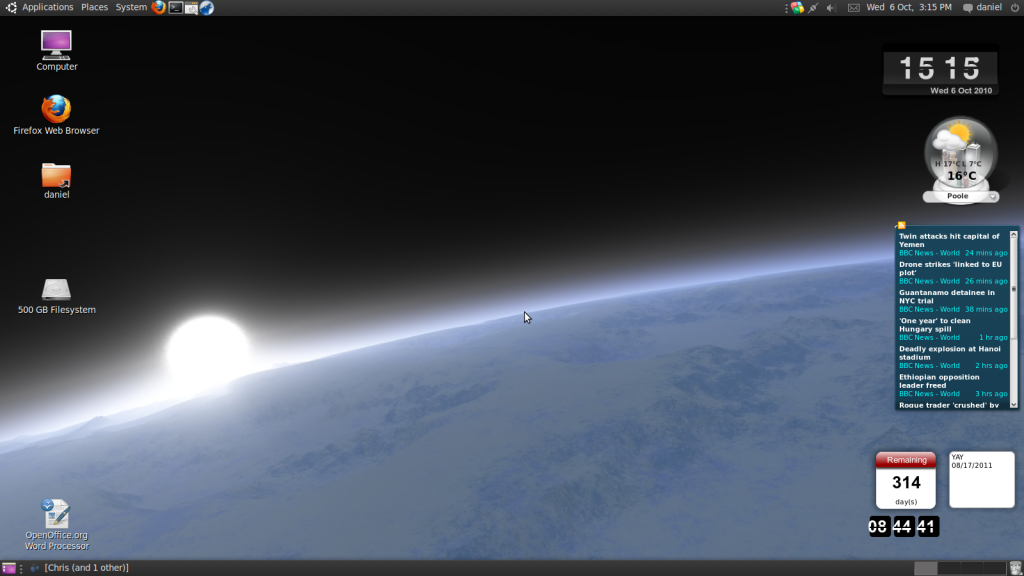 This was it, until the hard drive containing it messed up. Then i stopped using it. Allthough i prefer linux, I used windows most of the time. Mostly because of steam.
I like it. I'm a sucker for astronautical themes.
Here's my latest. BTW, anyone used handbrake for video conversion? The program is awesome. It's multithreaded and supports x64. I've been using it to convert AVIs to mp4s to view on my android cell phone in bed while my laptop is getting fixed (dropped it and they're replacing the shell).
GOd I love ASUS.
CPU
Motherboard
Graphics
RAM
4930K @ 4.6 GHz
ASUS Rampage IV Black Edition
MSI GTX 1080 FE Heatkiller Acetal
16 GB Corsair Vengeance 1600C9
Hard Drive
Optical Drive
Cooling
OS
2x Samsung 840 Pro
ASUS DVD-RW SATA
Koolance 380i & 2x HW Labs 480GTX
Arch Linux x86_64, Windows 7 x64
Monitor
Keyboard
Power
Case
LG UC88-B Ultrawide, ASUS VS278Q
Ducky
Corsair AX1200i
Caselabs STH10
Mouse
Mouse Pad
Audio
Logitech G500
Func 1030
ASUS Xonar Essence STX
View all
hide details
CPU
Motherboard
Graphics
RAM
4930K @ 4.6 GHz
ASUS Rampage IV Black Edition
MSI GTX 1080 FE Heatkiller Acetal
16 GB Corsair Vengeance 1600C9
Hard Drive
Optical Drive
Cooling
OS
2x Samsung 840 Pro
ASUS DVD-RW SATA
Koolance 380i & 2x HW Labs 480GTX
Arch Linux x86_64, Windows 7 x64
Monitor
Keyboard
Power
Case
LG UC88-B Ultrawide, ASUS VS278Q
Ducky
Corsair AX1200i
Caselabs STH10
Mouse
Mouse Pad
Audio
Logitech G500
Func 1030
ASUS Xonar Essence STX
View all
hide details