I installed my Corsair H60 yesterday and I wasn't thrilled with the temps but they seemed pretty good. I used the H60 fan for push and the rear fan that came with my P183 for the pull. In case it matters, my pump is plugged into a sysfan jack. I used to top out (with my AC7) around ~70C at 3.6ghz and I bumped it up to 3.8ghz and was again topping out around 70C with my H60.
Tonight I played BC2 for a couple hours and to my horror saw that my cores had gotten up to 78C!
I think the culprit may be my 570 Classifieds which have a side vent, putting hot air back into the case. The vents put hot air out right below where the H60 fan takes it in.
I reseated the water block and rotated the fans around to be intaking air from the outside. Under prime95 they are still topping out around 70C (72C right now).
The question is what will happened during an extended gaming session, I'm hoping the cool intake from the outside will at least partially negate the gpu effect (though now the exhaust from the GPU is coming out below where the H60 is taking in).
Worst case my CPU still gets too hot and now my GPUs get too hot because the air in the case is hotter.
If "upgrading" to the H60 (which should absolutely blow away my old cooler) means I can't even run my core at a higher speed I'm going to be pretty upset.
Any ideas? Suggestions?
My setup: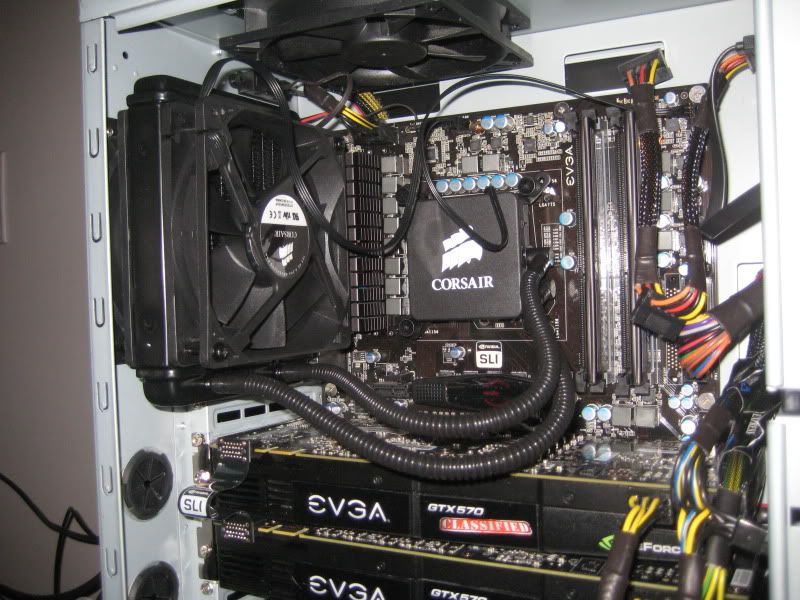 Edited by Jarobata - 10/27/11 at 8:42pm
CPU
Motherboard
Graphics
RAM
i5-750 @ 4.0GHz
eVGA P55 SLI
2 x GTX 570 Classified 900/1800/2000
2 x 4GB G.Skill Ripjaws X Series 1600MHz
Power
Case
Antec HCG 750W
Antec P183
View all
hide details
CPU
Motherboard
Graphics
RAM
i5-750 @ 4.0GHz
eVGA P55 SLI
2 x GTX 570 Classified 900/1800/2000
2 x 4GB G.Skill Ripjaws X Series 1600MHz
Power
Case
Antec HCG 750W
Antec P183
View all
hide details