Hey guys I think its time for a new build!
This build is mainly being built for PaxEast2012 in Boston, MA in April.
My goal for this build is to land a company that would like to display my case at their booth, since I've never attended a convention based on games/entertainment etc. Ive attended mostly conventions geared toward the automotive crowd, I've helped build a couple of Japanese performance vehciles mostly STIs & Evos which have landed mostly 1st and 2nd place Best of Show/Best JDM, as well as covers of magazines such as Import Tuner and Modified.
My background is mostly automotive engineering with some knowledge of media design.
The design itself will represent me and today's urban industrial culture that inspires me to create a beauty.
My case will be based off the Case Labs M10 case
My previous build last year was a Corsair 800D which has been repainted with a flat black interior and matte white exterior.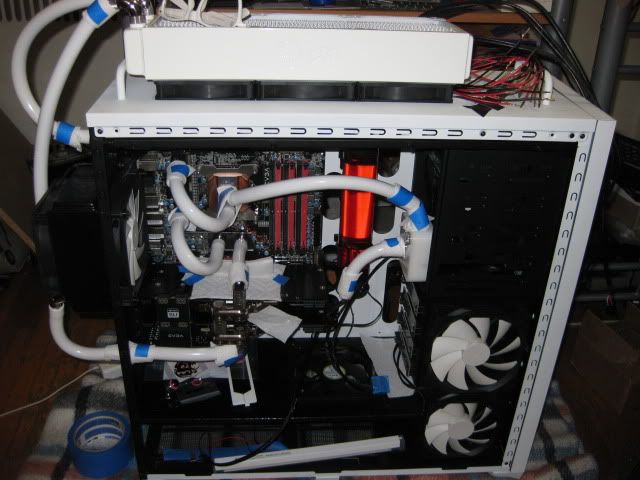 First off I'd like to give a special thanks to the following:
Hank over at Performance-PCs.com has helped me on multiple occasions on finding the right parts to finish the job.
Mike at Lutro0 Customs has given me an abundance of help on designs and inspiration as well as tools.
The components of the build will be the following:
CPU - LGA 2011 (between a i7 3820 or i7 3930K)
Mobo - Asus Maximus IV or Gigabyte UD5
PSU - Corsair AX1200
Raid0 - Corsair Force GT 120GB
Raid0 - Western Digital Velociraptor 300GB
Sound - Creative & Astro
GPU - HD7000series
Water - Mostly EK, Swiftech & Bitspower fittings
Cooling - Scythe fans
Accessories - MDPC-x & Redbull.
Redbull?? Yeah I like Redbull, Ill be keeping the exterior a secret up until a point just to build anticipation.
Also since I've ordered a bunch of parts on what I expect to use/not use the rest will be given away as a Token of my appreciation to you guys :]
EDIT: For the first few posts I had the intention of using the New CosmosII case but due to a delay in release to the public I had found a better case which was the CaseLabs M10.
Edited by Jingiko - 12/4/11 at 3:06pm
CPU
Motherboard
Graphics
RAM
i7 920
EVGA Classified E760
2x EVGA GTX275
Corsair Dominator GT 1600
Hard Drive
Optical Drive
OS
Monitor
2x SSD Intel X25-M 60GB
LG Bluray
Win 7 x64
Dell 24
Keyboard
Power
Case
Mouse
Razer Tarantula
Corsair HX1000
Corsair 800D
Razer Mamba
Mouse Pad
Razer
View all
hide details
CPU
Motherboard
Graphics
RAM
i7 920
EVGA Classified E760
2x EVGA GTX275
Corsair Dominator GT 1600
Hard Drive
Optical Drive
OS
Monitor
2x SSD Intel X25-M 60GB
LG Bluray
Win 7 x64
Dell 24
Keyboard
Power
Case
Mouse
Razer Tarantula
Corsair HX1000
Corsair 800D
Razer Mamba
Mouse Pad
Razer
View all
hide details