Ok, so this will be my first build! I have tweaked and changed this build so many times its unbelievable. I finally have settled on parts as they're all ordered and on their way. I will now list my parts and begin giving you updates!
Case:
Corsair Obsidian 650D
CPU:
Intel i5 - 2500K
CPU Cooler:
Corsair H100
Motherboard:
Asus Z68-V/Gen3
Memory:
8GB (2x4) Corsair Vengeance
GPU:
HIS Radeon 6970 2GB (Depending on Amazon, if they uphold the price)
PSU:
Corsair AX750W Gold
Storage:
64GB Samsung 830 SSD, 500GB HDD
DiskDrive:
Samsung Bluray Combo Drive
Fans:
1xGentle Typhoon AP-15, 1xCoolermaster Megaflow
10/29/11 - Corsair 650D, i5-2500k, H100 arrive.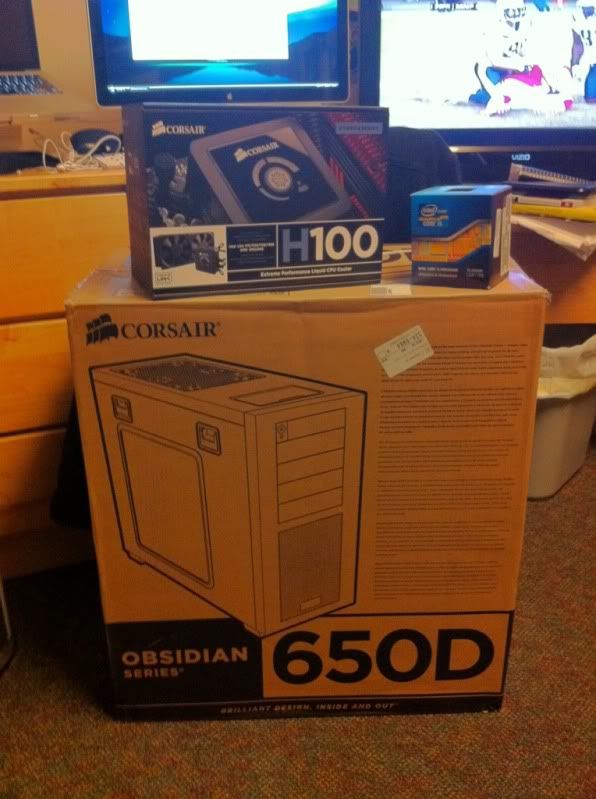 More parts to come all this week, I will keep you all updated! This should be exciting, I have a lot to learn!
Update #1 - 11/1/11, Corsair AX750w, CoolerMaster Megaflow, Samsung Bluray Combo, and Corsair 8GB Vengence came in!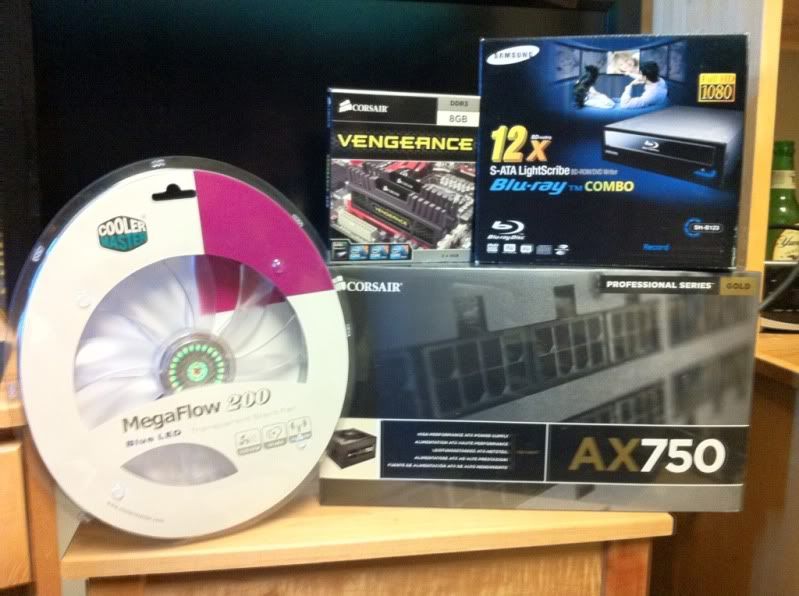 Edited by cjrulli - 11/1/11 at 9:56am
CPU
Motherboard
Graphics
RAM
i5 2500K
Asus Z68 - V/Gen3
Radeon 6970
Corsair Vengence 8GB
Hard Drive
Optical Drive
OS
Monitor
Samsung 830 - 64GB SSD
LG Bluray/DVD
Windows 7 64-Bit
Apple Cinema Display LED 24"
Keyboard
Power
Case
Mouse
Apple
Corsair AX750 Gold
Corsair Obsidian 650
Logitech
View all
hide details
CPU
Motherboard
Graphics
RAM
i5 2500K
Asus Z68 - V/Gen3
Radeon 6970
Corsair Vengence 8GB
Hard Drive
Optical Drive
OS
Monitor
Samsung 830 - 64GB SSD
LG Bluray/DVD
Windows 7 64-Bit
Apple Cinema Display LED 24"
Keyboard
Power
Case
Mouse
Apple
Corsair AX750 Gold
Corsair Obsidian 650
Logitech
View all
hide details