Hey guys n galls.
I've got a question for you all but first here is a little story.
Once upon a time... No seriously. I have been given a Micro ATX case, it has a Pentium 4 and 512mb RAM in it, problem is it runs like crap.
I'm wanting to build this into a little media center for my TV but I don't want it running slow as and I want Windows 7 on it, I decided that I would gut the whole thing, spice it up a little and slap a ton of new, more powerful hardware into it, problem is that is it of a crazy shape, observe from these photos I took from Google (because my camera takes shocking photos at this time of night!)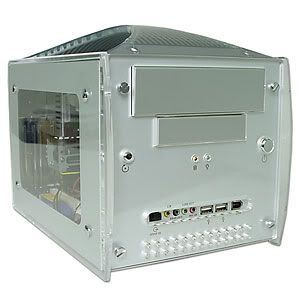 That is the unit, notice that it's longer than it is wide?
This is what it looks like with no sides.
And this is kinda how I want it to be, window in the side (because mine doesn't have a window in like most other models) and some new hardware in it.
I was thinking of modding the case to fit a normal mATX mobo or something but I figured it would be too much hardwork.
Any suggestions on what I could possibly do? What mobo I could get (looking at AMD more than intel)
_Fri
CPU
Motherboard
Graphics
RAM
Intel Core i7 6700K @ 4.00GHz
Gigabyte GA-Z170X-Gaming G1
Gigabyte GTX 1080 G1
4 x 8GB Corsair Dominator Platinum DDR4 @ 3000MHz
Hard Drive
Hard Drive
Hard Drive
Cooling
OCZ ARC-100 240GB
WB Blue
WD Blue
Corsair H100i GTX
OS
Monitor
Keyboard
Power
Microsoft Windows 10 Professional
Acer H274HL
Patriot Viper V760
Corsair HX750
Case
Mouse
Mouse Pad
Audio
Corsair Air 540
A4Tech X-748k
AUKEY Gaming Surface
Sound Blaster ZxRi
Audio
Audio
Razer Kraken 7.1 Chroma
LOGITECH Z533 Multimedia 2.1
View all
hide details
CPU
Motherboard
Graphics
RAM
Intel Core i7 6700K @ 4.00GHz
Gigabyte GA-Z170X-Gaming G1
Gigabyte GTX 1080 G1
4 x 8GB Corsair Dominator Platinum DDR4 @ 3000MHz
Hard Drive
Hard Drive
Hard Drive
Cooling
OCZ ARC-100 240GB
WB Blue
WD Blue
Corsair H100i GTX
OS
Monitor
Keyboard
Power
Microsoft Windows 10 Professional
Acer H274HL
Patriot Viper V760
Corsair HX750
Case
Mouse
Mouse Pad
Audio
Corsair Air 540
A4Tech X-748k
AUKEY Gaming Surface
Sound Blaster ZxRi
Audio
Audio
Razer Kraken 7.1 Chroma
LOGITECH Z533 Multimedia 2.1
View all
hide details