Ok well, i'm home from Afghanistan and it took me about a day and a half to put together my computer, it's not finished but it's at a standstill for now until I order another pump and tubing for the graphics cards loop. I was original going to put it all under 1 loop but I have different plans now that Lvl8Hacker sold me his m8 case and I plan to use the pedestal for another loop to the graphics cards. So here's a few picture of me putting it together.. and a stopping result....FOR NOW.
Here's some fittings that I had, mix between danger den, koolance and bitspower. I used some others not in this photo.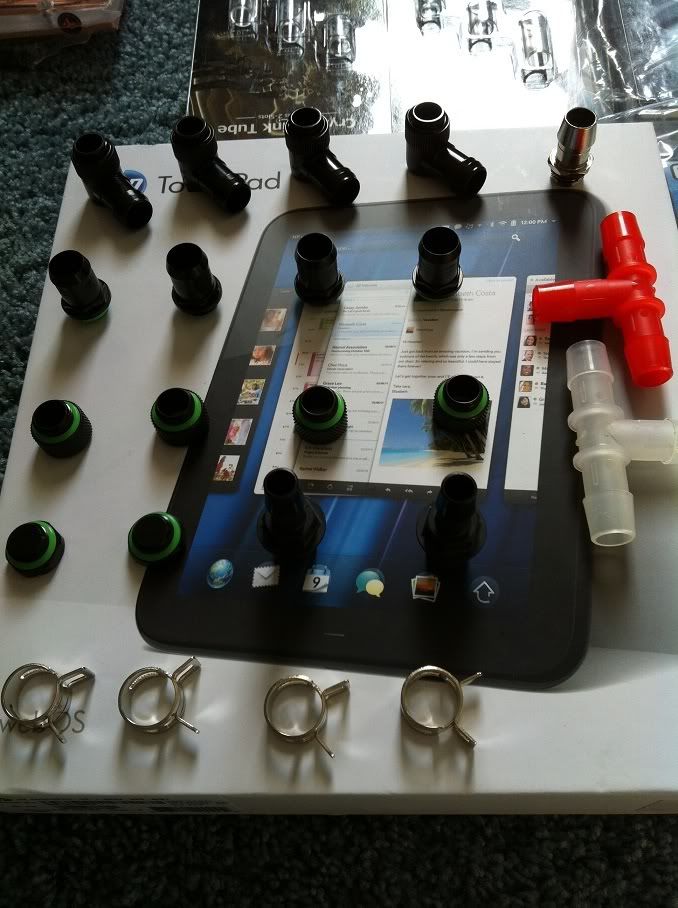 5x AP-15s and 2x ULTRA KAZE 3000rpm fans... Love them both.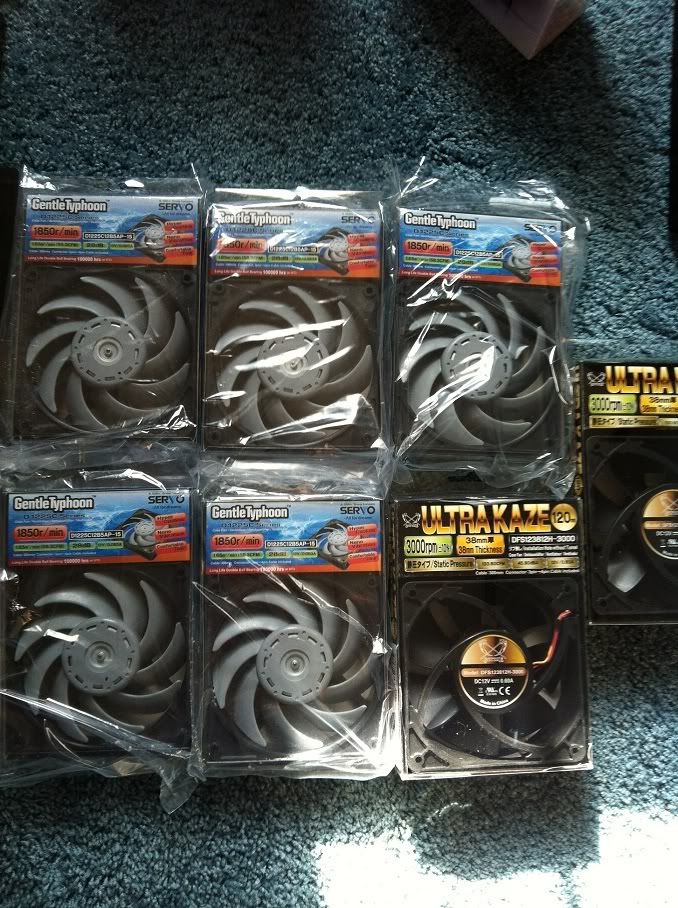 Rampage 3 Extreme Black Edition(Thanks Badatgames18)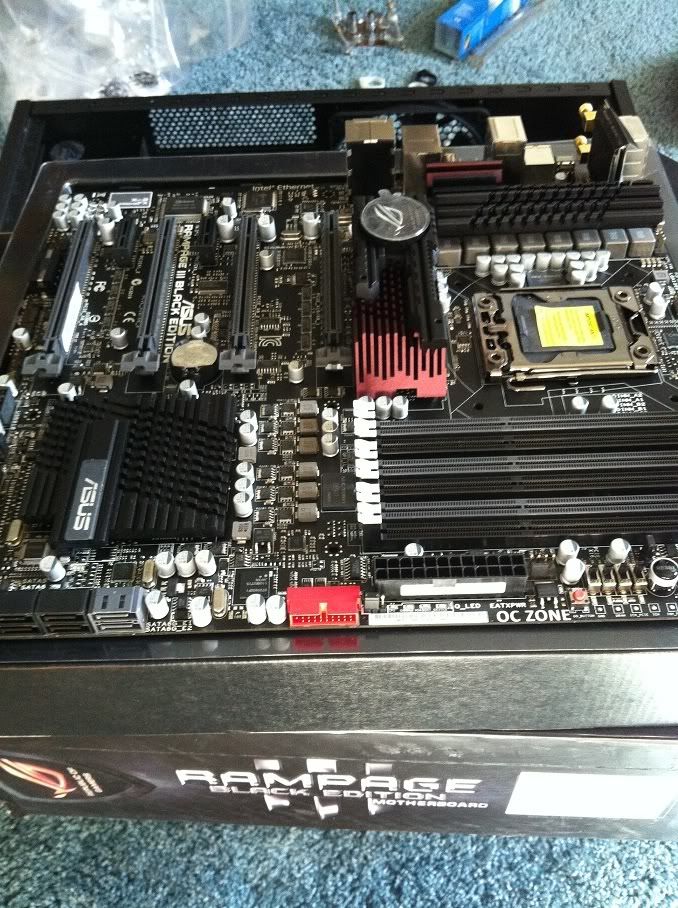 Intel Core-i7 990x BE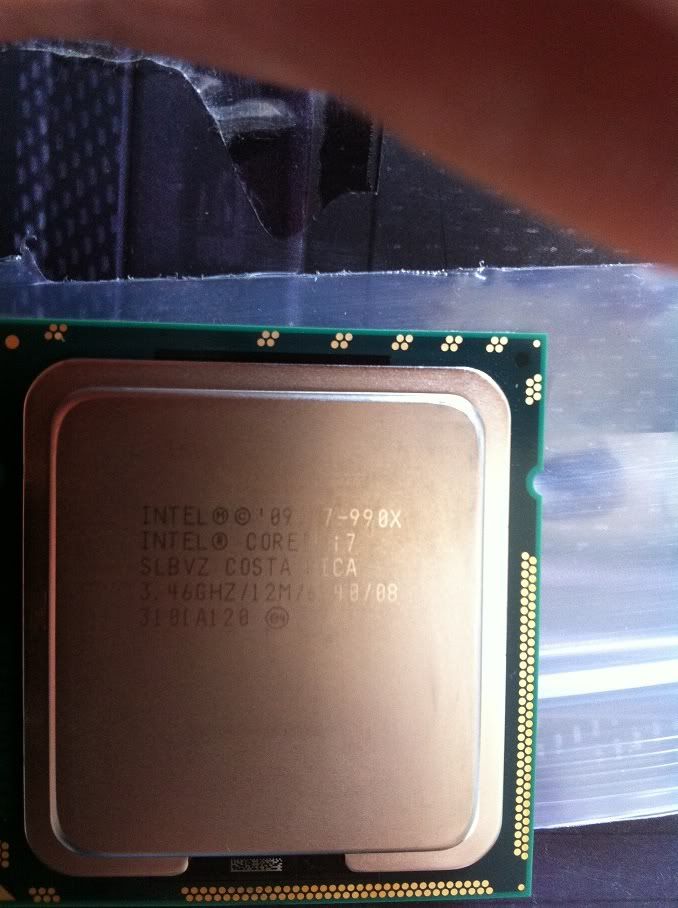 Patriot Viper Extreme 2000Mhz
2x EVGA GTX 580, 1x PNY XLR8 GTX 580, 2x Visiontek HD6970, 1x GTX 275. Why? Because I can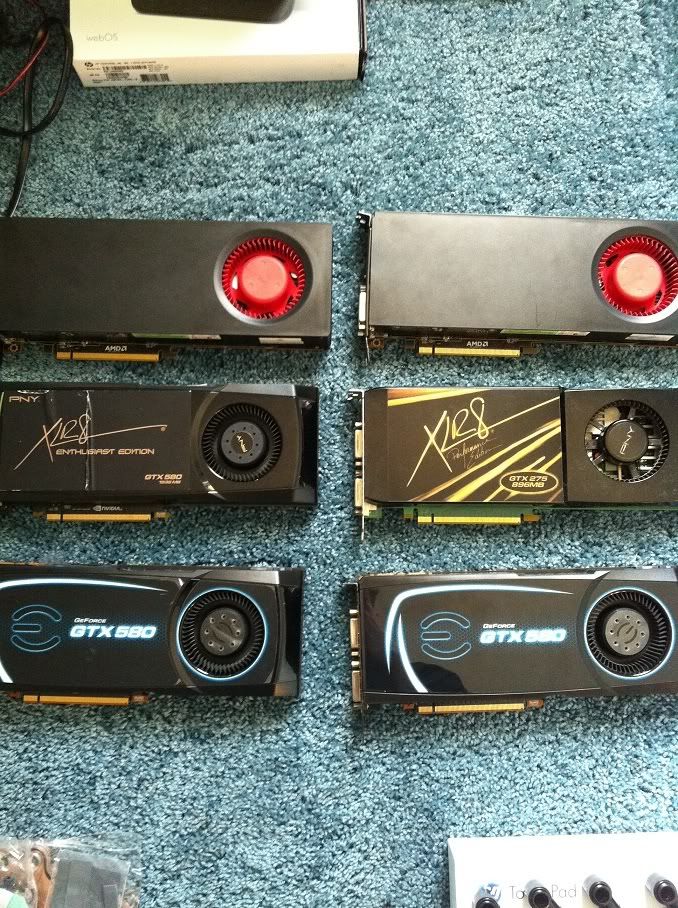 x2 EK-FC GTX 580+ (Haven't installed yet waiting for new pump and tubing!)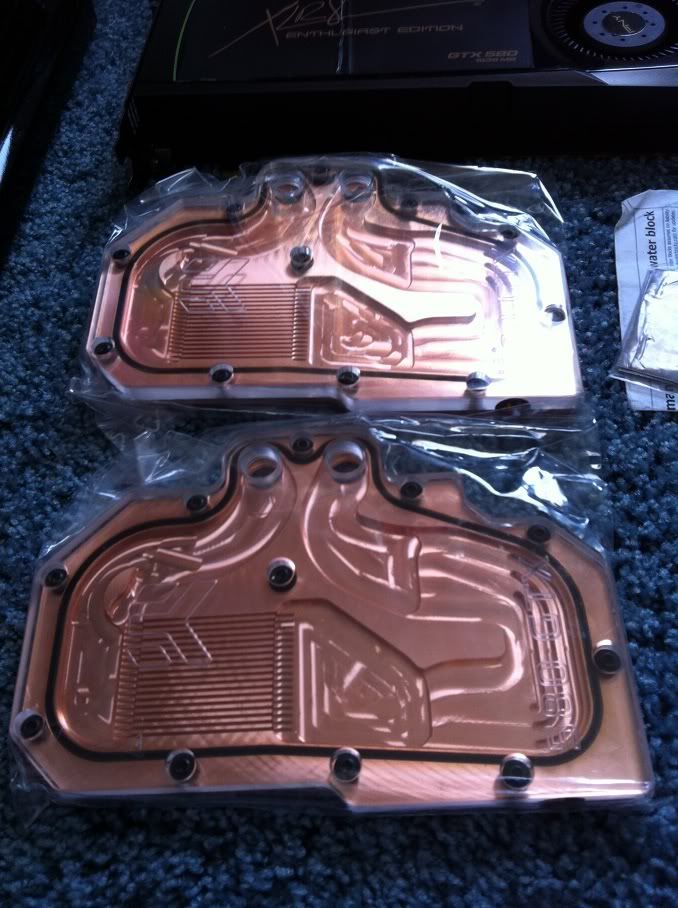 1x HardwareLabs GTX 240(wont be using this until I add graphics cards) and 1x Hardware Labs GTStealth 360 Radiators
Beautiful M8 Case by CaseLabs(Thanks Lvl8Hacker)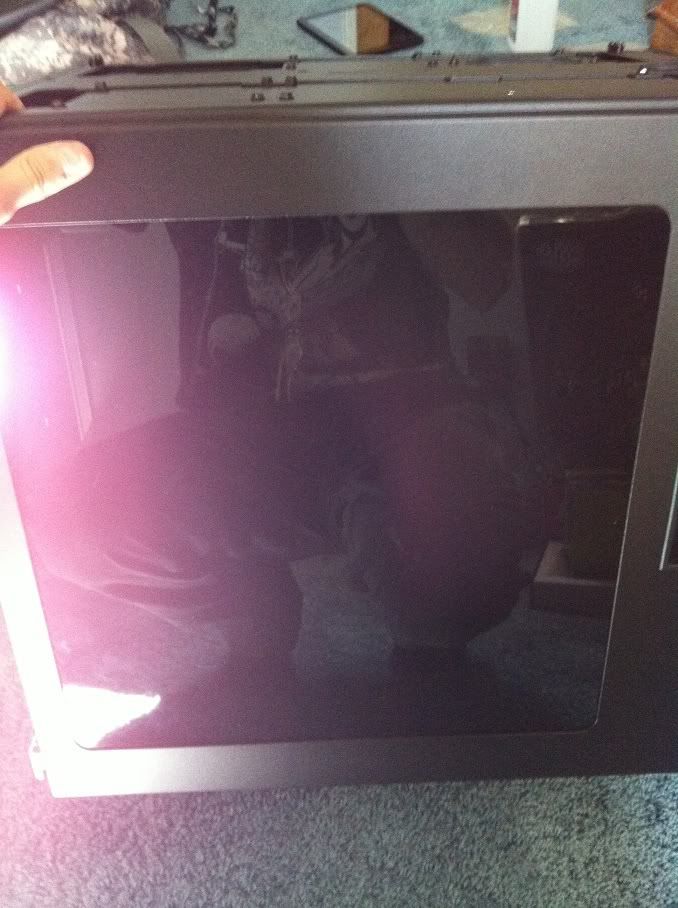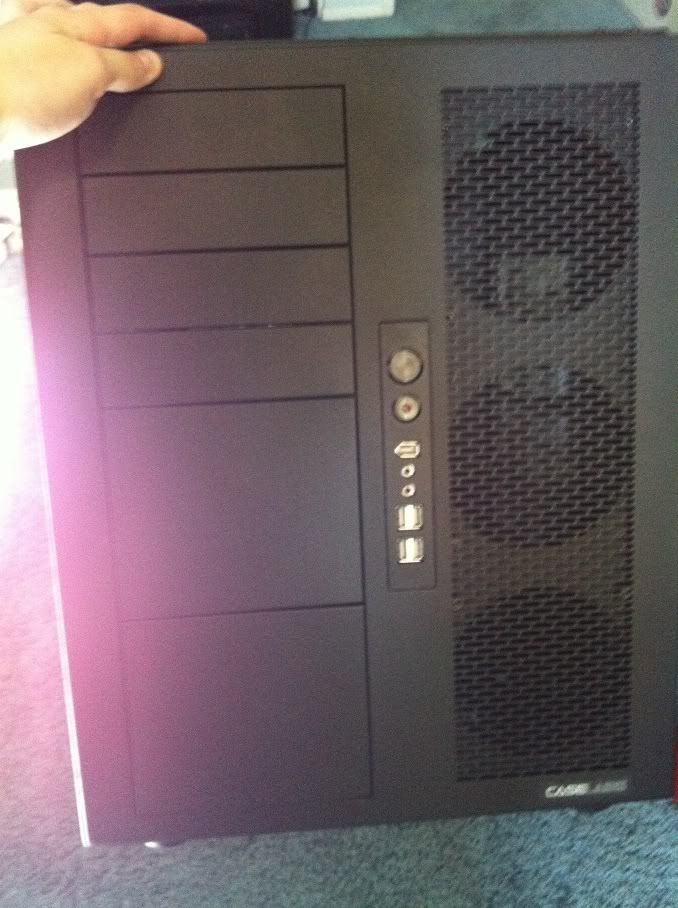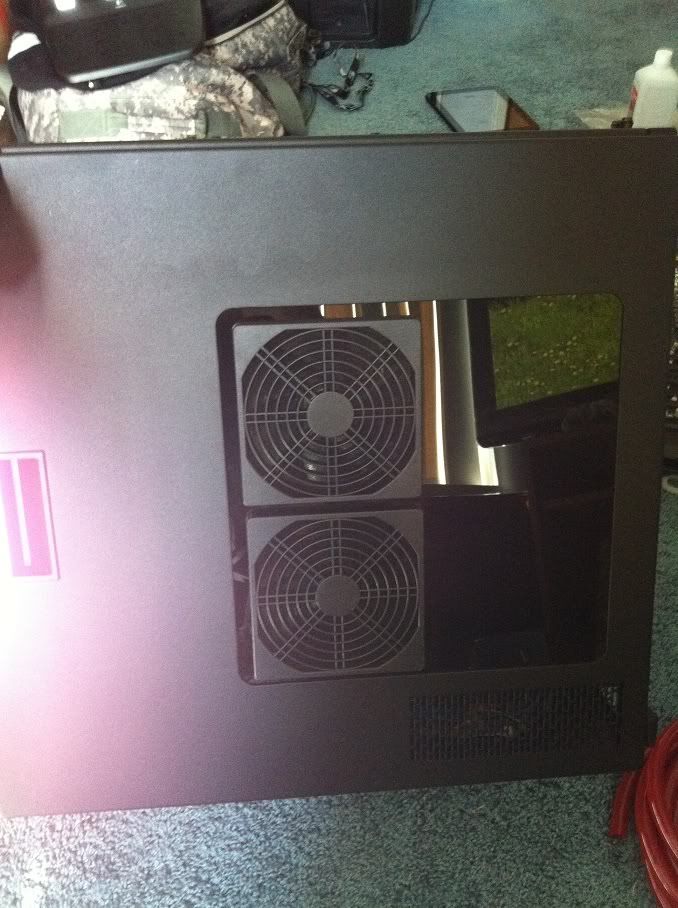 I7-990x being installed and applying the Artic Silver 5 Thermal
EK Waterblock being installed on the motherboard; sexy waterblock
After installation of CPU, Waterblock, and inside the case...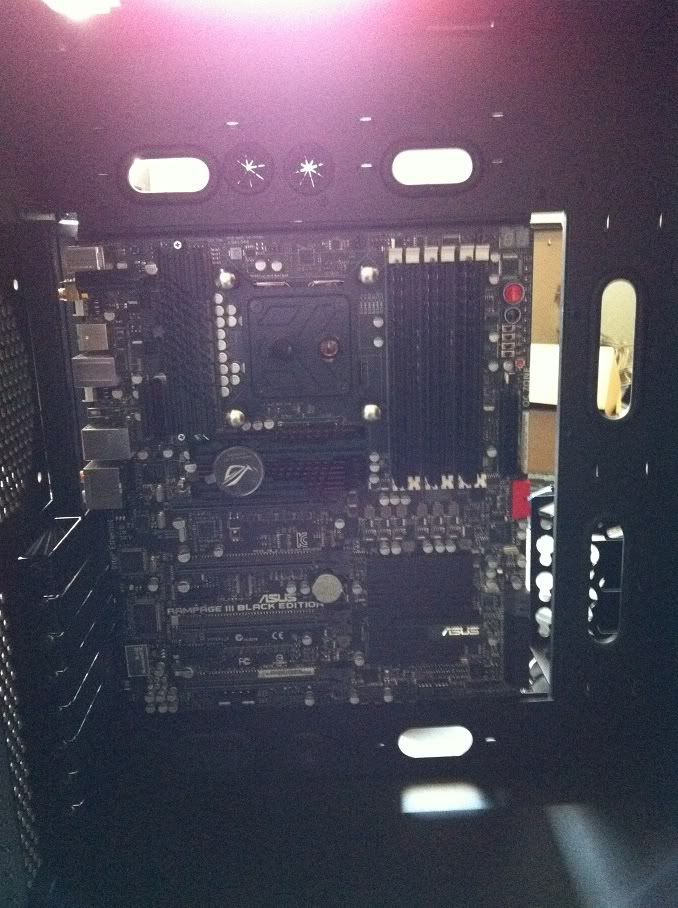 Here's the other side of the case, it's a 1250w Evo Galaxy PSU, love this thing... it's beautiful made and the looks/feel of it is GREAT! I'm also running a Intel 80gb SSD w/ 2x 1tb Caviar Green from WD, and a Barracuda.
Installing of the AP-15 fans and GTS 360mm Radiator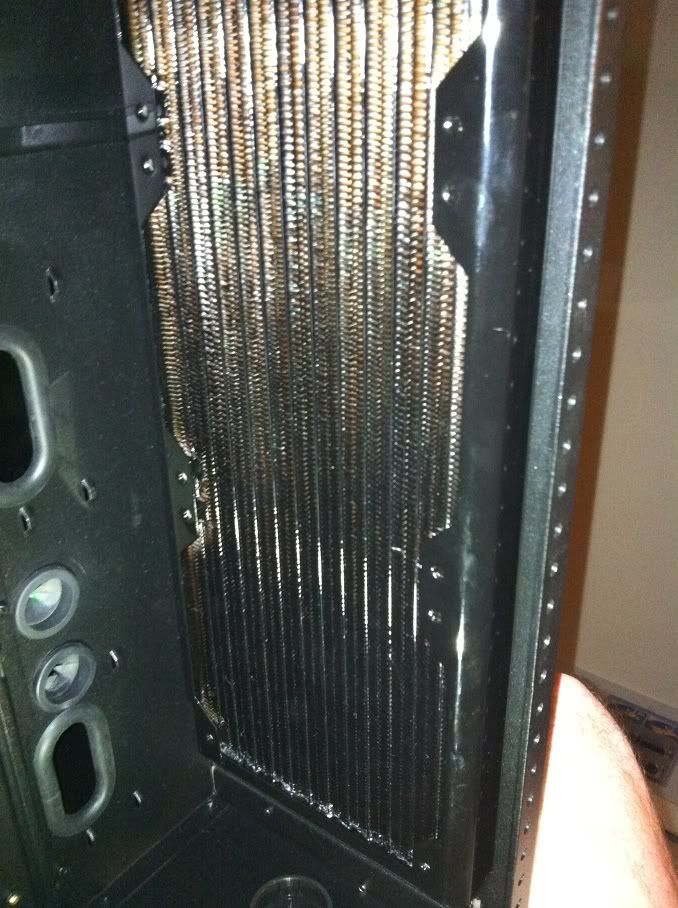 EK-Spin reservoir, this thing is sleek... at night it looks beautiful... check further pics
that sound of the water trickling is amazing.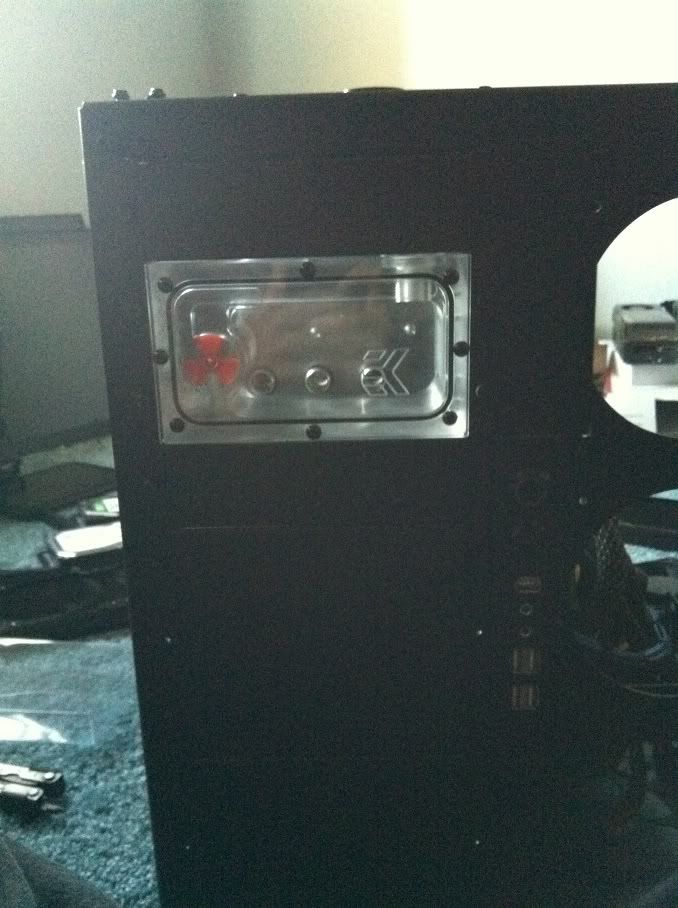 Here's the tubing ran for the CPU... I used Primochill PrimoFlex red.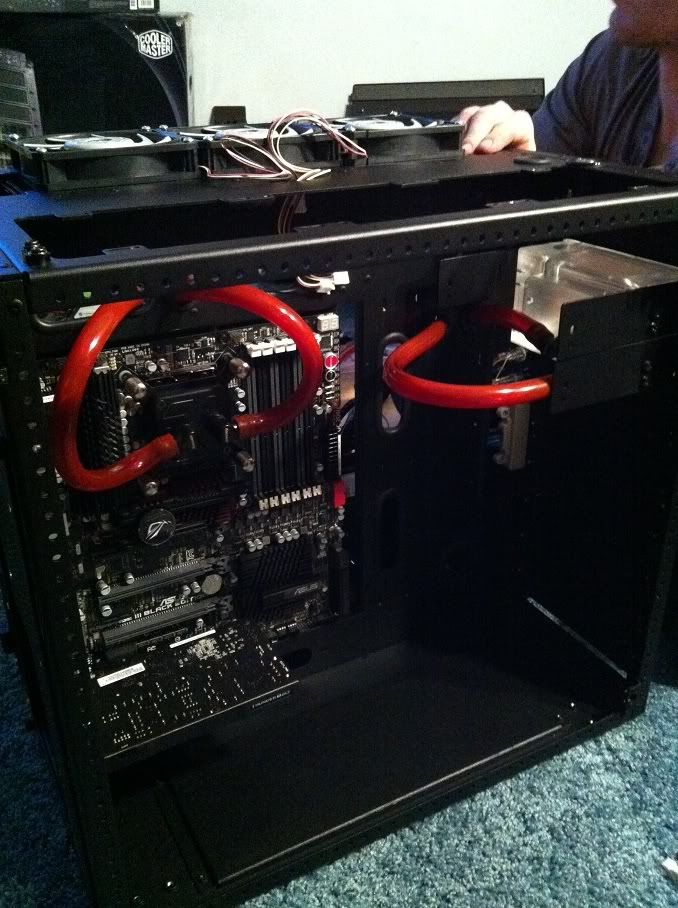 Addition of Logisys UV Lights, need to find better places to mount these just threw them in to get them inside there haha, didn't really run the cables... will fix that probably tonight. Also the installation of the EVGA GTX 580's in SLI, will be doing Tri-SLI in a week or so under water, as for now... SLI on air will do fine.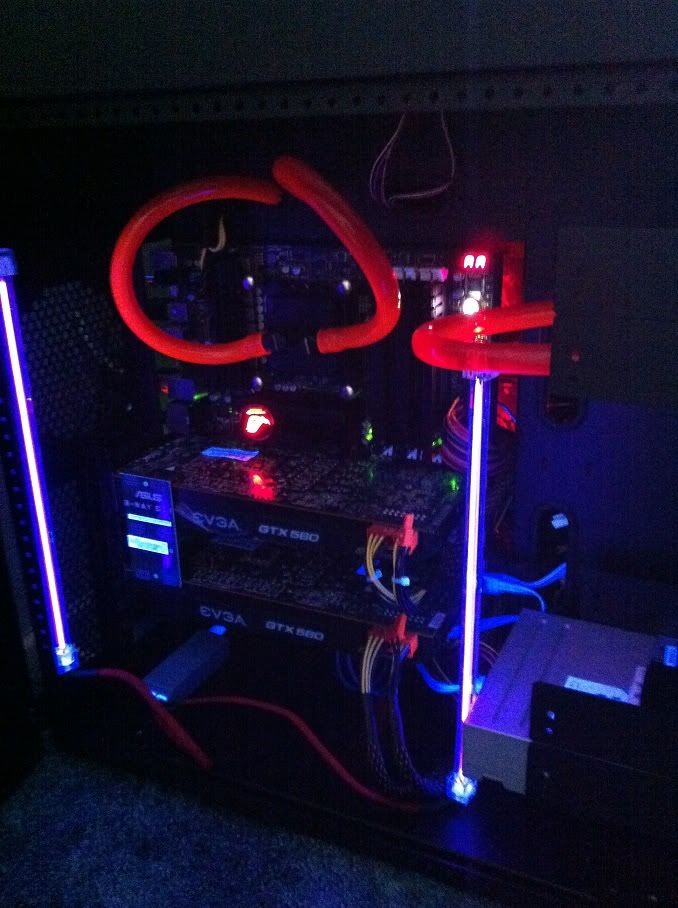 --------------------------------
I have 3x Acer GD235HZBID 3d monitors, only using one at the moment.. Once I get a bigger desk to sit these things on I will provide pictures. Love the monitors 120hz is beautiful.
Overall im very very very happy with my build, even though its not done this thing is a beast very quiet, I can hear the water trickling. I have all my fans on an AKASA 6 channel fan controller, the thing is SLEEK and beautiful. I put the ULTRA KAZE fans on about 25% and the AP-15's about 70%. It's QUIET. I can literally hear water trickling from radiator, and my room is not a HEATER for the house. This thing runs cool. Ill do some stress test later and show results but as for now here's an Idle after typing this...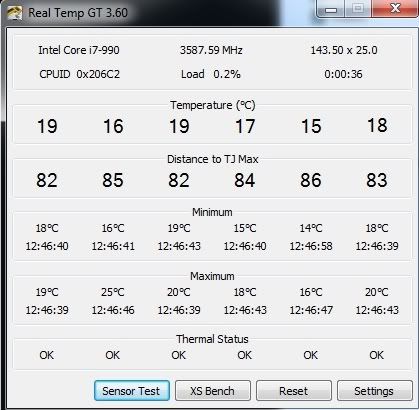 My room sits at about 75f and when my old PC ran all on air I used my old Jet sounding air computer as a heater. If any questions at all, feel free to ask... leave your feedback.
Thanks to...
andrewmchugh - A WC beast, he had helped with alot of question I couldn't answer.
Lvl8Hacker- The beautiful M8 Case Labs case w/ Pedestal for an amazing price.
Badatgames18- For the knowledge of Ram/Motherboard that he had sold me
RagingCain- For being awesome with providing information about the R3EBE Motherboard and his assistance with equipment.
Case Labs - For making such BEAUTIFUL Cases, sorry other competitors... My business will stay here in the future!
CPU
Motherboard
Graphics
RAM
i7-990x
Rampage III Extreme Black Edition
SLI GTX 580
12GB Viper Extreme 2000Mhz
Hard Drive
Monitor
Keyboard
Power
Intel 80GB SSD/1TB Caviar Green
3x Acer GD235HZ 23.6" 3D 120hz
Standard
Enermax 1250w
Case
Mouse
Mouse Pad
M8 CaseLabs
Standard
Standard
View all
hide details
CPU
Motherboard
Graphics
RAM
i7-990x
Rampage III Extreme Black Edition
SLI GTX 580
12GB Viper Extreme 2000Mhz
Hard Drive
Monitor
Keyboard
Power
Intel 80GB SSD/1TB Caviar Green
3x Acer GD235HZ 23.6" 3D 120hz
Standard
Enermax 1250w
Case
Mouse
Mouse Pad
M8 CaseLabs
Standard
Standard
View all
hide details