This is my first rig I've built in 6 years so I'm a little rusty. But from what I've read from the guides and other people it looks like everyone favors upping the multiplier and changing the FSB only if they HAVE TO. Why is this?
When I run benchmarks the high FSB w/ no change to the multiplier beats pretty badly the high multiplier w/ no change to the FSB. I also had to really jack up the voltage to keep my system stable w/ using only the multiplier.
Here's the benchmark I did @ 4.5ghz (the highest I could go only changing the multiplier)
Spec: FX-6100 @ 4.5Ghz
multi:22.5
FSB:200
Ram:1600
NB:2600
HT:2600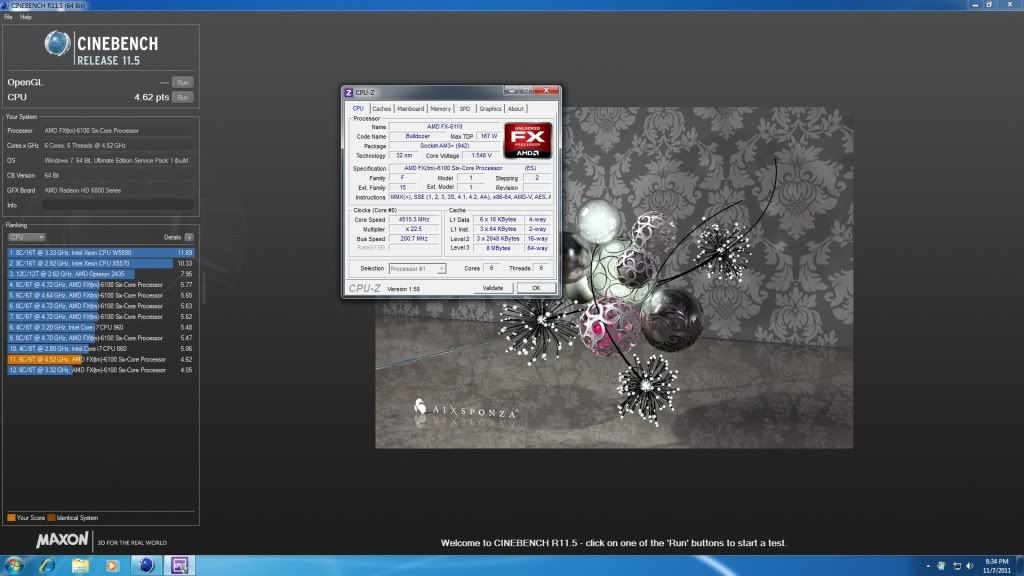 And here's the FSB up'd benchmark
Spec: FX-6100 @ 4.5Ghz
multi: 16.5
FSB: 273
Ram: 1455
NB: 2457
HT: 2457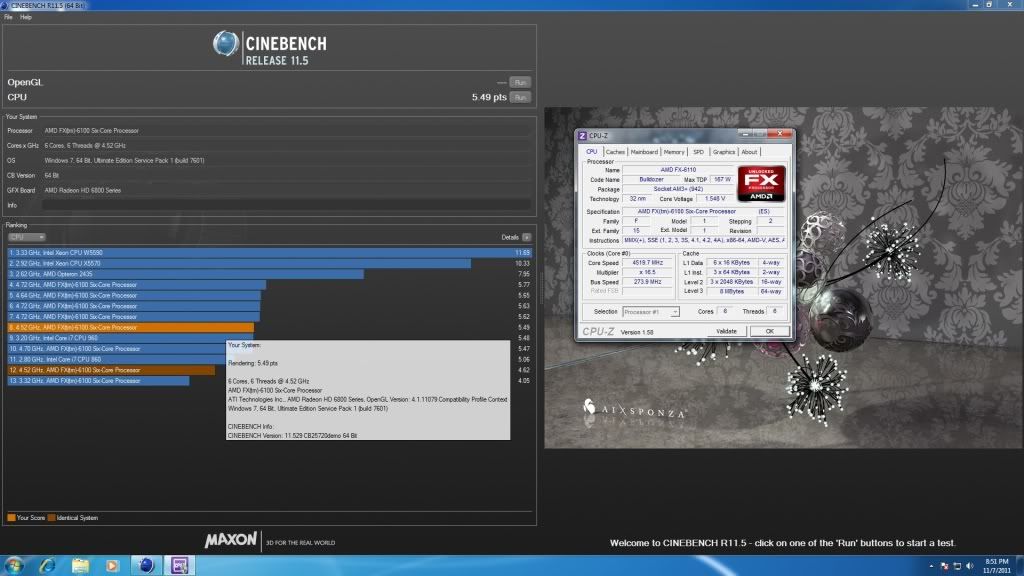 Because of this I'm running at 4.7 with only a x18 multi, and a 261 FSB. But If I should be something different to optimize my performance I'd love to here it. Like I said I'm a little rusty with this ocing stuff. Thanks!
Edited by ocmi_teddy - 11/7/11 at 9:30pm
CPU
Motherboard
Graphics
RAM
FX-6100 4.72Ghz @ 1.428V
990FX Sabertooth
2 X 6950 Unlocked Crossfired OC'd 925/1375
Ripjaws X (4x4GB) 16GB @ 1739 MHz
Hard Drive
Hard Drive
Power
Case
Crutial M4 64GB
2 x 1TB HDDs
Rocketfish 900watt
Lian Li PC-K57W
Audio
Audio
Creative Titanium HD
Ultrasone Pro 550
View all
hide details
CPU
Motherboard
Graphics
RAM
FX-6100 4.72Ghz @ 1.428V
990FX Sabertooth
2 X 6950 Unlocked Crossfired OC'd 925/1375
Ripjaws X (4x4GB) 16GB @ 1739 MHz
Hard Drive
Hard Drive
Power
Case
Crutial M4 64GB
2 x 1TB HDDs
Rocketfish 900watt
Lian Li PC-K57W
Audio
Audio
Creative Titanium HD
Ultrasone Pro 550
View all
hide details