Hey everyone! I'm starting this build log just for the hell of it. I wanted to turn my current rig into a s(er)ff rig and upgrade to Sandy Bridge in the process. Also, I'm going to be trying my hand at watercooling. I usually keep pretty busy so it might take me a while to finish, but I'm going to take my sweet time with this and make sure everything is perfect.
Any and all suggestions and constructive criticisms are welcome.
So right now I'm in the "receiving parts every day" stage. I will update when I receive said "parts."
On we go!
Package one arrived on the 4th which included a Fractal Design Define Mini and a Corsair AX850. But I wasn't planning on doing a build log at that time so no pics. But what I did do was bundle it with package two, an Asus Maximus IV Gene-Z, 8 gb Corsair Vengeance , XSPC EX240 and EX120 radiators, and a whole bunch of Primochill tubing.
Sorry for the pic quality. That damn Nexus Prime can't get here quick enough!
I took the fans out of the case and removed as much stuff as I could with a screwdriver.
Next step is to drill out the rivets for the hard drive bay and cut the top so I can mount the EX240 which I *hope* to do this weekend.
Yesterdays package came.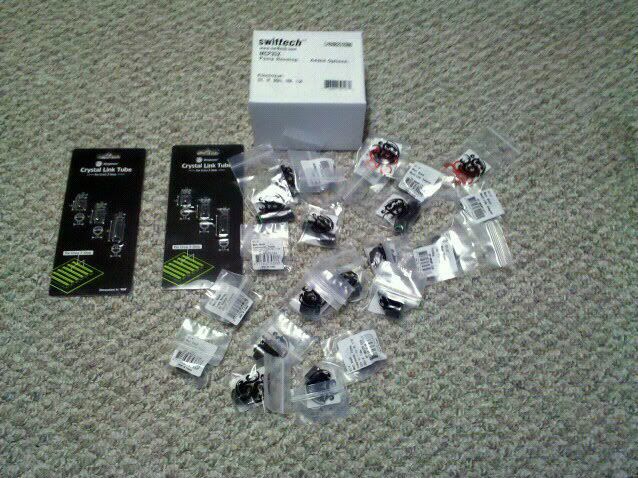 I received, a Swiftech MCP35x and a whole bunch of Bitspower fittings which include the regular matte black compression fittings, matte black snake extensions, two matte black crossfire connectors, and matte black plugs. I also ordered a couple packages of Bitspower's "blood red" o-rings. If you couldn't tell, the color scheme is black and red. Oh, and I got 2 cans of cocaine too. But I drank them. So no pics.
When I get today's packages I'll put up some more pics.
Edited by SohcSTI - 11/11/11 at 9:13am