Quote:
Dubbed the Galaxy Tab 10.1N, this tablet features a much more pronounced metal border that extends further over the edges of its screen. Far enough, presumably, to distinguish its form factor from the Community Designs infringements Apple has asserted against it.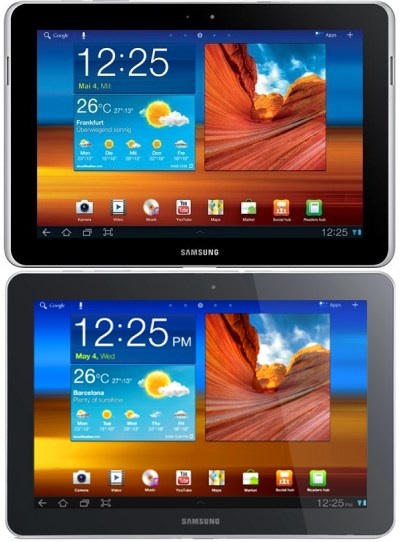 http://allthingsd.com/20111116/samsung-galaxy-tab-10-1n-the-n-stands-for-neener-neener/
Proof positive that there is more than one way to design a tablet.
CPU
Graphics
RAM
Hard Drive
Intel 3.06 GHz C2D
Radeon HD4670
12GB 1067MHz DDR3
1TB 7200RPM
Optical Drive
Cooling
Cooling
OS
8x SuperDrive
Air
Air
OS X 10.7.2
Monitor
Keyboard
Power
Case
27" 2560 x 1440 LED
Wireless BT
310W PSU
Aluminum Enclosure
Mouse
Mouse Pad
Magic Mouse
None
View all
hide details
CPU
Graphics
RAM
Hard Drive
Intel 3.06 GHz C2D
Radeon HD4670
12GB 1067MHz DDR3
1TB 7200RPM
Optical Drive
Cooling
Cooling
OS
8x SuperDrive
Air
Air
OS X 10.7.2
Monitor
Keyboard
Power
Case
27" 2560 x 1440 LED
Wireless BT
310W PSU
Aluminum Enclosure
Mouse
Mouse Pad
Magic Mouse
None
View all
hide details