Guys,
I have finally "finished" setting up my rig as of late last night, complete with benchmarks and I'm supremely happy with it so far.
The specs of my rig:
Quote:
Case: Mountain Mods Ascension CYO
Monitors: 3x Dell U3011 @ 8100x1600px
MoBo: Asus P6T7 WS Supercomputer
PSU: Antec HCP-1200 | PC Power & Cooling 1200W
CPU: Intel i7 990X (OC'd to 4.41GHz @ 1.30V)
CPU Cooler: Noctua NH-D14
RAM: 12GB Corsair Dominator @ 1600MHz w/ Corsair RAM Fan
GPU: EVGA GTX-580 Classified 3GB 4-Way SLI (stage 1 OC: 910/2200/1820)
OS Drive(s): 2x 32GB G-Skill SLC SSDs in RAID-0
Programs/Games Drive(s): 2x 147GB Fujitsu SAS (15k RPM) in RAID-0
Storage Drives: Samsung SpinPoint F3 1TB, LaCie Minimus 2TB (External HDD-USB 3.0)
Optical Drives: Pioneer Blu-Ray Burner BD-203, LiteOn DVD Burner
Fans: 7x Scythe Ultra Kaze 3200RPM (120mm), 3x Delta 5200RPM (120mm), 6x Xigmatek LED 120mm, 1x Noctua 120mm (Ultra-Silent)
Fan Controllers: 2x Lamptron FC5-V2 (30W per channel)
All-in-one Dashboard/Card Reader: Ultra MD2
SSD Bay: StarTech 4x1 SSD drive bay
Keyboard: Razer Black Widow Ultimate | Razer Nostromo
Mouse: Razer Mamba 4G
MousPad: Razer IronClad
Webcam: Logitech C910
Speakers: Altec Lansing 2.1
OS: Windows 7 Ultimate x64 SP 1
Cables: Single-sleeved custom cables in Black/Blue
Pics: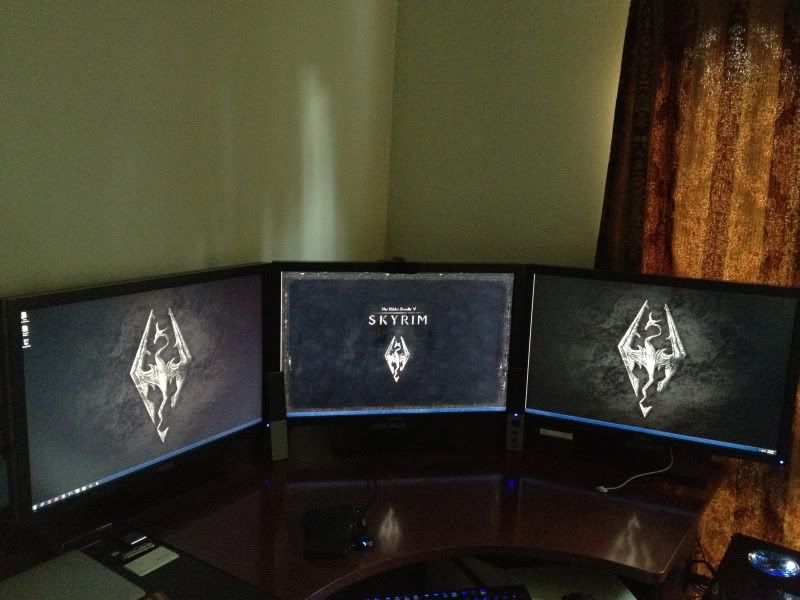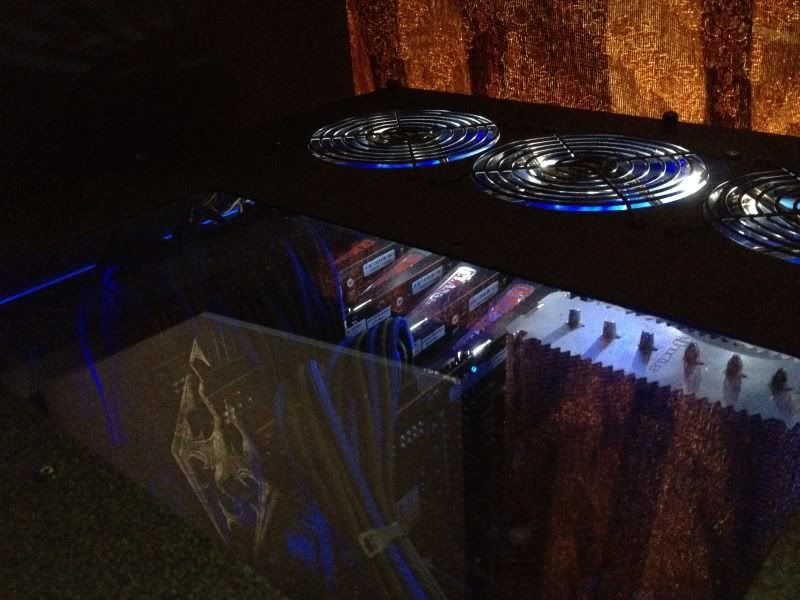 Benchmarks:
3D Mark Vantage (Performance):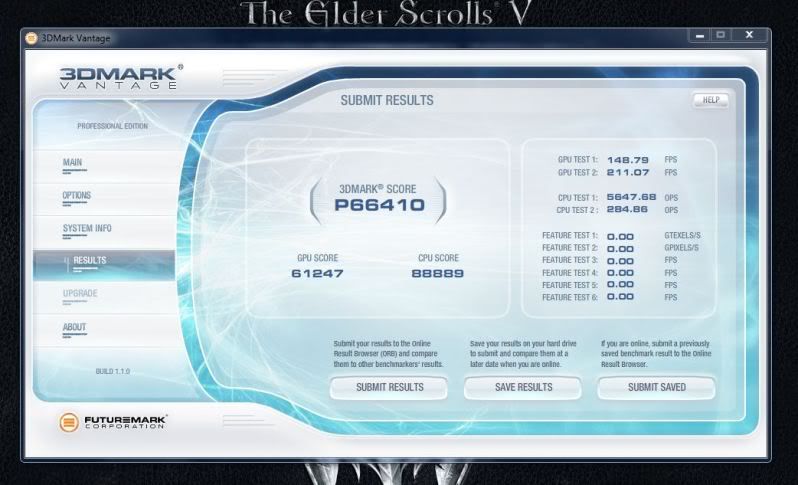 3D Mark 11 (Performance):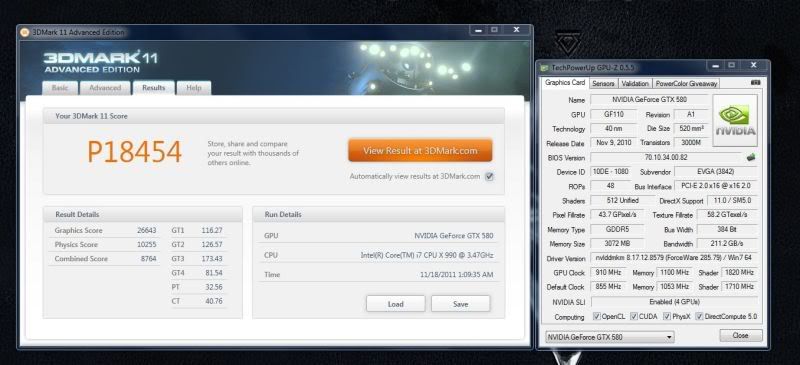 3D Mark 11 (Xtreme):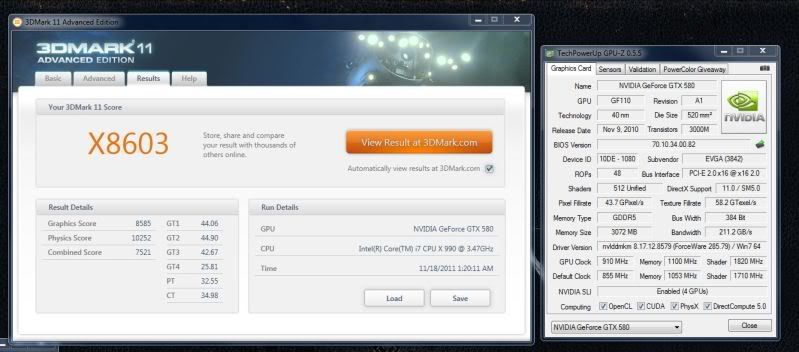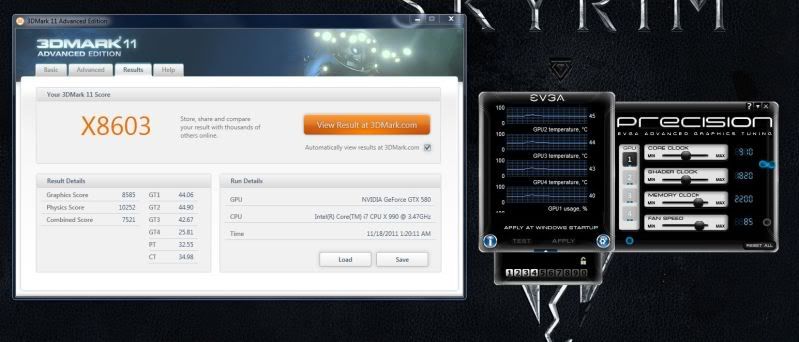 Unigine Heaven 2.5 (1920x1080 MAX Settings):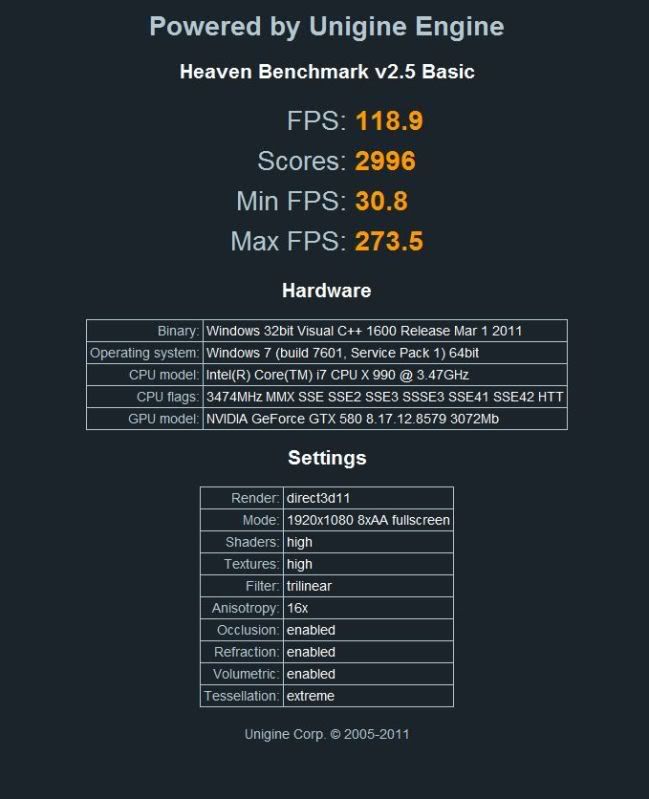 I am not sure what to make of these results. The OC of 910MHz and 2200 for Memory is rock solid in benchmarks and games and this is WITHOUT any voltage tweaks and in "Normal" mode in 4-Way SLI.
I tried the "OC" mode once and was able to hit 950MHz in 4-Way SLI but there was some problem with the drivers. I had to reinstall them and haven't had a chance to test the cards in OC mode again. I will be testing the cards very soon in "OC" mode and pushing them to try and hit 1000MHz stable in 4-Way SLI.
Please keep in mind that as the number of cards go up, the more difficult it is to achieve a higher overclock that is stable. All my OC settings can be used 24/7 but I just use them for gaming. During "normal" operation, I just use the stock settings which is 855MHz.
I will update this thread as I test higher OC settings and will also post some screenshots of games once I can get them to work properly in Surround! Right now, BF3 works great in Surround and is using more than 2.9GB of VRAM! The lens flare effect is terrible; I went from being around 15 - 4 type result to 4 - 10 because I couldn't tell who was who. Plus, I got kicked from a server because I team-killed too many times; I can't see anything so I just sprayed at anything that moved! LOL... Skyrim uses around 2.7GB on Ultra settings but the picture looks so stretched/zoomed in that I can't see properly and it makes me dizzy. Once I figure out how to make them work properly in Surround, I'll post some sweet pics!
I am so happy with my set up; it's been a long time coming but it's finally (more or less) done!